Car-Boat hybrid sails through Spokane streets
Posted:
Updated: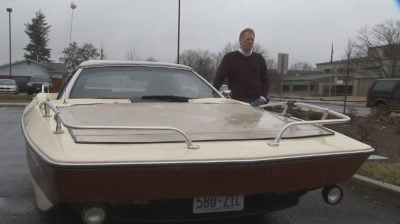 (More photos: For more pictures of Lorentz's car/boat scroll down
to a slideshow below the comments section of this story)

SPOKANE, Wash. – When a light rain started to fall on Spokane, most drivers turned on their windshield wipers and cursed the wet weather setting-in over the city, but not Tim Lorentz.
"Boats love the water," he said with a smile as he jumped into an open window of his hybrid car-boat in North Spokane.
Lorentz sliced the bottom off the hull of a fiberglass boat and secured it to the top of a 1994 Chrysler Le Baron.
While the boat was cut apart, Lorentz's sense of humor is firmly intact. The hybrid car is not sealed on the bottom, so Lorentz says it can't go in the water.
"People want to know if it will float," he said. "I tell them, 'Yeah, it'll float, for a second.'"
Lorentz spent $800 dollars on his convertible car and boat plus several hundred more to license, register and insure the one-of-a kind ride in Spokane. He says it is worth every penny as he sees the faces of those on the side of the street he passes each day.
"People will thumbs up, clap, wave or smile," he said, "and people who don't notice the boat shouldn't be driving - they're not aware of their surroundings."
While Lorentz isn't sure why he created the hybrid vehicle, saying it just came to him one night, he is sure he will continue to develop new projects. He recently purchased a 1987 stretch limousine and is brainstorming ideas for the formal ride.
"I just have always been an idea person," he said. "I think I'm a little bit off kilter."
Most Popular Stories

Most Popular Stories

More>>

RATHDRUM, Idaho - Idaho State Police have identified the man killed in a crash near Rathdrum Tuesday. Troopers responded to Chase Road, west of Rathdrum, around 1:15 p.m. Investigators say 20-year-old Brady Robert McPhail of Osburn, Idaho, was traveling eastbound in a white 2010 Buick Lucerne when he went into the westbound lane of traffic.

>>

RATHDRUM, Idaho - Idaho State Police have identified the man killed in a crash near Rathdrum Tuesday. Troopers responded to Chase Road, west of Rathdrum, around 1:15 p.m. Investigators say 20-year-old Brady Robert McPhail of Osburn, Idaho, was traveling eastbound in a white 2010 Buick Lucerne when he went into the westbound lane of traffic.

>>

SPOKANE VALLEY, Wash. - Washington State Patrol reports one man has died and a woman is in the hospital after a crash at Trent and Barker in Spokane Valley Tuesday night. Investigators say 26-year-old John L. Scott of Lancaster, Pennsylvania, was headed westbound on SR 290 east of Flora in a 2012 Toyota Tacoma pickup when he crossed the center line into the oncoming lanes of traffic.

>>

SPOKANE VALLEY, Wash. - Washington State Patrol reports one man has died and a woman is in the hospital after a crash at Trent and Barker in Spokane Valley Tuesday night. Investigators say 26-year-old John L. Scott of Lancaster, Pennsylvania, was headed westbound on SR 290 east of Flora in a 2012 Toyota Tacoma pickup when he crossed the center line into the oncoming lanes of traffic.

>>

A man was arrested on two warrants, including a felony charge for allegedly dealing drugs, on Tuesday. John C. Buchanan was arrested after a brief standoff with SPD's Patrol Anti-Crime Team (PACT). Police said he refused to come out of his home on Broad Avenue and North Haven Street. Police said Buchanan attempted to flee through a window, but shortly ran back into his building. Buchanan faces two charges: a felony charge for possession of narcotics with intent to dis...

>>

A man was arrested on two warrants, including a felony charge for allegedly dealing drugs, on Tuesday. John C. Buchanan was arrested after a brief standoff with SPD's Patrol Anti-Crime Team (PACT). Police said he refused to come out of his home on Broad Avenue and North Haven Street. Police said Buchanan attempted to flee through a window, but shortly ran back into his building. Buchanan faces two charges: a felony charge for possession of narcotics with intent to dis...

>>

SPOKANE, Wash. - The Spokane County Sheriff's Office says they have arrested a 39-year-old man for sexually assaulting a 12-year-old girl. Last month, detectives received information from the Post Falls Police Department naming Jeffrey A. Christenot as a suspect in the sexual assault of a 12-year-old girl in 2015-2016. The information stated Christenot confessed to the crimes in a video that had been posted to Facebook.

>>

SPOKANE, Wash. - The Spokane County Sheriff's Office says they have arrested a 39-year-old man for sexually assaulting a 12-year-old girl. Last month, detectives received information from the Post Falls Police Department naming Jeffrey A. Christenot as a suspect in the sexual assault of a 12-year-old girl in 2015-2016. The information stated Christenot confessed to the crimes in a video that had been posted to Facebook.

>>

DES MOINES, Iowa (AP) - The already-giant Mega Millions prize is now at $868 million after a drawing Tuesday night turned up no winners. Lottery officials raised the estimated jackpot, which had been $667 million. The next drawing will be Friday. If someone wins the jackpot, it would mark the second-largest lottery grand prize in U.S. history.

>>

DES MOINES, Iowa (AP) - The already-giant Mega Millions prize is now at $868 million after a drawing Tuesday night turned up no winners. Lottery officials raised the estimated jackpot, which had been $667 million. The next drawing will be Friday. If someone wins the jackpot, it would mark the second-largest lottery grand prize in U.S. history.

>>

An Idaho man is in the hospital after being shot while elk hunting near Harrison, Idaho. On October 15, Kootenai County Sheriff's deputies received a call from a 31-year-old man who said he'd accidentally shot his hunting partner, 20-year-old Nicholas Christensen of Potlach, Idaho. The caller said Christensen had shot a bull elk and the pair separated to look for it. The older man shot at another elk, but instead hit his partner.

>>

An Idaho man is in the hospital after being shot while elk hunting near Harrison, Idaho. On October 15, Kootenai County Sheriff's deputies received a call from a 31-year-old man who said he'd accidentally shot his hunting partner, 20-year-old Nicholas Christensen of Potlach, Idaho. The caller said Christensen had shot a bull elk and the pair separated to look for it. The older man shot at another elk, but instead hit his partner.

>>