Taliban step up attacks in besieged Afghan town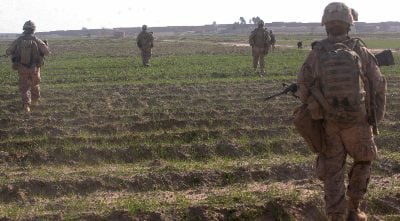 (Marines from 3rd Platoon, India Company, 3rd Battalion, 6th Marine
Regiment, patrol on the outskirts of Marjah, Helmand province,
Afghanistan, Feb. 14. Photo: dvidsbub.net)

MARJAH, Afghanistan. - The Taliban appear to be using the cover of darkness to slip behind U.S. lines in Marjah.

Marines and Afghan soldiers came under repeated counterattacks in the Taliban's Helmand province stronghold today. Small, mobiles teams of insurgents fired rifles, rockets and grenades at the joint force from the cover of compounds already deemed free of weapons and explosives.

By midday, at least six large gunbattles were being fought across the town, too many for helicopter gunships to cover them all. Troops say the strict rules of engagement aimed at protecting civilians are making it difficult to use enough firepower to stop the attacks.

Still, allied officials have reported only two coalition deaths so far, an American and a Briton killed Saturday, and there have been no reports of wounds.

Afghan officials say at least 27 insurgents have been killed in the three-day-old offensive.

Meanwhile, Britain's top military officer says an errant missile strike that killed 12 civilians, including six children, comes as a "very serious setback" to effort to win the support of the local population.