Man taken to hospital after crop duster crash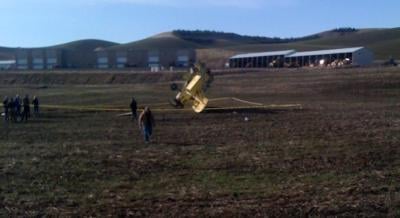 COLFAX, Wash. - A Colfax man was taken to the hospital Thursday after crashing a crop duster plane shortly after take-off from the Colfax airport.
Brian Windsor, 56, walked away from the wreckage and was walking around when deputies arrived on scene.
Authorities say the plane was loaded with fertilizer when it crashed.
Most Popular Stories

Most Popular Stories

More>>

SPOKANE VALLEY, Wash. - Having already experienced enough tragedy this week, a Post Falls woman avoided some more when her beloved dog was found Thursday. Pamela Luton has had an unimaginably difficult week, having lost her husband Michael Arnold in a motorcycle-semi crash near Trent and Evergreen on Tuesday.

>>

SPOKANE VALLEY, Wash. - Having already experienced enough tragedy this week, a Post Falls woman avoided some more when her beloved dog was found Thursday. Pamela Luton has had an unimaginably difficult week, having lost her husband Michael Arnold in a motorcycle-semi crash near Trent and Evergreen on Tuesday.

>>

COEUR D'ALENE, Idaho - On July 12, officers responded to a large fight at a Coeur d'Alene McDonald's. Court documents say a Hayden man was charged with battery and malicious harassment, which is considered a hate crime in Idaho, following an investigation by police. When officers arrived on scene, the fight had broken up, but witnesses were interviewed at the scene.

>>

COEUR D'ALENE, Idaho - On July 12, officers responded to a large fight at a Coeur d'Alene McDonald's. Court documents say a Hayden man was charged with battery and malicious harassment, which is considered a hate crime in Idaho, following an investigation by police. When officers arrived on scene, the fight had broken up, but witnesses were interviewed at the scene.

>>

MATTAWA, Wash. - The Grant County Sheriff's Office reports a large fire burning in the Mattawa area has closed roads and forced evacuations Thursday night. Road 26 to Road R Southwest is closed as is Road U (from 26 southwest to 24.7). State Route 24 at the Vernita Bridge, south of Mattawa is closed as well.

>>

MATTAWA, Wash. - The Grant County Sheriff's Office reports a large fire burning in the Mattawa area has closed roads and forced evacuations Thursday night. Road 26 to Road R Southwest is closed as is Road U (from 26 southwest to 24.7). State Route 24 at the Vernita Bridge, south of Mattawa is closed as well.

>>

BRANSON, Mo. (AP) - A Missouri sheriff says at least 11 people have now been confirmed dead after a boat carrying tourists on a lake in a popular vacation city capsized and sank. Stone County Sheriff Doug Rader says seven people have been hospitalized and five others remain missing. He says divers have ended their search of Table Rock Lake in Branson for the night. The National Transportation Safety Board said on Twitter that investigators will arrive on the scene Friday morning.

>>

BRANSON, Mo. (AP) - A Missouri sheriff says at least 11 people have now been confirmed dead after a boat carrying tourists on a lake in a popular vacation city capsized and sank. Stone County Sheriff Doug Rader says seven people have been hospitalized and five others remain missing. He says divers have ended their search of Table Rock Lake in Branson for the night. The National Transportation Safety Board said on Twitter that investigators will arrive on the scene Friday morning.

>>

BOZEMAN, Mont. (AP) - The Yellowstone National Park superintendent who said he was being forced out by the Trump administration will leave his post in late September. The Bozeman Daily Chronicle reports the park announced Thursday that Dan Wenk, who has been superintendent since 2011, will retire from the National Park Service on September 29. Wenk will be replaced by Cameron "Cam" Sholly, the current director of the park service's Midwest Region.

>>

BOZEMAN, Mont. (AP) - The Yellowstone National Park superintendent who said he was being forced out by the Trump administration will leave his post in late September. The Bozeman Daily Chronicle reports the park announced Thursday that Dan Wenk, who has been superintendent since 2011, will retire from the National Park Service on September 29. Wenk will be replaced by Cameron "Cam" Sholly, the current director of the park service's Midwest Region.

>>

Spokane County, Wash. Roundabouts are becoming the norm when it comes to the flow of traffic. According to the American Association of State Highway and Transportation Officials. The goal of the roundabout is to reduce the number of crashes where people are either seriously hurt or even killed By about 80 % when compared to a typical intersection with a stop light. Roundabouts move traffic through an intersection more quickly because they promote continuous flows of traffic....

>>

Spokane County, Wash. Roundabouts are becoming the norm when it comes to the flow of traffic. According to the American Association of State Highway and Transportation Officials. The goal of the roundabout is to reduce the number of crashes where people are either seriously hurt or even killed By about 80 % when compared to a typical intersection with a stop light. Roundabouts move traffic through an intersection more quickly because they promote continuous flows of traffic....

>>