NORTHWEST NEWS
Stranger pulls child from burning van, then disappears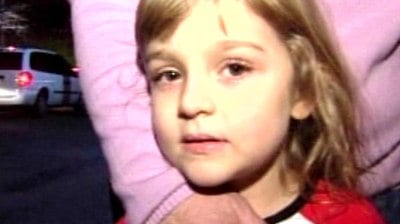 ABERDEEN, Wash. - An Aberdeen, Washington family wants to properly thank a mysterious stranger who helped save a little girl from a burning mini-van.

The man walked away from the scene after making sure the girl, her brother and mother were all OK.

Michelle Wilson was in the drive-through of the Aberdeen Jack in the Box Wednesday when she noticed smoke coming from the back passenger door.

"I don't think I was thinking anything at the time other than 'Let's just get out of the car,'" said Wilson.

She parked the van and was able to unbuckle her 5-year-old son, Brett, but Wilson's 4-year-old year old daughter, Faith, wouldn't leave the car.

That's when the mysterious man appeared.

"He told them they needed to get far away from the car and my daughter kept wanting to get back to the car because she had dropped her hat," Michelle explained. "And he said 'No, you can't go back to the van. It has gas. It could blow up,' and he moved us far away."

The then van burst into flames and firefighters arrived within minutes.

Witnesses said the man headed to a nearby bus stop. The Wilsons don't know who he is, but they say they're very grateful.

Fire investigators still don't know what caused the fire.
Most Popular Stories

Most Popular Stories

More>>

SPOKANE, Wash. - Update: Detectives have identified the woman found in the Spokane River September 15 just hours after releasing a rending of what she may have looked like. Detectives continue to work to determine what occurred prior to her death.

>>

SPOKANE, Wash. - Update: Detectives have identified the woman found in the Spokane River September 15 just hours after releasing a rending of what she may have looked like. Detectives continue to work to determine what occurred prior to her death.

>>

LOS ANGELES (AP) - Former rap mogul Marion "Suge" Knight has pleaded no contest to voluntary manslaughter and after he ran over two men, killing one, nearly four years ago. The Death Row Records co-founder entered the plea Thursday in Los Angeles Superior Court and has agreed to serve 28 years in prison.

>>

LOS ANGELES (AP) - Former rap mogul Marion "Suge" Knight has pleaded no contest to voluntary manslaughter and after he ran over two men, killing one, nearly four years ago. The Death Row Records co-founder entered the plea Thursday in Los Angeles Superior Court and has agreed to serve 28 years in prison.

>>

SPOKANE, Wash. - Durham Bus Services has had a rough start to the school year. Less, than one week in, Durham had to answer for a bus driver who dropped off a kindergartner at the wrong bus stop. Then, they had to respond to parents' concerns about overcrowding on school buses. On Thursday, they were once again addressing a serious parent concern.

>>

SPOKANE, Wash. - Durham Bus Services has had a rough start to the school year. Less, than one week in, Durham had to answer for a bus driver who dropped off a kindergartner at the wrong bus stop. Then, they had to respond to parents' concerns about overcrowding on school buses. On Thursday, they were once again addressing a serious parent concern.

>>

A school bus was hit by a car on the intersection of Joseph Avenue and Standard Street on Thursday. Nobody was hurt. All students were picked up from the scene of the accident by parents or guardians. The bus was taking Libby Center students home from school on Joseph Avenue. That's when a car hit the side of the bus while traveling on Standard Street, destroying the doors and stairs leading up to the vehicle's floor, according to a representative from Durham School Services.

>>

A school bus was hit by a car on the intersection of Joseph Avenue and Standard Street on Thursday. Nobody was hurt. All students were picked up from the scene of the accident by parents or guardians. The bus was taking Libby Center students home from school on Joseph Avenue. That's when a car hit the side of the bus while traveling on Standard Street, destroying the doors and stairs leading up to the vehicle's floor, according to a representative from Durham School Services.

>>

KOOTENAI COUNTY, Idaho - The Kootenai County Sheriff's Office reports a 39-year-old man from Spokane was booked into the Kootenai County Jail for the 21st time on Wednesday. Deputies arrested Anthony K. Thompson for a felony escape from community custody warrant and possession of stolen property.

>>

KOOTENAI COUNTY, Idaho - The Kootenai County Sheriff's Office reports a 39-year-old man from Spokane was booked into the Kootenai County Jail for the 21st time on Wednesday. Deputies arrested Anthony K. Thompson for a felony escape from community custody warrant and possession of stolen property.

>>

SPOKANE, Wash. - Cheyenne doesn't have a lot of luxuries in life. But one thing she does have is her horse, Benjamin. "I've started riding him in January, and we've built on from there," Cheyenne Clark said. Cheyenne is part of Team Legacy. One of the many equestrian clubs organized by Hearts and Horses, a non-profit, with the mission of giving underprivileged kids the chance to ride.

>>

SPOKANE, Wash. - Cheyenne doesn't have a lot of luxuries in life. But one thing she does have is her horse, Benjamin. "I've started riding him in January, and we've built on from there," Cheyenne Clark said. Cheyenne is part of Team Legacy. One of the many equestrian clubs organized by Hearts and Horses, a non-profit, with the mission of giving underprivileged kids the chance to ride.

>>