New technology to allow home appraisal from the air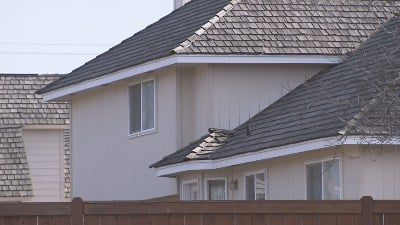 (The Assessor's office would begin taking pictures of your property
from the air, rather than sending appraisers to neighborhoods)

SPOKANE, Wash. - Tuesday, Spokane County Commissioners voted to purchase new technology that will allow the County Assessor's Office to appraise homes from the air.

The decision to purchase follows a nearly $350,000 budget cut to the Assessor's Office last year. County Assessor Ralph Baker said that cut meant the loss of five appraisers and without those employees - or the new technology - the office would be unable to fulfill its constitutional obligation of fairly appraising homes.

"We lost $347,000 dollars out of our budget last year and that equals 5 appraisers," said Baker, "I either need to hire back those appraisers or get this technology."

The entire aerial service would cost just more than $500,000 over a period of five years: a $20,000 deposit and 5 yearly payments of $98,000.

The technology itself is simple: A contracted pilot flies over all of Spokane County and photographs property every two years. The Assessor's Office then uses the high resolution photos to look for new construction and condition changes on property.

Some homeowners argue that this is an invasion of privacy and the technology will not allow for an accurate appraisal of their home.

"I don't like the idea. I would prefer they assess based on the other homes in the area," said homeowner Melissa Mabe. "I'm not comfortable with somebody taking a picture of my home and say 'here's what it is.'"

Baker said it is actually more accurate to appraise the homes by air, as sometimes appraisers miss properties and this system should help the assessor's office reduce oversight. He adds that the aerial pictures are no more invasive than the images shown on Google Earth or Bing.

Tuesday, County Commissioners voted 2 to 1 in favor of investing in the Aerial Photography Services, Software and Support with Commissioner Bonnie Mager opposing it. Mager said she was not convinced the county needed this technology and was concerned about the quality of the assessment.
Most Popular Stories

Most Popular Stories

More>>

SPOKANE, Wash. - Update: Detectives have identified the woman found in the Spokane River September 15 just hours after releasing a rending of what she may have looked like. Detectives continue to work to determine what occurred prior to her death.

>>

SPOKANE, Wash. - Update: Detectives have identified the woman found in the Spokane River September 15 just hours after releasing a rending of what she may have looked like. Detectives continue to work to determine what occurred prior to her death.

>>

SPOKANE, Wash. (AP) - A new 100-bed psychiatric hospital is coming to Spokane. The Inland Northwest Behavioral Health hospital, which opens to patients in October, will have about 200 employees. The Spokesman-Review says the $33 million facility will be split into four units, each with 25 beds for inpatient services. One unit will be reserved for adolescent patients between the ages of 13 and 17.

>>

SPOKANE, Wash. (AP) - A new 100-bed psychiatric hospital is coming to Spokane. The Inland Northwest Behavioral Health hospital, which opens to patients in October, will have about 200 employees. The Spokesman-Review says the $33 million facility will be split into four units, each with 25 beds for inpatient services. One unit will be reserved for adolescent patients between the ages of 13 and 17.

>>

LOS ANGELES (AP) - Former rap mogul Marion "Suge" Knight has pleaded no contest to voluntary manslaughter and after he ran over two men, killing one, nearly four years ago. The Death Row Records co-founder entered the plea Thursday in Los Angeles Superior Court and has agreed to serve 28 years in prison.

>>

LOS ANGELES (AP) - Former rap mogul Marion "Suge" Knight has pleaded no contest to voluntary manslaughter and after he ran over two men, killing one, nearly four years ago. The Death Row Records co-founder entered the plea Thursday in Los Angeles Superior Court and has agreed to serve 28 years in prison.

>>

SPOKANE, Wash. - Durham Bus Services has had a rough start to the school year. Less, than one week in, Durham had to answer for a bus driver who dropped off a kindergartner at the wrong bus stop. Then, they had to respond to parents' concerns about overcrowding on school buses. On Thursday, they were once again addressing a serious parent concern.

>>

SPOKANE, Wash. - Durham Bus Services has had a rough start to the school year. Less, than one week in, Durham had to answer for a bus driver who dropped off a kindergartner at the wrong bus stop. Then, they had to respond to parents' concerns about overcrowding on school buses. On Thursday, they were once again addressing a serious parent concern.

>>

Police say three infants and two adults were stabbed at an overnight day care center in New York City. All are in critical but stable condition. Authorities say the stabbings happened just before 4 a.m. Friday at a home in Queens. They say a 3-day-old girl and a 1-month-old girl were stabbed in the abdomen, and a 20-day-old girl suffered cuts to her ear, chin and lip.

>>

Police say three infants and two adults were stabbed at an overnight day care center in New York City. All are in critical but stable condition. Authorities say the stabbings happened just before 4 a.m. Friday at a home in Queens. They say a 3-day-old girl and a 1-month-old girl were stabbed in the abdomen, and a 20-day-old girl suffered cuts to her ear, chin and lip.

>>