Orlando SeaWorld worker killed by whale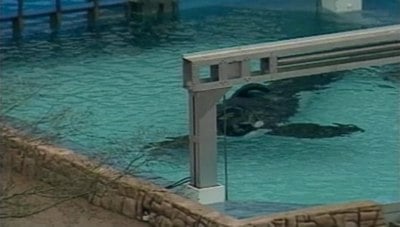 ORLANDO, Fla. - Officials in Florida say a veteran 40-year-old trainer at SeaWorld was killed by a whale when she slipped and fell in its tank.

SeaWorld Orlando President Dan Brown says officials are investigating but it appears to be an accident.

He says the trainer was one of the park's most experienced.

Spectator Victoria Biniak told WKMG-TV that the trainer had just finished explaining to the audience a show they were about to see Wednesday when the whale appeared to grab the trainer and thrash her around.

Brown says SeaWorld has never experienced an incident like this.
Most Popular Stories

Most Popular Stories

More>>

KHQ.COM - Most mothers can only hope by the time their children grow up and move out of the house, they've learned all the necessary things to be a successful adult, including the basic knowledge that a turkey must be cooked in an oven, or perhaps in a smoker... NOT in a microwave. For this reason a new prank-challenge going around on Facebook is resulting in some hilarious text conversations between mothers and their grown children.

>>

KHQ.COM - Most mothers can only hope by the time their children grow up and move out of the house, they've learned all the necessary things to be a successful adult, including the basic knowledge that a turkey must be cooked in an oven, or perhaps in a smoker... NOT in a microwave. For this reason a new prank-challenge going around on Facebook is resulting in some hilarious text conversations between mothers and their grown children.

>>

SPOKANE, Wash. - Spokane Police are investigating the death of a man who reportedly shot himself in the head during sex. In a search warrant filed Nov. 8 in Spokane Superior Court, a detective wrote that around 2 a.m. on Nov. 4, police were called to a home in the 7800 block of North Morton Ave. after a woman said her partner shot himself in the head.

>>

SPOKANE, Wash. - Spokane Police are investigating the death of a man who reportedly shot himself in the head during sex. In a search warrant filed Nov. 8 in Spokane Superior Court, a detective wrote that around 2 a.m. on Nov. 4, police were called to a home in the 7800 block of North Morton Ave. after a woman said her partner shot himself in the head.

>>

SANTA CLARA, Calif. - Police in California are looking for a missing Spokane man who went missing during the San Francisco 49ers game Monday night. 32-year-old Ian Powers was last seen at the game with his family Monday night. He went to the restroom alone late in the game and hasn't been seen since, police told local media.

>>

SANTA CLARA, Calif. - Police in California are looking for a missing Spokane man who went missing during the San Francisco 49ers game Monday night. 32-year-old Ian Powers was last seen at the game with his family Monday night. He went to the restroom alone late in the game and hasn't been seen since, police told local media.

>>

COEUR D'ALENE, Idaho - Coeur d'Alene Police have confirmed with KHQ that human remains were found near 8th and Mullan Tuesday night. The remains were found by a construction worker who alerted police Tuesday night. New apartments are being built on the site. Police did not have any additional details to release. This is a developing story.

>>

COEUR D'ALENE, Idaho - Coeur d'Alene Police have confirmed with KHQ that human remains were found near 8th and Mullan Tuesday night. The remains were found by a construction worker who alerted police Tuesday night. New apartments are being built on the site. Police did not have any additional details to release. This is a developing story.

>>

An independent panel that oversees probes into conduct by Spokane police has ordered additional investigation into a resident's complaint against an officer. The Spokesman-Review reports the ombudsman commission authorized the probe Tuesday following the request by Spokane Police Ombudsman Bart Logue.

>>

An independent panel that oversees probes into conduct by Spokane police has ordered additional investigation into a resident's complaint against an officer. The Spokesman-Review reports the ombudsman commission authorized the probe Tuesday following the request by Spokane Police Ombudsman Bart Logue.

>>

Trouble is nothing new for Tan Ho. He's seen a lot over the last 25 years he's owned Hai's Mini Market on North Market. Tuesday night, just before 8:30, a man with his face covered made the mistake of walking in and trying to rob him.

>>

Trouble is nothing new for Tan Ho. He's seen a lot over the last 25 years he's owned Hai's Mini Market on North Market. Tuesday night, just before 8:30, a man with his face covered made the mistake of walking in and trying to rob him.

>>