Spokane businesses cited following investigation into deadly wrong way wreck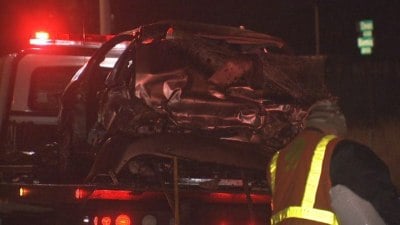 OLYMPIA, Wash. - Two Spokane businesses have been found in violation of state liquor laws following an investigation into a triple fatality collision in Spokane in December.
The collision happened in the early morning hours of December 17 on the Eastbound I-90 on-ramp to Southbound US 195 in Spokane, according to the Washington State Liquor Control Board.
One of the vehicles involved in the collision was being driven by 22-year-old Sterling Kruger who was traveling west in the eastbound lanes of I-90 and who was allegedly driving under the influence of alcohol when he hit another car head-on.

Kruger and the two people in the other car, Trina Erickson, 47, and 61-year-old James Bolton were killed in the collision.
A group of people – including Kruger – visited the three Spokane businesses on the night of the collision.
The Washington State Liquor Control Board found that The Lion's Lair, located at 205 W. Riverside Ave., and the BLVD House of Music, located at 230 W. Riverside Ave., violated liquor laws the night of the collision. A third business that was part of the investigation was not cited.

The following Administrative Violation Notices were issued Wednesday:

The Lion's Lair
Violation for allowing an apparently intoxicated person to consume/possess alcohol
Recommended penalty: Five day liquor license suspension or a $500 fine
**First violation of this type within two years
BLVD House of Music

Violation for allowing an apparently intoxicated person to consume/possess alcohol
Recommended penalty: 30 day liquor license suspension
**Third violation of this type within two years
Information from: WSLCB
Most Popular Stories

Most Popular Stories

More>>

SPOKANE, Wash. - Update: Spokane Police Department SWAT Team officers took a homicide suspect into custody following an afternoon shooting in downtown Spokane. That suspect was identified as 27-year-old Joel C. Taitch. He was found blocks away from the crime scene and booked for 2nd degree murder.

>>

SPOKANE, Wash. - Update: Spokane Police Department SWAT Team officers took a homicide suspect into custody following an afternoon shooting in downtown Spokane. That suspect was identified as 27-year-old Joel C. Taitch. He was found blocks away from the crime scene and booked for 2nd degree murder.

>>

SPOKANE, Wash. - Feel like you have to keep swatting bugs away when you've been walking outside this week? What you might be calling gnats, are really blue ash aphids. And right now they are more active than ever, because it's mating season. KHQ met a couple who noticed the blue ash aphids right when they started their walk in the park.

>>

SPOKANE, Wash. - Feel like you have to keep swatting bugs away when you've been walking outside this week? What you might be calling gnats, are really blue ash aphids. And right now they are more active than ever, because it's mating season. KHQ met a couple who noticed the blue ash aphids right when they started their walk in the park.

>>

SPRING, Texas - Authorities near Houston are trying to identify a woman who abandoned a toddler on a stranger's doorstep. The Montgomery County Sheriff's Office says a video doorbell captured the woman running up to the door of the home in Spring dragging the boy by his arm, ringing the doorbell and knocking several times.

>>

SPRING, Texas - Authorities near Houston are trying to identify a woman who abandoned a toddler on a stranger's doorstep. The Montgomery County Sheriff's Office says a video doorbell captured the woman running up to the door of the home in Spring dragging the boy by his arm, ringing the doorbell and knocking several times.

>>

FORT HALL, Idaho (AP) - A trucker from Missouri who was beaten at an Idaho truck stop last month is still recovering from his injuries, and his employer has offered a $1,000 reward for information leading to the arrest and conviction of his attacker.

>>

FORT HALL, Idaho (AP) - A trucker from Missouri who was beaten at an Idaho truck stop last month is still recovering from his injuries, and his employer has offered a $1,000 reward for information leading to the arrest and conviction of his attacker.

>>

SPOKANE, Wash. - Spokane Police say a man has died outside the Spokane Public Library downtown. Officers were called to the scene at 906 W. Main Ave. around 2 p.m. Wednesday. Details about what happened are limited at the moment, but officers on the scene say they are investigating the death as a homicide until they can prove that it is not, as is protocol.

>>

SPOKANE, Wash. - Spokane Police say a man has died outside the Spokane Public Library downtown. Officers were called to the scene at 906 W. Main Ave. around 2 p.m. Wednesday. Details about what happened are limited at the moment, but officers on the scene say they are investigating the death as a homicide until they can prove that it is not, as is protocol.

>>

HAILEY, Idaho - Actor Bruce Willis has sold his 20-acre (8-hectare) ranch in central Idaho for $5.5 million. KTVB-TV reports in a story on Wednesday that's far below the original asking price of $15 million when the home was put up for sale in 2011. Travis Jones is a listing agent with Engel & Volkers Sun Valley who took over the job of selling the home in the small town of Hailey two years ago.

>>

HAILEY, Idaho - Actor Bruce Willis has sold his 20-acre (8-hectare) ranch in central Idaho for $5.5 million. KTVB-TV reports in a story on Wednesday that's far below the original asking price of $15 million when the home was put up for sale in 2011. Travis Jones is a listing agent with Engel & Volkers Sun Valley who took over the job of selling the home in the small town of Hailey two years ago.

>>