Richland lab installs 850 border radiation monitors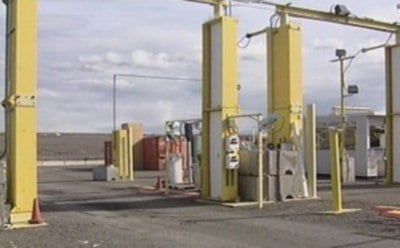 RICHLAND, Wash. - Every car and truck that enters the United States through a customs station along the Canadian or Mexican borders now is screened for radioactive contraband with a system installed by the Pacific Northwest National Laboratory.

The Department of Energy national lab in Richland has completed installing 850 of the yellow radiation portal monitoring systems. The last one was installed in Trout River, N.Y.

Cars or trucks that get a suspicious reading can be stopped and searched.

PNNL has a wealth of experience from its work supporting nuclear cleanup at the Hanford nuclear reservation.

The lab now turns to installing radiation detection systems for the Homeland Security Department at airports and seaports.
Most Popular Stories

Most Popular Stories

More>>

BOISE, Idaho - Idaho Fish and Game Commissioner Blake Fischer has resigned, effective immediately, after photos involving a dead baboon family surfaced from an African hunting trip. Idaho Governor C.L. "Butch" Otter announced Monday afternoon that he asked for and received the resignation from Fischer, who was under intense criticism for the graphic photos from last month.

>>

BOISE, Idaho - Idaho Fish and Game Commissioner Blake Fischer has resigned, effective immediately, after photos involving a dead baboon family surfaced from an African hunting trip. Idaho Governor C.L. "Butch" Otter announced Monday afternoon that he asked for and received the resignation from Fischer, who was under intense criticism for the graphic photos from last month.

>>

BRISTOL, Tenn. (AP) - A man who police say was run over with a lawn mower while trying to kill his son with a chain saw has had to have his leg amputated. The Bristol Herald Courier reports that a warrant for 76-year-old Douglas Ferguson couldn't be served until Tuesday because of the severity of his injuries.

>>

BRISTOL, Tenn. (AP) - A man who police say was run over with a lawn mower while trying to kill his son with a chain saw has had to have his leg amputated. The Bristol Herald Courier reports that a warrant for 76-year-old Douglas Ferguson couldn't be served until Tuesday because of the severity of his injuries.

>>

BOZEMAN, Mont. - A Facebook post by Bob Legasa of Hayden, Idaho is going viral after he survived a grizzly attack while bow hunting in Montana. Legasa says in the post: "My hunting partner Greg Gibson and I surprised a Sow grizzly and her cub as we were moving in on some Elk. We walked up to with in 12 yards when we all saw each other And before I could even reach for my bear spray she was at full charge.

>>

BOZEMAN, Mont. - A Facebook post by Bob Legasa of Hayden, Idaho is going viral after he survived a grizzly attack while bow hunting in Montana. Legasa says in the post: "My hunting partner Greg Gibson and I surprised a Sow grizzly and her cub as we were moving in on some Elk. We walked up to with in 12 yards when we all saw each other And before I could even reach for my bear spray she was at full charge.

>>

COLFAX, Wash. (AP) - A woman accused of fatally shooting a Coeur d'Alene, Idaho, man in Colfax, Washington, has pleaded innocent by reason of insanity. The Spokesman-Review reports Ashley Myers entered the plea to second-degree murder Friday in Whitman County Superior Court. Insanity pleas allow for the defense to argue for a potential commitment to a psychiatric facility instead of prison.

>>

COLFAX, Wash. (AP) - A woman accused of fatally shooting a Coeur d'Alene, Idaho, man in Colfax, Washington, has pleaded innocent by reason of insanity. The Spokesman-Review reports Ashley Myers entered the plea to second-degree murder Friday in Whitman County Superior Court. Insanity pleas allow for the defense to argue for a potential commitment to a psychiatric facility instead of prison.

>>

SEATTLE, Wash. - A group of anonymous University of Washington students have launched a website that is courting controversy. The site, Makethemscared.com, publishes the names of individuals, all men so far, both at UW and outside of the school who have been accused of rape, sexual assault, harassment and abuse.

>>

SEATTLE, Wash. - A group of anonymous University of Washington students have launched a website that is courting controversy. The site, Makethemscared.com, publishes the names of individuals, all men so far, both at UW and outside of the school who have been accused of rape, sexual assault, harassment and abuse.

>>

BREVARD COUNTY, Fla - As per usual, something crazy happened in Florida, but this time luckily no one was seriously hurt. A driver walked away with minor scrapes after an unsecured sheet of plywood impaled the windshield of their car. According to NBC-2, the car was traveling on I-95 when the sheet of plywood fell out of a pickup truck and pierced the windshield of the car traveling behind.

>>

BREVARD COUNTY, Fla - As per usual, something crazy happened in Florida, but this time luckily no one was seriously hurt. A driver walked away with minor scrapes after an unsecured sheet of plywood impaled the windshield of their car. According to NBC-2, the car was traveling on I-95 when the sheet of plywood fell out of a pickup truck and pierced the windshield of the car traveling behind.

>>