Teacher shot and killed at Tacoma school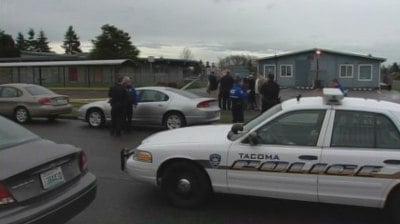 TACOMA, Wash. - A man who shot and killed a special education teacher Friday as she walked into her Tacoma, Wash., elementary school recently made bail after being arrested for violating a protective order she obtained in September 2008.

Tacoma Police spokesman Mark Fulghum says the two had apparently known each other since college, when they worked together at a cafeteria at Seattle Pacific University.

Fulghum says the man had been bothering the teacher for some time, but he did not know specifically what prompted the woman to obtain the protective order.
A school district spokesman says the woman was shot at about 7:35 a.m. at Birney Elementary before students arrived. The spokesman says the teacher worked in the language resource center helping students one-on-one with reading problems.

Pierce County sheriff's spokesman Ed Troyer says the suspect was killed in a shootout with a deputy a short time later about 10 miles away.

The school has about 400 students in grades K-5. Classes were called off for the day.
Most Popular Stories

Most Popular Stories

More>>

A man convicted for killing a dog in Kootenai County was arrested by the Okanogan County deputies on Friday. Austin Stephen Matott was released from jail on a $25,000 on Tuesday. He was pulled over for a routine traffic stop a few days beforehand. Matott was wanted in Idaho for skipping his sentencing hearing last month, August 7. He was found guilty of two charges of animal abuse and cruelty. A jury found Matott responsible for killing a corgi-heeler mix named Hank, who was...

>>

A man convicted for killing a dog in Kootenai County was arrested by the Okanogan County deputies on Friday. Austin Stephen Matott was released from jail on a $25,000 on Tuesday. He was pulled over for a routine traffic stop a few days beforehand. Matott was wanted in Idaho for skipping his sentencing hearing last month, August 7. He was found guilty of two charges of animal abuse and cruelty. A jury found Matott responsible for killing a corgi-heeler mix named Hank, who was...

>>

SPOKANE, Wash. - From the outside, the Repeat Boutique looks like a lot of other thrift shops in Spokane. Inside, some might describe the stuff for sale as old, used, discarded garbage -- but store manager CJ Curtis sees its potential. And just like the goods in her shop, CJ is on her way to a new life, one far from the one she once lived.

>>

SPOKANE, Wash. - From the outside, the Repeat Boutique looks like a lot of other thrift shops in Spokane. Inside, some might describe the stuff for sale as old, used, discarded garbage -- but store manager CJ Curtis sees its potential. And just like the goods in her shop, CJ is on her way to a new life, one far from the one she once lived.

>>

SPOKANE, Wash. - Wednesday night KHQ and the Spokesman Review will host a town hall candidate forum with Rep. Cathy McMorris Rodgers, the top ranking female GOP member in the house, and her democratic rival, former state Sen. Lisa Brown. Live coverage of the event will begin at 6 p.m. on KHQ, KHQ.com, and the KHQ app for your phone and TV.

>>

SPOKANE, Wash. - Wednesday night KHQ and the Spokesman Review will host a town hall candidate forum with Rep. Cathy McMorris Rodgers, the top ranking female GOP member in the house, and her democratic rival, former state Sen. Lisa Brown. Live coverage of the event will begin at 6 p.m. on KHQ, KHQ.com, and the KHQ app for your phone and TV.

>>

SPOKANE, Wash. - "He told me to pull over, and my jaw just dropped," a Spokane woman, who says a fake police officer tried to pull her over, doesn't want to be named. In fear, this could happen again. "It really scared me and kind of threw me off that night. I don't even want to drive by myself anymore," she said. She tells me that she was driving around North Spokane at night on her way home from work.

>>

SPOKANE, Wash. - "He told me to pull over, and my jaw just dropped," a Spokane woman, who says a fake police officer tried to pull her over, doesn't want to be named. In fear, this could happen again. "It really scared me and kind of threw me off that night. I don't even want to drive by myself anymore," she said. She tells me that she was driving around North Spokane at night on her way home from work.

>>

SPOKANE, Wash. - Is your car at a greater risk of being stolen? A new report shows the top ten cars in Washington that owners need to start taking extra precautions tonight. Washington may have dropped 6 percent in auto thefts this year, but from last September, to right now, over 1,200 cars have been reported stolen.

>>

SPOKANE, Wash. - Is your car at a greater risk of being stolen? A new report shows the top ten cars in Washington that owners need to start taking extra precautions tonight. Washington may have dropped 6 percent in auto thefts this year, but from last September, to right now, over 1,200 cars have been reported stolen.

>>

Authorities in eastern Tennessee say a 12-year-old boy shot and killed his mother's husband during a domestic dispute. News outlets report 56-year-old Kevron Thomas "Tommy" Durham was shot twice with a rifle Saturday night. A release from District Attorney General Russell Johnson says authorities had received at least five previous calls from the home for domestic violence, although none resulted in criminal charges.

>>

Authorities in eastern Tennessee say a 12-year-old boy shot and killed his mother's husband during a domestic dispute. News outlets report 56-year-old Kevron Thomas "Tommy" Durham was shot twice with a rifle Saturday night. A release from District Attorney General Russell Johnson says authorities had received at least five previous calls from the home for domestic violence, although none resulted in criminal charges.

>>