League champion Weber State jumps out to early lead and romps past Eagles 85-57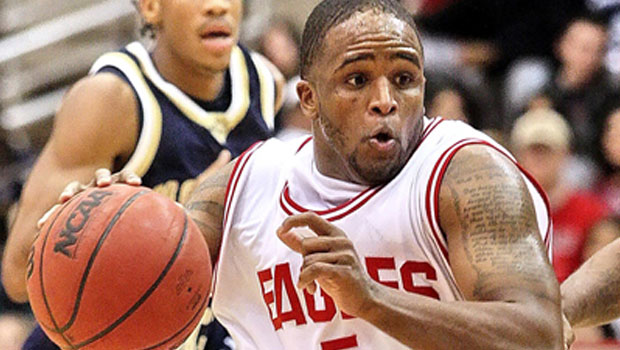 CHENEY, Wash. - Big Sky Conference regular season champion Weber State jumped out to an early 20-5 lead and went on to defeat Eastern Washington 85-57 Friday (Feb. 26) at Reese Court in Cheney, Wash.
The loss eliminated Eastern from contention to garner the sixth and final berth in the Big Sky Conference Tournament that starts on March 6. The Eagles needed to win their last two games and have Portland State lose their final two for EWU to earn a berth. Instead, Eastern lost and the Vikings won on Friday.
"I thought we would be ready to battle them tonight, but we weren't," said Eastern head coach Kirk Earlywine.
Eastern ends its season against on Saturday (Feb. 27) at Reese Court against Idaho State, a 98-63 loser to PSU on Friday. The game begins at 7:05 p.m. at Reese Court in Cheney, Wash., and will be televised live in the Spokane area on SWX and broadcast via radio on 1050am. It is also available via www.bigskytv.org.
The Eagles are now 8-21 overall and 4-11 in the Big Sky. Weber State clinched the regular season title, a first-round bye and host status for the semifinals and championship game on March 9 and 10, respectively. The Wildcats, who defeated EWU 89-67 on Jan. 23 in Ogden, Utah, are 13-2 in the league and 19-8 overall. Last year, Weber State was 15-1 in the league.
"Without any question, they have talented basketball players at every position," said Earlywine. "They play very hard and are well-coached. There is a reason they are back-to-back (regular season) champions in our league."
Freshman Glen Dean led the Eagles with 17 points and three assists as he made 9-of-10 free throws. Fellow freshman Jeffrey Forbes chipped in 10 points and three steals.
Eastern made just 28.8 percent of its shots from the field, its lowest shooting percentage in league play and the third-lowest this season. The Wildcats made 46 percent, out-rebounded EWU 48-33 and had 24 fast-break points.
After Weber State opened its early lead, Eastern came no closer than 12 the rest of the way. Weber State ended the first half with a 13-4 run to take a 51-24 lead at intermission. Its biggest lead was 34 points with 3:52 to play.
"We had 14 turnovers in the first half," said Earlywine. "We're not at the point where we can overcome that."
Damian Lillard, the favorite to win the league's Player of the Year honor, led the Wildcats 18 points, seven rebounds, four steals and three assists. In the previous meeting, he had scorched the Eagles for 36 points on 10-of-11 shooting from the field, 6-of-7 from the three-point arc and 10-of-11 from the free throw line. He also had six rebounds and a pair of assists in the first meeting.
Idaho State is now 4-11 in the league and 7-21 overall after Friday's loss to Portland State.
The Bengals knocked off Eastern 80-74 on Jan. 22 in a game in which ISU out-scored EWU 23-4 from the free throw line. Eastern was called for 24 fouls compared to 13 for the Bengals, and took 21 less free throws (10-31) to spoil a 49 percent shooting night for EWU.
Saturday's game will be the final home appearance of five Eastern seniors -- Brandon Moore, Mark Dunn, Matthew Brunell, Benny Valentine and Gary Gibson. Moore is the lone four-year letter winner in the group, and enters the weekend with 115 career games played (third in school history), 678 rebounds (fourth), 87 blocked shots (2nd) and 953 points.
Eastern was coming off a pair of road losses last week, falling 58-54 at Northern Colorado on Thursday (Feb. 18) and 74-71 in overtime to Northern Arizona on Saturday (Feb. 20). The Eagles led by at least eight points in the second half of each game before succumbing in the final seconds on game-winning three-point shots.
Both of those losses -- as well as four during a recent seven-game losing streak -- were decided by six points or less. So far this season, 16 of 29 Eastern games have been decided by six points or less. EWU is 6-10 in those 16 nail-biters.