Officials feathers' ruffled over fowl-fouled lake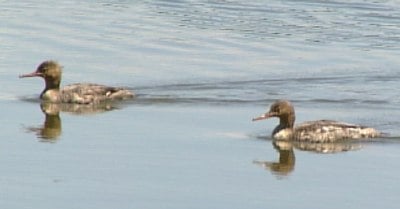 (File Photo)

COEUR D'ALENE, Idaho. - Fernan city officials say the docks on Fernan Lake are turning into an avian sewer because too many people are feeding the ducks.

Fernan Mayor Jim Elder says that the ducks are all staying in a concentrated area because they're being continuously fed. That means the animals' waste is also staying in one area, damaging water quality and causing a mess.

The city passed an ordinance to ban feeding wildlife more than a year ago, but Elder says the potential $300 fine has done little to stop would-be duck feeders. He told the Coeur d'Alene Press that as a result the number of ducks on the lake is exploding.
Most Popular Stories

Most Popular Stories

More>>

SPOKANE, Wash. - From the outside, the Repeat Boutique looks like a lot of other thrift shops in Spokane. Inside, some might describe the stuff for sale as old, used, discarded garbage -- but store manager CJ Curtis sees its potential. And just like the goods in her shop, CJ is on her way to a new life, one far from the one she once lived.

>>

SPOKANE, Wash. - From the outside, the Repeat Boutique looks like a lot of other thrift shops in Spokane. Inside, some might describe the stuff for sale as old, used, discarded garbage -- but store manager CJ Curtis sees its potential. And just like the goods in her shop, CJ is on her way to a new life, one far from the one she once lived.

>>

SPOKANE, Wash. - "He told me to pull over, and my jaw just dropped," a Spokane woman, who says a fake police officer tried to pull her over, doesn't want to be named. In fear, this could happen again. "It really scared me and kind of threw me off that night. I don't even want to drive by myself anymore," she said. She tells me that she was driving around North Spokane at night on her way home from work.

>>

SPOKANE, Wash. - "He told me to pull over, and my jaw just dropped," a Spokane woman, who says a fake police officer tried to pull her over, doesn't want to be named. In fear, this could happen again. "It really scared me and kind of threw me off that night. I don't even want to drive by myself anymore," she said. She tells me that she was driving around North Spokane at night on her way home from work.

>>

Authorities in eastern Tennessee say a 12-year-old boy shot and killed his mother's husband during a domestic dispute. News outlets report 56-year-old Kevron Thomas "Tommy" Durham was shot twice with a rifle Saturday night. A release from District Attorney General Russell Johnson says authorities had received at least five previous calls from the home for domestic violence, although none resulted in criminal charges.

>>

Authorities in eastern Tennessee say a 12-year-old boy shot and killed his mother's husband during a domestic dispute. News outlets report 56-year-old Kevron Thomas "Tommy" Durham was shot twice with a rifle Saturday night. A release from District Attorney General Russell Johnson says authorities had received at least five previous calls from the home for domestic violence, although none resulted in criminal charges.

>>

SPOKANE, Wash. - Wednesday night KHQ and the Spokesman Review will host a town hall candidate forum with Rep. Cathy McMorris Rodgers, the top ranking female GOP member in the house, and her democratic rival, former state Sen. Lisa Brown. Live coverage of the event will begin at 6 p.m. on KHQ, KHQ.com, and the KHQ app for your phone and TV.

>>

SPOKANE, Wash. - Wednesday night KHQ and the Spokesman Review will host a town hall candidate forum with Rep. Cathy McMorris Rodgers, the top ranking female GOP member in the house, and her democratic rival, former state Sen. Lisa Brown. Live coverage of the event will begin at 6 p.m. on KHQ, KHQ.com, and the KHQ app for your phone and TV.

>>

A former volleyball player for Washington State University says Jason Gesser made sexual advances toward her during a charity event for the athletic department. "I thought I did something wrong, I thought that I could hurt their family," said Alyssa Wold-Bodeau. "So I chose to hide it, I chose to bury it, and I thought if it was just me and I only knew about it I could just deal with it and move on to protect them." Wold- Bodeau told the Spokesman-Review that Ges...

>>

A former volleyball player for Washington State University says Jason Gesser made sexual advances toward her during a charity event for the athletic department. "I thought I did something wrong, I thought that I could hurt their family," said Alyssa Wold-Bodeau. "So I chose to hide it, I chose to bury it, and I thought if it was just me and I only knew about it I could just deal with it and move on to protect them." Wold- Bodeau told the Spokesman-Review that Ges...

>>

SPOKANE, Wash. - Spokane County Sheriff's Major Crimes detectives continue to work on identifying the body of a woman found in the Spokane River on September 15. Detectives have received several tips, which they continue to follow up and investigate, but so far the woman has not been identified.

>>

SPOKANE, Wash. - Spokane County Sheriff's Major Crimes detectives continue to work on identifying the body of a woman found in the Spokane River on September 15. Detectives have received several tips, which they continue to follow up and investigate, but so far the woman has not been identified.

>>