Coast Guard rescues pilot after biplane crash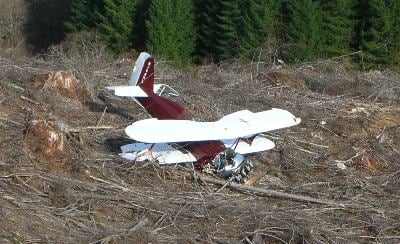 (Photo: US Coast Guard)

ASTORIA, Ore. - The Coast Guard rescued a 54-year-old man from a forested area 21 miles southeast of North Bend, Ore., after his plane crashed Sunday.
The Air Force Rescue Coordination Center at Tyndall Air Force Base, Florida, notified the Coast Guard of the crash at approximately 2:45 p.m.

An HH-65 Dolphin helicopter crew from Air Station North Bend was dispatched to the scene.

The pilot, Paul Schafer, who was conscious and able to communicate with a radio, was found and escorted safely to the helicopter. He was taken to Air Station North Bend where he was transported to Bay Area Hospital in North Bend by ambulance.
Most Popular Stories

Most Popular Stories

More>>

SPOKANE, Wash. - The Spokane County Sheriff's Office says they have arrested a 39-year-old man for sexually assaulting a 12-year-old girl. Last month, detectives received information from the Post Falls Police Department naming Jeffrey A. Christenot as a suspect in the sexual assault of a 12-year-old girl in 2015-2016. The information stated Christenot confessed to the crimes in a video that had been posted to Facebook.

>>

SPOKANE, Wash. - The Spokane County Sheriff's Office says they have arrested a 39-year-old man for sexually assaulting a 12-year-old girl. Last month, detectives received information from the Post Falls Police Department naming Jeffrey A. Christenot as a suspect in the sexual assault of a 12-year-old girl in 2015-2016. The information stated Christenot confessed to the crimes in a video that had been posted to Facebook.

>>

PULLMAN, Wash. - It's a moment that proudly lives in WSU football history. September 28, 2013. WSU is losing to Stanford. The score isn't important, but let's just say it was a lot. Ok, fine. It was 41-3 early in the 4th quarter.

>>

PULLMAN, Wash. - It's a moment that proudly lives in WSU football history. September 28, 2013. WSU is losing to Stanford. The score isn't important, but let's just say it was a lot. Ok, fine. It was 41-3 early in the 4th quarter. The cameras of ESPN turned their attention to one lonely Coug fan in the 300 level. There was one man. His feet were reclined, his arms were sprawled.

>>

BRISTOL, Tenn. (AP) - A man who police say was run over with a lawn mower while trying to kill his son with a chain saw has had to have his leg amputated. The Bristol Herald Courier reports that a warrant for 76-year-old Douglas Ferguson couldn't be served until Tuesday because of the severity of his injuries.

>>

BRISTOL, Tenn. (AP) - A man who police say was run over with a lawn mower while trying to kill his son with a chain saw has had to have his leg amputated. The Bristol Herald Courier reports that a warrant for 76-year-old Douglas Ferguson couldn't be served until Tuesday because of the severity of his injuries.

>>

A grandmother is being questioned after her dead granddaughter was found inside a heated oven in a Mississippi town. Bolivar County Sheriff Kelvin Williams tells local news outlets the 20-month-old girl had also been stabbed when she was found dead Monday night in Shaw. The grandmother isn't currently charged but Williams describes her as being in custody. Officials haven't named her or the toddler.

>>

A grandmother is being questioned after her dead granddaughter was found inside a heated oven in a Mississippi town. Bolivar County Sheriff Kelvin Williams tells local news outlets the 20-month-old girl had also been stabbed when she was found dead Monday night in Shaw. The grandmother isn't currently charged but Williams describes her as being in custody. Officials haven't named her or the toddler.

>>

SMELTERVILLE, Idaho - The Spokane bomb squad was called in to assist with an explosive device found in the Smelterville area on Monday. Shoshone County Sheriff's Office Deputies and the District 2 Fire Department responded to a residence in Smelterville for a possible explosive device. Following some questioning and investigation, the Spokane bomb squad was dispatched.

>>

SMELTERVILLE, Idaho - The Spokane bomb squad was called in to assist with an explosive device found in the Smelterville area on Monday. Shoshone County Sheriff's Office Deputies and the District 2 Fire Department responded to a residence in Smelterville for a possible explosive device. Following some questioning and investigation, the Spokane bomb squad was dispatched.

>>

A Melania Trump spokeswoman is asking people to boycott Atlanta rapper T.I. because of his promotional album video that shows a woman resembling the first lady stripping in the oval office. WXIA-TV reports that Trump's communications director, Stephanie Grisham, tweeted Saturday asking how the video was acceptable. T.I., whose real name is Clifford Harris, tweeted Friday "Dear 45, I ain't Kanye" before sharing the video.

>>

A Melania Trump spokeswoman is asking people to boycott Atlanta rapper T.I. because of his promotional album video that shows a woman resembling the first lady stripping in the oval office. WXIA-TV reports that Trump's communications director, Stephanie Grisham, tweeted Saturday asking how the video was acceptable. T.I., whose real name is Clifford Harris, tweeted Friday "Dear 45, I ain't Kanye" before sharing the video.

>>