Loaded pistol discovered in woman's purse at Spokane County Courthouse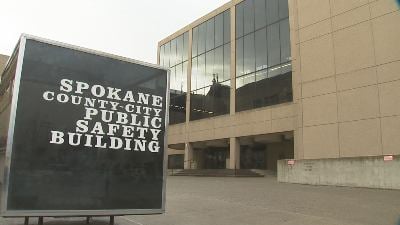 Sgt. Dave Reagan | Spokane County Sheriff's Office

SPOKANE, Wash. - A 22-year-old Spokane woman was arrested Wednesday morning after security staff in the Spokane County Courthouse discovered a loaded pistol in her purse as she was headed to a domestic violence hearing.
Stacey L. Atkins was cited for Possession of a Concealed Dangerous Weapon and Carrying a Weapon into a Prohibited Place. Both are misdemeanors and she was released after she signed the promise to appear in court.
Security staff discovered the pistol as Atkins' purse went through the x-ray machine at the annex entrance on the north side of the courthouse. They seized the purse and called a deputy to the station.
The deputy, who oversees the courthouse security program, detained and interviewed Atkins, then placed the Bersa .380-caliber semi-automatic pistol on police property as evidence. The gun's magazine was loaded, but there was no bullet in the chamber.
Security in the Spokane County Courthouse was beefed up after a fatal shooting in a King County domestic violence courtroom in 1995. A husband facing divorce shot and killed his wife and her two female friends with a pistol he pulled from his briefcase.
Carrying a concealed firearm is lawful if the person has obtained a Washington State Concealed Weapon Permit. However, buildings housing a courtroom are one of several specific facilities where firearms are prohibited by law.
Most Popular Stories

Most Popular Stories

More>>

SPOKANE, Wash. - Seattle-based Amazon.com is opening a fulfillment center in Spokane, promising more than 1,500 full-time jobs. The company announced on Friday that it was opening its first fulfillment center in eastern Washington. The 600,000-square foot center will be built near the Spokane International Airport.

>>

SPOKANE, Wash. - Seattle-based Amazon.com is opening a fulfillment center in Spokane, promising more than 1,500 full-time jobs. The company announced on Friday that it was opening its first fulfillment center in eastern Washington. The 600,000-square foot center will be built near the Spokane International Airport.

>>

BRANSON, Mo. - Divers found four more bodies Friday in a Missouri lake where a duck boat packed with tourists capsized and sank in high winds, bringing the death toll to 17 in the country-and-western town of Branson, authorities said.

>>

BRANSON, Mo. - Divers found four more bodies Friday in a Missouri lake where a duck boat packed with tourists capsized and sank in high winds, bringing the death toll to 17 in the country-and-western town of Branson, authorities said.

>>

COEUR D'ALENE, Idaho - On July 12, officers responded to a large fight at a Coeur d'Alene McDonald's. Court documents say a Hayden man was charged with battery and malicious harassment, which is considered a hate crime in Idaho, following an investigation by police. When officers arrived on scene, the fight had broken up, but witnesses were interviewed at the scene.

>>

COEUR D'ALENE, Idaho - On July 12, officers responded to a large fight at a Coeur d'Alene McDonald's. Court documents say a Hayden man was charged with battery and malicious harassment, which is considered a hate crime in Idaho, following an investigation by police. When officers arrived on scene, the fight had broken up, but witnesses were interviewed at the scene.

>>

KITTITAS COUNTY, Wash. - Washington Department of Natural Resources is now reporting the Boylston fire is 70,000 acres in size as of Friday morning. More fire crews are en route to battle the blaze, but firefighters say the fire is burning in an area that's difficult to access.

>>

KITTITAS COUNTY, Wash. - Washington Department of Natural Resources is now reporting the Boylston fire is 70,000 acres in size as of Friday morning. More fire crews are en route to battle the blaze, but firefighters say the fire is burning in an area that's difficult to access.

>>

MATTAWA, Wash. -Washington DNR now says the Buckshot fire burning near Mattawa is 20 percent contained Friday morning. The fire size remains at 1,000 acres as crews continue to work.

>>

MATTAWA, Wash. -Washington DNR now says the Buckshot fire burning near Mattawa is 20 percent contained Friday morning. The fire size remains at 1,000 acres as crews continue to work.

>>

SPOKANE VALLEY, Wash. - Having already experienced enough tragedy this week, a Post Falls woman avoided some more when her beloved dog was found Thursday. Pamela Luton has had an unimaginably difficult week, having lost her husband Michael Arnold in a motorcycle-semi crash near Trent and Evergreen on Tuesday.

>>

SPOKANE VALLEY, Wash. - Having already experienced enough tragedy this week, a Post Falls woman avoided some more when her beloved dog was found Thursday. Pamela Luton has had an unimaginably difficult week, having lost her husband Michael Arnold in a motorcycle-semi crash near Trent and Evergreen on Tuesday.

>>