Stuck semi blocks traffic on Sprague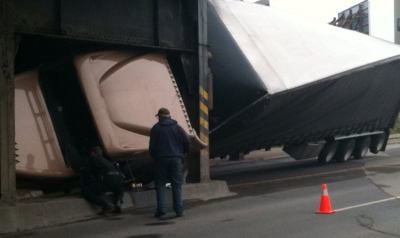 SPOKANE, Wash. - Three lanes of Sprague - two eastbound and one westbound - were blocked for sometime Thursday morning after the driver of a semi struck a railroad overpass at Sprague and Division.

The driver was heading east when he hit the overpass. The force of the collision caused the cab to separate from the trailer.

The driver was not injured.
Most Popular Stories

Most Popular Stories

More>>

SPOKANE, Wash. - Update: Detectives have identified the woman found in the Spokane River September 15 just hours after releasing a rending of what she may have looked like. Detectives continue to work to determine what occurred prior to her death.

>>

SPOKANE, Wash. - Update: Detectives have identified the woman found in the Spokane River September 15 just hours after releasing a rending of what she may have looked like. Detectives continue to work to determine what occurred prior to her death.

>>

SPOKANE, Wash. - The State Department of Vocational Rehabilitation (DVR) is a life-changing resource for hundreds of disabled people in Spokane. Finding them jobs, counseling and places to live. A big part of the agency's mission is at a standstill after DVR cut ties with one of it's major contractors without warning. For twenty-seven years, Compass has been a one-stop shop for launching disabled and disadvantaged residents on a path to a better, independent life.

>>

SPOKANE, Wash. - The State Department of Vocational Rehabilitation (DVR) is a life-changing resource for hundreds of disabled people in Spokane. Finding them jobs, counseling and places to live. A big part of the agency's mission is at a standstill after DVR cut ties with one of it's major contractors without warning. For twenty-seven years, Compass has been a one-stop shop for launching disabled and disadvantaged residents on a path to a better, independent life.

>>

SPOKANE, Wash. (AP) - A new 100-bed psychiatric hospital is coming to Spokane. The Inland Northwest Behavioral Health hospital, which opens to patients in October, will have about 200 employees. The Spokesman-Review says the $33 million facility will be split into four units, each with 25 beds for inpatient services. One unit will be reserved for adolescent patients between the ages of 13 and 17.

>>

SPOKANE, Wash. (AP) - A new 100-bed psychiatric hospital is coming to Spokane. The Inland Northwest Behavioral Health hospital, which opens to patients in October, will have about 200 employees. The Spokesman-Review says the $33 million facility will be split into four units, each with 25 beds for inpatient services. One unit will be reserved for adolescent patients between the ages of 13 and 17.

>>

SACRAMENTO, Calif. (AP) - Sacramento police have arrested a married 58-year-old man in connection with at least 10 rapes across Northern California between 1991 and 2006. Sacramento police say they arrested Roy Charles Waller of Benicia on Thursday in the NorCal Rapist case. He was arrested at the University of California in Berkeley, where he worked as a safety specialist in the office of environment, health and safety.

>>

SACRAMENTO, Calif. (AP) - Sacramento police have arrested a married 58-year-old man in connection with at least 10 rapes across Northern California between 1991 and 2006. Sacramento police say they arrested Roy Charles Waller of Benicia on Thursday in the NorCal Rapist case. He was arrested at the University of California in Berkeley, where he worked as a safety specialist in the office of environment, health and safety.

>>

COEUR D'ALENE, Idaho - Surveillance video obtained by KHQ from the McDonald's in Spokane Valley shows an alleged thief who Krystalynn Tekancic says broke into her home while she was moving. "We're pretty sure that the person who broke in my house while I was home and they took my laptop and my phone and a few personal items," Tekancic said.

>>

COEUR D'ALENE, Idaho - Surveillance video obtained by KHQ from the McDonald's in Spokane Valley shows an alleged thief who Krystalynn Tekancic says broke into her home while she was moving. "We're pretty sure that the person who broke in my house while I was home and they took my laptop and my phone and a few personal items," Tekancic said.

>>

LOS ANGELES (AP) - Former rap mogul Marion "Suge" Knight has pleaded no contest to voluntary manslaughter and after he ran over two men, killing one, nearly four years ago. The Death Row Records co-founder entered the plea Thursday in Los Angeles Superior Court and has agreed to serve 28 years in prison.

>>

LOS ANGELES (AP) - Former rap mogul Marion "Suge" Knight has pleaded no contest to voluntary manslaughter and after he ran over two men, killing one, nearly four years ago. The Death Row Records co-founder entered the plea Thursday in Los Angeles Superior Court and has agreed to serve 28 years in prison.

>>