Man suspected in counterfeiting operation arrested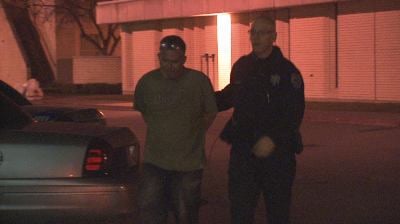 SPOKANE VALLEY, Wash. - A man suspected of making counterfeit checks and IDs was arrested Thursday night after SWAT team members surrounded his Spokane Valley home.
Ronald Foreman, 43, may be responsible for the passing of hundreds of thousands of dollars worth of counterfeit checks, according to the Spokane County Sheriff's Office.
Authorities believe once Foreman made the phony checks and IDs he distributed them to a group of "subordinates" who would spend or cash the checks in Washington, Idaho and Oregon.
Checking account numbers were frequently stolen from outgoing mail at residential and roadside mailboxes.

Some checks were produced to look like payroll checks while other phony checks were used to purchase merchandise.
During the office's investigation, which started in November 2009, authorities received information that Foreman may also possess explosives which is why, in part, the SWAT team was called in to assist in his arrest.
Although ingredients were located that could be used to make explosives, no evidence was found that the suspect intended to do so and the substances were not seized.
Authorities add that Foreman was paranoid and had surveillance cameras both inside and outside his home near Evergreen and 21st. It appears he was also using his children, ages 10 and 15, to patrol the area around his home, according to an office spokesperson.
Foreman was in his garage when SWAT team members closed in on his home. He came out of the garage and surrendered in his driveway.
"This guy was certainly somebody you'd probably not want to be neighbors with," said Sgt. Dave Reagan, "kind of a scary dude."
Stay with KHQ.com for more information.
Most Popular Stories

Most Popular Stories

More>>

PULLMAN, Wash. - Six-year-old Denny Curran should be enjoying his last few days of summer before first grade. He should be teasing his brother, splashing in the pool, giving his parents a hard time about vegetables. Instead, Denny is dead, the victim of a horrific, freak bicycle accident that could happen to your child too. "Denny was an extraordinary child," his father Keith Curran told KHQ.

>>

PULLMAN, Wash. - Six-year-old Denny Curran should be enjoying his last few days of summer before first grade. He should be teasing his brother, splashing in the pool, giving his parents a hard time about vegetables. Instead, Denny is dead, the victim of a horrific, freak bicycle accident that could happen to your child too. "Denny was an extraordinary child," his father Keith Curran told KHQ.

>>

SPOKANE, Wash. - Spokane Police say they saw a dramatic increase in drug related calls on Tuesday. Police say at least one person has died and officers responded to almost 20 other calls of people acting erratically. Police are looking into whether there is a drug on the street that is "creating adverse health effects." Reported behavior is consistent with a stimulant, causing people to hallucinate and act in an unpredictable and sometimes violent manner.

>>

SPOKANE, Wash. - Spokane Police say they saw a dramatic increase in drug related calls on Tuesday. Police say at least one person has died and officers responded to almost 20 other calls of people acting erratically. Police are looking into whether there is a drug on the street that is "creating adverse health effects." Reported behavior is consistent with a stimulant, causing people to hallucinate and act in an unpredictable and sometimes violent manner.

>>

STEVENS COUNTY, Wash. - The Department of Natural Resources reports that a FireBoss airplane has crashed in northeast Washington. There aren't a lot of details released right now, but we do know that the pilot did survive the crash. The pilot was working on the Horns Mountain fire, burning about 838 acres near Northport, close to the US/Canada border.

>>

STEVENS COUNTY, Wash. - The Department of Natural Resources reports that a FireBoss airplane has crashed in northeast Washington. There aren't a lot of details released right now, but we do know that the pilot did survive the crash. The pilot was working on the Horns Mountain fire, burning about 838 acres near Northport, close to the US/Canada border.

>>

CUSICK, Wash. - The Washington State Patrol says three people were killed in a car crash north of Cusick Wednesday morning. Trooper Jeff Sevigney tweeted out that the crash happened near the intersection of Leclerc Rd and Cee Cee Ah Creek Rd. Trooper Sevigney said the crash involved one car with five occupants.

>>

CUSICK, Wash. - The Washington State Patrol says three people were killed in a car crash north of Cusick Wednesday morning. Trooper Jeff Sevigney tweeted out that the crash happened near the intersection of Leclerc Rd and Cee Cee Ah Creek Rd. Trooper Sevigney said the crash involved one car with five occupants.

>>

VANCOUVER, Wash. (AP) - Police say they've finished an investigation into an incident in which a 16-year-old girl was hurt when she was pushed off a bridge and fell 60 feet into water in Washington state. The Columbian reported Tuesday that the Clark County Sheriff's Office Major Crimes Unit was forwarding the case to the prosecutor's office for possible charges.

>>

VANCOUVER, Wash. (AP) - Police say they've finished an investigation into an incident in which a 16-year-old girl was hurt when she was pushed off a bridge and fell 60 feet into water in Washington state. The Columbian reported Tuesday that the Clark County Sheriff's Office Major Crimes Unit was forwarding the case to the prosecutor's office for possible charges.

>>

SPOKANE, Wash. - Educators of Spokane rallied together for an increase in pay and fully funded education. Ever since the State Supreme Court ruled that Washington was underfunding schools, educators and administrators have been trying to negotiate finances. Some districts have reached deals, but many in Eastern Washington haven't. KHQ went to the rally for Spokane public schools Tuesday.

>>

SPOKANE, Wash. - Educators of Spokane rallied together for an increase in pay and fully funded education. Ever since the State Supreme Court ruled that Washington was underfunding schools, educators and administrators have been trying to negotiate finances. Some districts have reached deals, but many in Eastern Washington haven't. KHQ went to the rally for Spokane public schools Tuesday.

>>