Retired MGM lion gets double root canal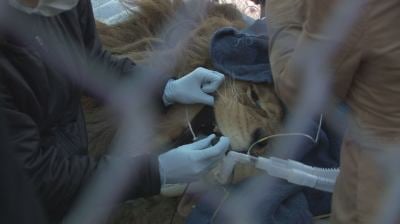 (Zamba appeared in several commercials, TV specials and was the
roaring MGM lion at the start of movies: enlarge)
MEAD, Wash. – How do you move a 700-pound lion to the dentist? Carefully and only after two rounds of tranquilizers. Handlers at Cat Tales Zoological Park in North Spokane moved Zamba the lion to a special pen for the procedure Friday afternoon.
Zamba sheared-off two of his teeth on a wire fence about one month ago, according to Mike Wyche, executive director of Cat Tales.
"Ever since the tooth broke, we've started the process of putting today together," said Wyche.
A dentist and anesthesiologist were brought in to tranquilize the cat and perform two root canals for the cat Wyche says has a, "movie star smile."
Wyche says Zamba appeared in several commercials, TV specials and was the roaring MGM lion at the start of movies before retiring to Cat Tales approximately six years ago.
Doctors administered the first round of tranquilizers around 1 p.m. to Zamba, who refused to go to sleep. A second round was administered about 90 minutes later, prompting the giant cat to slump over after several minutes.
Seven people gently carried Zamba to the next door pen where the dentist performed the root canals.
The two procedures are expected to take at least two hours, according to Wyche who said Zamba should recover fully within a few days.
Most Popular Stories

Most Popular Stories

More>>

SPOKANE, Wash. - Spokane Police say one person has died after driving over the embankment near High Drive and 33rd. The victim hasn't been identified. Crews will be working in the area for the foreseeable future so avoid the area if you can. The cause of the crash is under investigation.

>>

SPOKANE, Wash. - Spokane Police say one person has died after driving over the embankment near High Drive and 33rd. The victim hasn't been identified. Crews will be working in the area for the foreseeable future so avoid the area if you can. The cause of the crash is under investigation.

>>

POST FALLS, Idaho - Kootenai County Deputies arrested a man for involuntary manslaughter after they say he shot and killed another man Saturday evening near Post Falls. Deputies responded to reports of a shooting on Gallatin Way near Post Falls just before 7 pm. Deputies and medical personnel arrived and found a man, identified as Tyler S. Liles, with a single gunshot wound.

>>

POST FALLS, Idaho - Kootenai County Deputies arrested a man for involuntary manslaughter after they say he shot and killed another man Saturday evening near Post Falls. Deputies responded to reports of a shooting on Gallatin Way near Post Falls just before 7 pm. Deputies and medical personnel arrived and found a man, identified as Tyler S. Liles, with a single gunshot wound.

>>

SPOKANE, Wash. - Spokane County Sheriff's Deputies continue to investigate a break-in that happened Tuesday morning at approximately 8:08 AM. The victims say precious family treasures were stolen. "I stayed home for a few days after it happened," said Mandie Snyder.

>>

SPOKANE, Wash. - Spokane County Sheriff's Deputies continue to investigate a break-in that happened Tuesday morning at approximately 8:08 AM. The victims say precious family treasures were stolen. "I stayed home for a few days after it happened," said Mandie Snyder. "I wanted to stay here. I wanted to stay here and protect my house." Snyder says their Ring doorbell camera captured a man lurking around their property and then kicking their front door several times.

>>

Hundreds of different people from various backgrounds gathered together for the same purpose on Sunday: honoring and remembering the life of Eddie Daniels, the 15-year-old shot and killed in downtown Spokane on Wednesday night. Members of Daniels' family were also in attendance, including his mother. She's raised Daniels' and his siblings alone since her husband died over a decade ago, according to multiple friends of the family. When Daniels' mother arrived and stepped out...

>>

Hundreds of different people from various backgrounds gathered together for the same purpose on Sunday: honoring and remembering the life of Eddie Daniels, the 15-year-old shot and killed in downtown Spokane on Wednesday night. Members of Daniels' family were also in attendance, including his mother. She's raised Daniels' and his siblings alone since her husband died over a decade ago, according to multiple friends of the family. When Daniels' mother arrived and stepped out...

>>

SPOKANE, Wash. - Spokane Police have successfully located and arrested a suspect from a hit-and-run incident on the South Hill Saturday morning. After crashing a Corvette into an SUV near 53rd and Regal, 36-year-old Kristopher Riley fled the scene on foot and left his passenger inside the vehicle. Police say the passenger of the Corvette and driver of the SUV were hospitalized with serious injuries.

>>

SPOKANE, Wash. - Spokane Police have successfully located and arrested a suspect from a hit-and-run incident on the South Hill Saturday morning. After crashing a Corvette into an SUV near 53rd and Regal, 36-year-old Kristopher Riley fled the scene on foot and left his passenger inside the vehicle. Police say the passenger of the Corvette and driver of the SUV were hospitalized with serious injuries.

>>

INDIANAPOLIS - A lion on loan from the San Diego Zoo died in a fight with another lion at the Indianapolis Zoo on Monday, zoo officials said. According to the zoo, Nyack, a 10-year-old lion, was killed by his longtime mate, Zuri, in the outdoor yard Monday morning before the menagerie opened to the public.

>>

INDIANAPOLIS - A lion on loan from the San Diego Zoo died in a fight with another lion at the Indianapolis Zoo on Monday, zoo officials said. According to the zoo, Nyack, a 10-year-old lion, was killed by his longtime mate, Zuri, in the outdoor yard Monday morning before the menagerie opened to the public.

>>