Opening door was wrong thing to do says home invasion victim
Posted:
Updated: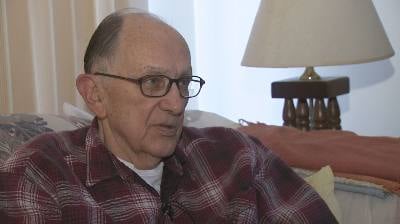 (Fred Megerth was listening to the Gonzaga game when a frantic
Nicholas Lawson pushed his way inside Megerth's home)

SPOKANE, Wash. - An 80-year-old man whose basketball game was interrupted Sunday evening by a gunman said Monday that opening his door for the man was "probably the wrong thing to do."

The ordeal started Sunday around 7 p.m. as Fred Megerth sat on his couch listening to the Gonzaga Basketball game.

Megerth said he heard frantic knocking at his front door and someone asking to come inside. When he opened the door, a man, now identified as 21-year-old Nicholas Lawson, pushed his way inside saying he was being chased.

Lawson, armed with a gun, then asked Megerth to call 911.

At that point, Megerth said Lawson was going room to room looking out windows and crawling on the floor.

"I think he was pretty high on something," said Megerth.

Throughout the entire ordeal Megerth said the thing what worried him the most was that a gun battle would break out between Lawson and his supposed pursuers. Fortunately, no one, besides police, came looking for him.

Police arrived at the scene moments later and Megerth was able to leave his home through a back door.

Lawson stayed inside for about 20 minutes before coming out with his hands up and the gun tucked in his waistband, according to police.

Lawson was arrested and charged with carrying a gun in a manner that could cause harm.

While Lawson never threatened or pointed the gun at Megerth, Megerth said he's never in his 80 years been around a man with a gun and will be happy if it never happens again.
Most Popular Stories

Most Popular Stories

More>>

KHQ.COM - Most mothers can only hope by the time their children grow up and move out of the house, they've learned all the necessary things to be a successful adult, including the basic knowledge that a turkey must be cooked in an oven, or perhaps in a smoker... NOT in a microwave. For this reason a new prank-challenge going around on Facebook is resulting in some hilarious text conversations between mothers and their grown children.

>>

KHQ.COM - Most mothers can only hope by the time their children grow up and move out of the house, they've learned all the necessary things to be a successful adult, including the basic knowledge that a turkey must be cooked in an oven, or perhaps in a smoker... NOT in a microwave. For this reason a new prank-challenge going around on Facebook is resulting in some hilarious text conversations between mothers and their grown children.

>>

SPOKANE, Wash. - Spokane Police are investigating the death of a man who reportedly shot himself in the head during sex. In a search warrant filed Nov. 8 in Spokane Superior Court, a detective wrote that around 2 a.m. on Nov. 4, police were called to a home in the 7800 block of North Morton Ave. after a woman said her partner shot himself in the head.

>>

SPOKANE, Wash. - Spokane Police are investigating the death of a man who reportedly shot himself in the head during sex. In a search warrant filed Nov. 8 in Spokane Superior Court, a detective wrote that around 2 a.m. on Nov. 4, police were called to a home in the 7800 block of North Morton Ave. after a woman said her partner shot himself in the head.

>>

SANTA CLARA, Calif. - Police in California are looking for a missing Spokane man who went missing during the San Francisco 49ers game Monday night. 32-year-old Ian Powers was last seen at the game with his family Monday night. He went to the restroom alone late in the game and hasn't been seen since, police told local media.

>>

SANTA CLARA, Calif. - Police in California are looking for a missing Spokane man who went missing during the San Francisco 49ers game Monday night. 32-year-old Ian Powers was last seen at the game with his family Monday night. He went to the restroom alone late in the game and hasn't been seen since, police told local media.

>>

COEUR D'ALENE, Idaho - Coeur d'Alene Police have confirmed with KHQ that human remains were found near 8th and Mullan Tuesday night. The remains were found by a construction worker who alerted police Tuesday night. New apartments are being built on the site. Police did not have any additional details to release. This is a developing story.

>>

COEUR D'ALENE, Idaho - Coeur d'Alene Police have confirmed with KHQ that human remains were found near 8th and Mullan Tuesday night. The remains were found by a construction worker who alerted police Tuesday night. New apartments are being built on the site. Police did not have any additional details to release. This is a developing story.

>>

An independent panel that oversees probes into conduct by Spokane police has ordered additional investigation into a resident's complaint against an officer. The Spokesman-Review reports the ombudsman commission authorized the probe Tuesday following the request by Spokane Police Ombudsman Bart Logue.

>>

An independent panel that oversees probes into conduct by Spokane police has ordered additional investigation into a resident's complaint against an officer. The Spokesman-Review reports the ombudsman commission authorized the probe Tuesday following the request by Spokane Police Ombudsman Bart Logue.

>>

Trouble is nothing new for Tan Ho. He's seen a lot over the last 25 years he's owned Hai's Mini Market on North Market. Tuesday night, just before 8:30, a man with his face covered made the mistake of walking in and trying to rob him.

>>

Trouble is nothing new for Tan Ho. He's seen a lot over the last 25 years he's owned Hai's Mini Market on North Market. Tuesday night, just before 8:30, a man with his face covered made the mistake of walking in and trying to rob him.

>>