Search for Kootenai County fatal shooting suspect a tri-state cooperation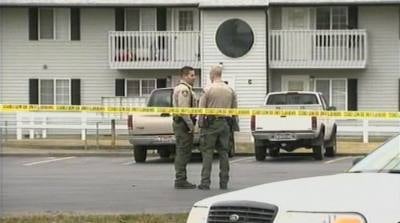 KOOTENAI COUNTY, Idaho.- One person is dead following a Tuesday afternoon shooting at an apartment complex on Government Way, just north of Dakota Ave. Now, the search for shooting suspect Chad Lee Moore has turned into a tri-state manhunt, with authorities from Washington to Montana watching out for any signs of him.
Crews were called to the apartment complex shortly before 3 p.m. where they found the victim, 28-year-old Ryan William Taylor of Coeur d'Alene. Taylor was transported to the hospital with multiple gunshot wounds and was listed in critical condition. Sheriff's officials confirmed just after 6 p.m. Tuesday that Taylor died as a result of his injuries.
The Kootenai County Sheriff's Department has identified the suspect as 35-year-old Chad Moore. Moore is said to be driving a blue Toyota pickup with white stripes. The license plate is from Idaho and the number is K433586.
Deputies searched the area near E. Hayden Lake Rd. in the Coeur d'Alene National Forest for the suspect Tuesday night. The Spokane County Sheriff's Office Air One helicopter was called in to aid in the search for the suspect. Kootenai County authorities say they've alerted law enforcement agencies from Washington to Montana to be on the lookout for Chad Lee Moore. They say he could be headed anywhere.
Anyone with information on where Moore may be is asked to call 911. In a brief statement Tuesday afternoon sheriff's officials advised that anyone who spots Moore should not approach him because he is considered armed and dangerous.
Most Popular Stories

Most Popular Stories

More>>

SPOKANE VALLEY, Wash. - A 30-year-old male is facing attempted murder charges after stabbing an eight-year-old boy at a HiCo store in Spokane Valley Saturday night. Around 4:30 p.m, Spokane Valley Deputies responded to a call of two males fighting along with the reported stabbing.

>>

SPOKANE VALLEY, Wash. - A 30-year-old male is facing attempted murder charges after stabbing an eight-year-old boy at a HiCo store in Spokane Valley Saturday night. Around 4:30 p.m, Spokane Valley Deputies responded to a call of two males fighting along with the reported stabbing.

>>

Montana wildlife officials say three deer in Blaine County have tested positive for a brain wasting disease. The Great Falls Tribune reports that the deer found to have chronic wasting disease were all harvested within a priority surveillance area.

>>

Montana wildlife officials say three deer in Blaine County have tested positive for a brain wasting disease. The Great Falls Tribune reports that the deer found to have chronic wasting disease were all harvested within a priority surveillance area.

>>

All eastbound I-90 lanes near Evergreen in Spokane Valley were closed this morning after a semi flipped onto its side. It started with an erratic driver in a black pickup truck slamming into a passenger car.

>>

All eastbound I-90 lanes near Evergreen in Spokane Valley were closed this morning after a semi flipped onto its side. It started with an erratic driver in a black pickup truck slamming into a passenger car.

>>

SPOKANE, Wash. - Spokane Police are investigating the death of a man who reportedly shot himself in the head during sex. In a search warrant filed Nov. 8 in Spokane Superior Court, a detective wrote that around 2 a.m. on Nov. 4, police were called to a home in the 7800 block of North Morton Ave. after a woman said her partner shot himself in the head.

>>

SPOKANE, Wash. - Spokane Police are investigating the death of a man who reportedly shot himself in the head during sex. In a search warrant filed Nov. 8 in Spokane Superior Court, a detective wrote that around 2 a.m. on Nov. 4, police were called to a home in the 7800 block of North Morton Ave. after a woman said her partner shot himself in the head.

>>

Police are investigating a homicide in Bonner County. Early on November 12, police apprehended 71-year-old James Michael Costello Sr., after a vehicle pursuit.

>>

Police are investigating a homicide in Bonner County. Early on November 12, police apprehended 71-year-old James Michael Costello Sr., after a vehicle pursuit.

>>

A controversial tweet by WSU head football coach Mike Leach cost the University $1.6 million in pledged donations. The tweet, which was sent in June, depicted a doctored video of a speech by former President Barack Obama.

>>

A controversial tweet by WSU head football coach Mike Leach cost the University $1.6 million in pledged donations. The tweet, which was sent in June, depicted a doctored video of a speech by former President Barack Obama.

>>