Cd'A parking tickets may be left to volunteers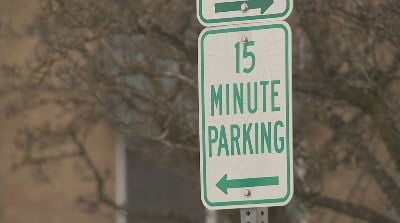 (Park under this sign for more than 15 minutes and you could be
getting a ticket from a civilian, not a police officer.)

COEUR D'ALENE, Idaho. - In an effort to best utilize Coeur d'Alene's police resources, the City may give COPS, or Citizens on Patrol, the authority to ticket those who park illegally.

The request, which will go before the Coeur D'Alene City Council next week, comes from the Coeur d'Alene Police Department.

The department is hoping that instead of a uniformed police officer handing out tickets for parking offenses, volunteers in the COPS program be given that authority which would allow police officers to focus more of their attention on crime.

COPS volunteers already travel around the city filing abandoned vehicle reports and leaving warnings for drivers who park in handicap spots illegally.

In support the proposition, Coeur d'Alene Police Chief Wayne Longo says more serious crimes have increased while offenses like illegal parking have actually decreased. On average his department handles about two tickets per month.

Chief Longo added that the goal of the program is not to raise more money by using volunteers, but to make his department more efficient.
Most Popular Stories

Most Popular Stories

More>>

SPOKANE, Wash. - Windy conditions and wildfire smoke have hit the Inland Northwest hard as air quality levels rose throughout the day, ending up in the hazardous range Sunday evening. Changes in wind direction have brought over more smoke to the area from wildfires around northern and central Washington, as well as from British Columbia.

>>

SPOKANE, Wash. - Windy conditions and wildfire smoke have hit the Inland Northwest hard as air quality levels rose throughout the day, ending up in the hazardous range Sunday evening. Changes in wind direction have brought over more smoke to the area from wildfires around northern and central Washington, as well as from British Columbia.

>>

SPOKANE VALLEY, Wash. - A male suspect has died after being involved in a police shooting following a standoff situation in Spokane Valley Sunday morning. Police say the matter originated as a vandalism call after a man pulled into a gas station and began breaking windows in a vehicle. They later found the male to be armed and possibly suicidal, leading to a standoff at Trent and Evergreen where he was barricaded in the vehicle.

>>

SPOKANE VALLEY, Wash. - A male suspect has died after being involved in a police shooting following a standoff situation in Spokane Valley Sunday morning. Police say the matter originated as a vandalism call after a man pulled into a gas station and began breaking windows in a vehicle. They later found the male to be armed and possibly suicidal, leading to a standoff at Trent and Evergreen where he was barricaded in the vehicle.

>>

LEWISVILLE, Texas - Police in Texas say a man fatally stabbed his 16-month-old son and was shot in the leg by a neighbor who tried to stop the attack. The stabbing was reported Sunday afternoon in the courtyard of an apartment complex in Lewisville, about 20 miles northwest of Dallas. Lewisville Police Capt. Jesse Hunter says the toddler was rushed to a hospital but later died from his wounds.

>>

LEWISVILLE, Texas - Police in Texas say a man fatally stabbed his 16-month-old son and was shot in the leg by a neighbor who tried to stop the attack. The stabbing was reported Sunday afternoon in the courtyard of an apartment complex in Lewisville, about 20 miles northwest of Dallas. Lewisville Police Capt. Jesse Hunter says the toddler was rushed to a hospital but later died from his wounds.

>>

SPOKANE VALLEY, Wash.- The Spokane Valley Fire Department says one person died as a result of a fire at the Central Park Condominiums Sunday night. "SVFD investigators say it will likely take several days to complete the investigation into the cause of the fire that was reported shortly after 8:30 pm on August 19," Melanie Rose from the Spokane Valley Fire Department said.

>>

SPOKANE VALLEY, Wash.- The Spokane Valley Fire Department says one person died as a result of a fire at the Central Park Condominiums Sunday night. "SVFD investigators say it will likely take several days to complete the investigation into the cause of the fire that was reported shortly after 8:30 pm on August 19," Melanie Rose from the Spokane Valley Fire Department said.

>>

SEATTLE (AP) - Forecasters are warning of unhealthy air in parts of the Pacific Northwest as winds push smoke from surrounding wildfires into the region. The National Weather Service has issued air quality alerts for much of Washington state. The service says air quality in Western Washington is expected to worsen starting Sunday. Some improvement is expected by Wednesday. An air quality alert is also in place across Eastern Washington and North Idaho.

>>

SEATTLE (AP) - Forecasters are warning of unhealthy air in parts of the Pacific Northwest as winds push smoke from surrounding wildfires into the region. The National Weather Service has issued air quality alerts for much of Washington state. The service says air quality in Western Washington is expected to worsen starting Sunday. Some improvement is expected by Wednesday. An air quality alert is also in place across Eastern Washington and North Idaho.

>>

SPOKANE, Wash. - The hazardous air outside will impact garbage services on Monday in Spokane. The City says pickup done by automated trucks that allow employees to remain inside the truck will conduct their normal routes on Monday. However, locations that require the use of smaller, rear-loader trucks that require employees to load garbage into the truck manually may not receive service on Monday.

>>

SPOKANE, Wash. - The hazardous air outside will impact garbage services on Monday in Spokane. The City says pickup done by automated trucks that allow employees to remain inside the truck will conduct their normal routes on Monday. However, locations that require the use of smaller, rear-loader trucks that require employees to load garbage into the truck manually may not receive service on Monday.

>>