Woman, held hostage, crashes car on purpose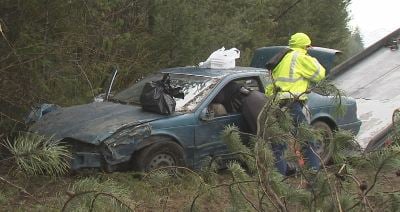 SILVERWOOD, Idaho. - Both the suspect and victim in a hostage situation were arrested following a series of events that started Thursday night and came to a close following a car crash Friday morning on Highway 95.
The ordeal started Thursday night when 29-year-old Deanna Lafrombois allowed her boyfriend, 27-year-old Damien Bunch, inside her house despite a protective order against the former Geiger inmate.
Idaho State Police called the encounter a "mutual get-together."
Friday morning, police say Bunch then took Lafrombois against her will and the two were traveling on Highway 95 when the couple was passed by a number of ISP Troopers.
The police presence apparently made Bunch, who apparently did not want to go back to jail, uncomfortable. He proceeded to take out a knife and cut Lafrombois on her arm.
In an attempt to draw attention to her situation and get help, Lafrombois purposefully crashed the car.
A passing ISP Trooper saw the wreckage, just south of Silverwood, and when he stopped to investigate he found Bunch holding a knife to Lafrombois' throat.
The trooper notified other officers in the area and the scene was cordoned off and the road was shut down.
Conversation between the trooper and Bunch lasted about 30 minutes before the trooper was able to talk him down.

Bunch gave himself up before a SWAT team even arrived on scene.
Lafrombois was transported to Kootenai Medical Center where she was treated for knife wounds and later arrested for possession of methamphetamine.
Bunch has been charged with kidnapping, aggravated battery, aggravated assault, violation of a protection order and possession of methamphetamine.
Bunch may face more charges pending the investigation.
Most Popular Stories

Most Popular Stories

More>>

SPOKANE VALLEY, Wash. - A 30-year-old male is facing attempted murder charges after stabbing an eight-year-old boy at a HiCo store in Spokane Valley Saturday night. Around 4:30 p.m, Spokane Valley Deputies responded to a call of two males fighting along with the reported stabbing.

>>

SPOKANE VALLEY, Wash. - A 30-year-old male is facing attempted murder charges after stabbing an eight-year-old boy at a HiCo store in Spokane Valley Saturday night. Around 4:30 p.m, Spokane Valley Deputies responded to a call of two males fighting along with the reported stabbing.

>>

Montana wildlife officials say three deer in Blaine County have tested positive for a brain wasting disease. The Great Falls Tribune reports that the deer found to have chronic wasting disease were all harvested within a priority surveillance area.

>>

Montana wildlife officials say three deer in Blaine County have tested positive for a brain wasting disease. The Great Falls Tribune reports that the deer found to have chronic wasting disease were all harvested within a priority surveillance area.

>>

All eastbound I-90 lanes near Evergreen in Spokane Valley were closed this morning after a semi flipped onto its side. It started with an erratic driver in a black pickup truck slamming into a passenger car.

>>

All eastbound I-90 lanes near Evergreen in Spokane Valley were closed this morning after a semi flipped onto its side. It started with an erratic driver in a black pickup truck slamming into a passenger car.

>>

SPOKANE, Wash. - Spokane Police are investigating the death of a man who reportedly shot himself in the head during sex. In a search warrant filed Nov. 8 in Spokane Superior Court, a detective wrote that around 2 a.m. on Nov. 4, police were called to a home in the 7800 block of North Morton Ave. after a woman said her partner shot himself in the head.

>>

SPOKANE, Wash. - Spokane Police are investigating the death of a man who reportedly shot himself in the head during sex. In a search warrant filed Nov. 8 in Spokane Superior Court, a detective wrote that around 2 a.m. on Nov. 4, police were called to a home in the 7800 block of North Morton Ave. after a woman said her partner shot himself in the head.

>>

Police are investigating a homicide in Bonner County. Early on November 12, police apprehended 71-year-old James Michael Costello Sr., after a vehicle pursuit.

>>

Police are investigating a homicide in Bonner County. Early on November 12, police apprehended 71-year-old James Michael Costello Sr., after a vehicle pursuit.

>>

A controversial tweet by WSU head football coach Mike Leach cost the University $1.6 million in pledged donations. The tweet, which was sent in June, depicted a doctored video of a speech by former President Barack Obama.

>>

A controversial tweet by WSU head football coach Mike Leach cost the University $1.6 million in pledged donations. The tweet, which was sent in June, depicted a doctored video of a speech by former President Barack Obama.

>>