Suspected car prowler arrested after returning to crime scene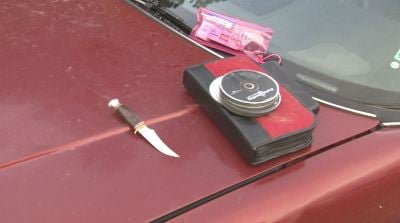 (The suspect threw a knife as well as stolen CDs and stolen dental
supplies at two residents who attempted to chase him down.)

SPOKANE, Wash. - A car prowling suspect was arrested Friday after returning to a rural northeast Spokane community where earlier in the day he was chased away by suspicious residents.

The suspect, identified as 29-year-old Dustin Lang, had parked near a barn off N. Jensen Rd. when the barn's owner, Jess McDonald, got a call from a neighbor alerting him to Lang's presence around 5:30 a.m.

McDonald threw on some clothes, grabbed his pistol and immediately headed out to approach Lang. McDonald said Lang didn't seem too intimidated until he saw another man approaching him from the other side.

McDonald and the other man were able to get between Lang and his car forcing him to run from the area on foot through a field. Before taking off, he threw some of the stolen items he had, including CDs and dental supplies, at McDonald and the other man.

Spokane County Sheriff's deputies arrived on scene and tried to track Lang with help of a K9 unit, but were not able to find him, however they did recover items stolen from other car prowlings that were in his car.

After a little investigation, residents found that Lang had broken into a garage and three cars in addition to McDonald's barn.

Jenna Sival's truck was one of the vehicles targeted and that's where the man got the CDs and toothpaste. Sival said the thief left behind her CD player.

Both Sival and McDonald say that residents in their rural community watch out for one another and credit the watchful eyes of residents for the suspect leaving empty handed.

"We're all watching for each other... hope it deters people from trying to come up here," said McDonald.
After deputies left, Lang came back to the scene and was spotted by a resident who kept him in sight until deputies could return and follow the witness' directions to Lang's whereabouts.

Lang did have a knife on him, but that weapon was recovered after he threw it at McDonald while fleeing from the area.
He has been charged with burglary and three counts of vehicle prowling.
Most Popular Stories

Most Popular Stories

More>>

SPOKANE, Wash. - Spokane Police have successfully located and arrested a suspect from a hit-and-run incident on the South Hill Saturday morning. After crashing a Corvette into an SUV near 53rd and Regal, 36-year-old Kristopher Riley fled the scene on foot and left his passenger inside the vehicle. Police say the passenger of the Corvette and driver of the SUV were hospitalized with serious injuries.

>>

SPOKANE, Wash. - Spokane Police have successfully located and arrested a suspect from a hit-and-run incident on the South Hill Saturday morning. After crashing a Corvette into an SUV near 53rd and Regal, 36-year-old Kristopher Riley fled the scene on foot and left his passenger inside the vehicle. Police say the passenger of the Corvette and driver of the SUV were hospitalized with serious injuries.

>>

Spokane Valley Police detectives are asking for help to identify some unique items recovered during an investigation. The items are potentially liked to several storage unit burglaries last December on the South Hill. A suspect pawned the items, but a search of reported stolen property to identify the owner(s) has been unsuccessful. It's not known if the items were part of the South Hill burglaries or were stolen at a different time and place.

>>

Spokane Valley Police detectives are asking for help to identify some unique items recovered during an investigation. The items are potentially liked to several storage unit burglaries last December on the South Hill. A suspect pawned the items, but a search of reported stolen property to identify the owner(s) has been unsuccessful. It's not known if the items were part of the South Hill burglaries or were stolen at a different time and place.

>>

Otis Orchards, Wash. Dozens of people came to Ponti Veterinary Hospital in Otis Orchards to pay their final respects to Deputy K-9 Laslo. Some brought the American flag and the thin blue line flag which flapped in the wind. Deputy vehicles lined the side of the building ready to give Laslo one last send off. Laslo had a stellar career in law enforcement the former deputy apprehended nearly 500 suspects in the four years he served on the force. On the night of Laslo's crime-fighting...

>>

Otis Orchards, Wash. Dozens of people came to Ponti Veterinary Hospital in Otis Orchards to pay their final respects to Deputy K-9 Laslo. Some brought the American flag and the thin blue line flag which flapped in the wind. Deputy vehicles lined the side of the building ready to give Laslo one last send off. Laslo had a stellar career in law enforcement the former deputy apprehended nearly 500 suspects in the four years he served on the force. On the night of Laslo's crime-fighting...

>>

Spokane, Wash. Deputy Tim Jones is not just a Spokane Sheriff's Deputy to some he is a loving father, but to one girl 7-year-old Avayah Deputy Jones is her hero "Sometimes in our profession we have a moment that might not be related to any of our work. This was a moment that I just felt compelled," said Deputy Tim Jones of the Spokane County Sheriff's Department. Deputy Jones was at Valley Hospital while on duty when he heard screaming coming from one of the rooms in the...

>>

Spokane, Wash. Deputy Tim Jones is not just a Spokane Sheriff's Deputy to some he is a loving father, but to one girl 7-year-old Avayah Deputy Jones is her hero "Sometimes in our profession we have a moment that might not be related to any of our work. This was a moment that I just felt compelled," said Deputy Tim Jones of the Spokane County Sheriff's Department. Deputy Jones was at Valley Hospital while on duty when he heard screaming coming from one of the rooms in the...

>>

LIBERTY LAKE, Wash. - Liberty Lake Police are searching for a suspect in a fatal hit and run crash that happened Thursday morning and are asking the public for help. At around 8:15 a.m., Liberty Lake Police and Spokane Valley Fire Department responded to Country Vista Drive and East Mission Avenue for a reported hit and run crash involving a pedestrian.

>>

LIBERTY LAKE, Wash. - Liberty Lake Police are searching for a suspect in a fatal hit and run crash that happened Thursday morning and are asking the public for help. At around 8:15 a.m., Liberty Lake Police and Spokane Valley Fire Department responded to Country Vista Drive and East Mission Avenue for a reported hit and run crash involving a pedestrian.

>>

SPOKANE, Wash.- On Friday three of the six men convicted in gunning down a Spokane Grandfather, in his own home as he returned from church, learned just how long they'll spend behind bars.

>>

SPOKANE, Wash.- On Friday three of the six men convicted in gunning down a Spokane Grandfather, in his own home as he returned from church, learned just how long they'll spend behind bars.

>>