AP: Catholic group's support of health bill widens split among abortion opponents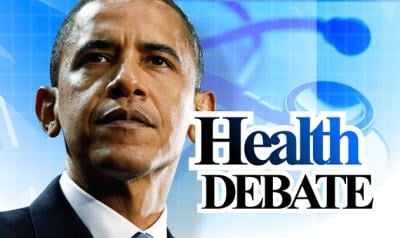 WASHINGTON. - A group representing Catholic hospitals is rallying behind President Barack Obama's health care bill. Support from the Catholic Health Association could help persuade anti-abortion lawmakers to provide critical votes in the House for the overhaul.
The group's chief executive, Carol Keehan, writes on the association's Web site that the legislation isn't perfect, but is "a major first step" toward covering all Americans and would make "great improvements" for millions of people.
The association's support widens a split among abortion opponents. They're divided on whether the legislation does enough to deny taxpayer money for abortion. The National Right to Life Committee and the U.S. Conference of Catholic Bishops say it doesn't.

Related Coverage
Democratic abortion foes could block passage

(March 4, 2010)
Concerns about abortion funding still threaten to keep some House Democrats from voting for health care reform.

The package that's now being considered has less restrictive language on federal funding of abortion than the wording that had been approved by the House. And Bart Stupak of Michigan, the leader of anti-abortion Democrats in the House, says, "we're not going to vote for the bill with that language in there."

But Health and Human Services Secretary Kathleen Sebelius who, along with Stupak, appeared this morning on ABC, said the bill "does not change the status quo on abortion." She said, "There will be no federal financing of abortion."

One problem for the anti-abortion Democrats is that under the procedures that Democratic leaders are planning to use, the House likely would have to accept the Senate version.

The House version passed by a narrow five-vote margin in November. And since then, several Democrats have defected or left. The 254 who remain are also eyeing the November midterm elections.
Most Popular Stories

Most Popular Stories

More>>

SPOKANE, Wash. - Windy conditions and wildfire smoke have hit the Inland Northwest hard as air quality levels rose throughout the day, ending up in the hazardous range Sunday evening. Changes in wind direction have brought over more smoke to the area from wildfires around northern and central Washington, as well as from British Columbia.

>>

SPOKANE, Wash. - Windy conditions and wildfire smoke have hit the Inland Northwest hard as air quality levels rose throughout the day, ending up in the hazardous range Sunday evening. Changes in wind direction have brought over more smoke to the area from wildfires around northern and central Washington, as well as from British Columbia.

>>

SPOKANE VALLEY, Wash. - A male suspect has died after being involved in a police shooting following a standoff situation in Spokane Valley Sunday morning. Police say the matter originated as a vandalism call after a man pulled into a gas station and began breaking windows in a vehicle. They later found the male to be armed and possibly suicidal, leading to a standoff at Trent and Evergreen where he was barricaded in the vehicle.

>>

SPOKANE VALLEY, Wash. - A male suspect has died after being involved in a police shooting following a standoff situation in Spokane Valley Sunday morning. Police say the matter originated as a vandalism call after a man pulled into a gas station and began breaking windows in a vehicle. They later found the male to be armed and possibly suicidal, leading to a standoff at Trent and Evergreen where he was barricaded in the vehicle.

>>

SPOKANE VALLEY, Wash.- The Spokane Valley Fire Department says one person died as a result of a fire at the Central Park Condominiums Sunday night. "SVFD investigators say it will likely take several days to complete the investigation into the cause of the fire that was reported shortly after 8:30 pm on August 19," Melanie Rose from the Spokane Valley Fire Department said.

>>

SPOKANE VALLEY, Wash.- The Spokane Valley Fire Department says one person died as a result of a fire at the Central Park Condominiums Sunday night. "SVFD investigators say it will likely take several days to complete the investigation into the cause of the fire that was reported shortly after 8:30 pm on August 19," Melanie Rose from the Spokane Valley Fire Department said.

>>

LEWISVILLE, Texas - Police in Texas say a man fatally stabbed his 16-month-old son and was shot in the leg by a neighbor who tried to stop the attack. The stabbing was reported Sunday afternoon in the courtyard of an apartment complex in Lewisville, about 20 miles northwest of Dallas. Lewisville Police Capt. Jesse Hunter says the toddler was rushed to a hospital but later died from his wounds.

>>

LEWISVILLE, Texas - Police in Texas say a man fatally stabbed his 16-month-old son and was shot in the leg by a neighbor who tried to stop the attack. The stabbing was reported Sunday afternoon in the courtyard of an apartment complex in Lewisville, about 20 miles northwest of Dallas. Lewisville Police Capt. Jesse Hunter says the toddler was rushed to a hospital but later died from his wounds.

>>

SEATTLE (AP) - Forecasters are warning of unhealthy air in parts of the Pacific Northwest as winds push smoke from surrounding wildfires into the region. The National Weather Service has issued air quality alerts for much of Washington state. The service says air quality in Western Washington is expected to worsen starting Sunday. Some improvement is expected by Wednesday. An air quality alert is also in place across Eastern Washington and North Idaho.

>>

SEATTLE (AP) - Forecasters are warning of unhealthy air in parts of the Pacific Northwest as winds push smoke from surrounding wildfires into the region. The National Weather Service has issued air quality alerts for much of Washington state. The service says air quality in Western Washington is expected to worsen starting Sunday. Some improvement is expected by Wednesday. An air quality alert is also in place across Eastern Washington and North Idaho.

>>

SPOKANE, Wash. - The rumor that was quickly spread Saturday about a Chick-Fil-A franchise coming to Gonzaga University is false, according to a Gonzaga official. Mary Joan Hahn, the Senior Director of Community & Public Relations at Gonzaga, tells KHQ that this information is inaccurate. She wasn't able to explain how the information got out in the first place, but Gonzaga is looking into it.

>>

SPOKANE, Wash. - The rumor that was quickly spread Saturday about a Chick-Fil-A franchise coming to Gonzaga University is false, according to a Gonzaga official. Mary Joan Hahn, the Senior Director of Community & Public Relations at Gonzaga, tells KHQ that this information is inaccurate. She wasn't able to explain how the information got out in the first place, but Gonzaga is looking into it.

>>