Man escapes house fire with help from service dog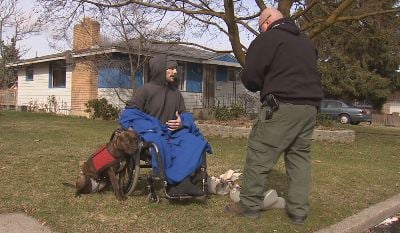 (Jake Vernon and his service dog 'Gracie' made it safely out of the
home)

SPOKANE, Wash. - A man who has been on bed rest for the past five months after breaking both his legs is crediting his service dog with helping him escape his burning home.

Jake Vernon was sleeping in his home near Howard and Dalke Wednesday morning when he says his service dog, Gracie, woke him up by pulling on his blanket and barking.

Vernon says he couldn't figure out what his dog was doing until he saw his room filling with smoke.

"I didn't hear no fire alarm. I didn't hear nothing," said Vernon.

Vernon immediately crawled out of bed and to his wheelchair and was able to make it out of his home with his dog and without injury.

"If it wasn't for my dog pulling on my Snuggie and barking, I don't think I'd of made it out the house," said Vernon.

Fire crews arrived on scene shortly after and quickly knocked the fire down, keeping it contained to one bedroom.

Jake is married, though his wife was not home when the fire broke out.

Fire investigators are working to determine a cause.
Most Popular Stories

Most Popular Stories

More>>

A Florida history teacher says she was fired for refusing to give half-credit to students who didn't turn in their assignments. Diane Tirado says her school along Florida's Treasure Coast had a "no zero" policy, requiring teachers to give students no less than a 50-percent grade on assignments.

>>

A Florida history teacher says she was fired for refusing to give half-credit to students who didn't turn in their assignments. Diane Tirado says her school along Florida's Treasure Coast had a "no zero" policy, requiring teachers to give students no less than a 50-percent grade on assignments.

>>

SPOKANE, Wash. - A problem within a solution – it's a phrase so oxymoronic that it almost doesn't make sense, but it's crystal clear for a specific group of students at Lewis and Clark High School.

>>

SPOKANE, Wash. - A problem within a solution – it's a phrase so oxymoronic that it almost doesn't make sense, but it's crystal clear for a specific group of students at Lewis and Clark High School.

>>

SANDPOINT, Idaho. First - it was a robocall, now a threat, targetting a Sandpoint newspaper and one of its writers, has surfaced on YouTube. "Ben Olson is a cancer on wholesome North Idaho," the video states. "And cancers must be burned out." The 56-second video clip shows a picture of Co-owner and Publisher of the Sandpoint Reader, Ben Olson, next to a stack of the newspaper he writes for. The papers are doused in a clear liquid then lit on fire.

>>

SANDPOINT, Idaho. First - it was a robocall, now a threat, targetting a Sandpoint newspaper and one of its writers, has surfaced on YouTube. "Ben Olson is a cancer on wholesome North Idaho," the video states. "And cancers must be burned out." The 56-second video clip shows a picture of Co-owner and Publisher of the Sandpoint Reader, Ben Olson, next to a stack of the newspaper he writes for. The papers are doused in a clear liquid then lit on fire.

>>

COEUR D'ALENE, Idaho - Multiple crews responded to a report of a cougar in a tree in Coeur d'Alene Monday. "I think time is on our side," Coeur d'Alene Police Detective, Jay Wilhelm, said. Indeed, it was. Coeur d'Alene Police, Fire and members of the Idaho Fish and Game cornered the male mountain lion, which was nested up in a tree near Qualfon on Ironwood Drive.

>>

COEUR D'ALENE, Idaho - Multiple crews responded to a report of a cougar in a tree in Coeur d'Alene Monday. "I think time is on our side," Coeur d'Alene Police Detective, Jay Wilhelm, said. Indeed, it was. Coeur d'Alene Police, Fire and members of the Idaho Fish and Game cornered the male mountain lion, which was nested up in a tree near Qualfon on Ironwood Drive.

>>

A Florida man faced up to 27 years in prison for a fatal car crash, but instead he's been sentenced to just 10 days - with one day to be served on each of the next 10 anniversaries of the crash. The Miami Herald reported Tuesday that a judge imposed the unusual sentence on 24-year-old Erick Betancourt, who pleaded guilty to three counts of vehicular homicide.

>>

A Florida man faced up to 27 years in prison for a fatal car crash, but instead he's been sentenced to just 10 days - with one day to be served on each of the next 10 anniversaries of the crash. The Miami Herald reported Tuesday that a judge imposed the unusual sentence on 24-year-old Erick Betancourt, who pleaded guilty to three counts of vehicular homicide.

>>