Inmate makes BSU quilt for charity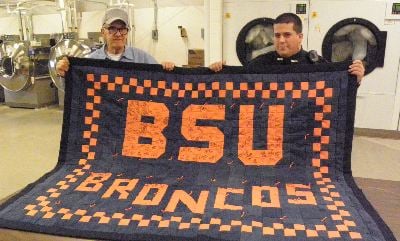 (Inmate John Gout will be present when the quilt is presented to the
Ronald McDonald House Thursday.)

BOISE, Idaho. - A South Idaho Correctional Institution inmate is helping raise money for the Ronald McDonald House. Inmate John Gout has made a blue and orange Boise State University (BSU) quilt out of old prison blue jeans and worn out orange offender transport jumpsuits; and members of the BSU football team have autographed it.

The quilt will be given to the Ronald McDonald House on Thursday and Gout will be on present for the presentation.

Under the supervision of prison laundry officers, Gout started making quilts out of scraps two years ago while working in SICI's laundry room. Since then, Gout has donated more than 25 quilts to variety of organizations. In addition to the Bronco quilt, Gout will present the Ronald McDonald House with seven other quilts.

"We are able to fulfill our mission through the generosity and goodwill of the community," says Mindy Plumlee, Executive Director of Ronald McDonald House Charities of Idaho. "We appreciate the donation of quilts. They will bring comfort to families of sick children during a very difficult time."
Most Popular Stories

Most Popular Stories

More>>

KHQ.COM - Most mothers can only hope by the time their children grow up and move out of the house, they've learned all the necessary things to be a successful adult, including the basic knowledge that a turkey must be cooked in an oven, or perhaps in a smoker... NOT in a microwave. For this reason a new prank-challenge going around on Facebook is resulting in some hilarious text conversations between mothers and their grown children.

>>

KHQ.COM - Most mothers can only hope by the time their children grow up and move out of the house, they've learned all the necessary things to be a successful adult, including the basic knowledge that a turkey must be cooked in an oven, or perhaps in a smoker... NOT in a microwave. For this reason a new prank-challenge going around on Facebook is resulting in some hilarious text conversations between mothers and their grown children.

>>

Spokane firefighters are on the scene of a fire at a five-story garage that's under construction near Sacred Heart on the South Hill.

>>

Spokane firefighters are on the scene of a fire at a five-story garage that's under construction near Sacred Heart on the South Hill.

>>

LYNNWOOD, Wash. - A 20-year-old Washington state man has been sentenced to less than three years in prison for raping a high school student as she died from a drug overdose and texting semi-nude photos of her. The Daily Herald reports that Brian Varela pleaded guilty to second-degree manslaughter, third-degree rape, and unlawful disposal of remains as part of a plea deal in the February death of 18-year-old Alyssa Noceda.

>>

LYNNWOOD, Wash. - A 20-year-old Washington state man has been sentenced to less than three years in prison for raping a high school student as she died from a drug overdose and texting semi-nude photos of her. The Daily Herald reports that Brian Varela pleaded guilty to second-degree manslaughter, third-degree rape, and unlawful disposal of remains as part of a plea deal in the February death of 18-year-old Alyssa Noceda.

>>

COEUR D'ALENE, Idaho - The eagles that flock to Wolf Lodge Bay on Lake Coeur d'Alene in search of Kokanee are already breaking records. According to wildlife biologists with Bureau of Land Management, 55 bald eagles have been spotted in just the first week of the season.

>>

COEUR D'ALENE, Idaho - The eagles that flock to Wolf Lodge Bay on Lake Coeur d'Alene in search of Kokanee are already breaking records. According to wildlife biologists with Bureau of Land Management, 55 bald eagles have been spotted in just the first week of the season.

>>

SPOKANE, Wash. - A local gun shop owner and four Washington residents who will soon be too young to purchase semi-automatic rifles are among several people who are challenging the state's recently passed gun control initiative.

>>

SPOKANE, Wash. - A local gun shop owner and four Washington residents who will soon be too young to purchase semi-automatic rifles are among several people who are challenging the state's recently passed gun control initiative.

>>

SPOKANE, Wash. - Spokane Police are investigating the death of a man who reportedly shot himself in the head during sex. In a search warrant filed Nov. 8 in Spokane Superior Court, a detective wrote that around 2 a.m. on Nov. 4, police were called to a home in the 7800 block of North Morton Ave. after a woman said her partner shot himself in the head.

>>

SPOKANE, Wash. - Spokane Police are investigating the death of a man who reportedly shot himself in the head during sex. In a search warrant filed Nov. 8 in Spokane Superior Court, a detective wrote that around 2 a.m. on Nov. 4, police were called to a home in the 7800 block of North Morton Ave. after a woman said her partner shot himself in the head.

>>