School District plans to grow vegetables for lunch program
Posted:
Updated: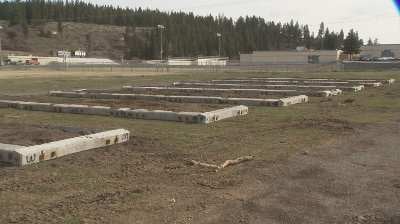 (Fourteen beds will be full of vegetables the East Valley School
district plans to use for school lunch programs as soon
as this summer)

Anthony Gomes | KHQ Local News

SPOKANE VALLEY, Wash. - Lynette Romney was sitting in a meeting last Spring where students were complaining about the quality of apples and produce in their lunches.

"It occurred to me that we have a ton of fallow fields in this area, why don't we just grow our own?" Romney asked.

So the East Valley School District now has five acres of land plowed and ready to plant as part of a community garden taking shape between East Valley Middle School and East Valley High School.

Fourteen beds on the district's land will be available for community members to grow fruits and vegetables, and the district plans to use part of the garden to grow tomatoes and carrots for school lunch programs.

"You can't get any fresher than that," she said.

She said some seeds will go into the ground next month and the local produce could be incorporated into school lunches as early as this summer and next fall.

Botany classes at East Valley High School have grown starts of fresh vegetables which could take root in the garden.

Members of the Key Club hung door flyers in the neighborhood educating the community about the garden they were invited to join.

The garden has become a life lesson away from text books and outside the classroom, according to Romney.

The garden is also expected to save the district money as they grow some of their food rather than having to buy and ship it to schools.

"We are an agricultural district," she said. "It makes sense that these kids will have food that is grown in their district."

A grant of $6,000 is being used to pay for fill dirt, bed liners and other supplies. Romney is working with fence companies she hopes can donate fence to protect the garden.
Most Popular Stories

Most Popular Stories

More>>

PULLMAN, Wash. - Six-year-old Denny Curran should be enjoying his last few days of summer before first grade. He should be teasing his brother, splashing in the pool, giving his parents a hard time about vegetables. Instead, Denny is dead, the victim of a horrific, freak bicycle accident that could happen to your child too. "Denny was an extraordinary child," his father Keith Curran told KHQ.

>>

PULLMAN, Wash. - Six-year-old Denny Curran should be enjoying his last few days of summer before first grade. He should be teasing his brother, splashing in the pool, giving his parents a hard time about vegetables. Instead, Denny is dead, the victim of a horrific, freak bicycle accident that could happen to your child too. "Denny was an extraordinary child," his father Keith Curran told KHQ.

>>

SPOKANE, Wash. - Spokane Police say they saw a dramatic increase in drug related calls on Tuesday. Police say at least one person has died and officers responded to almost 20 other calls of people acting erratically. Police are looking into whether there is a drug on the street that is "creating adverse health effects." Reported behavior is consistent with a stimulant, causing people to hallucinate and act in an unpredictable and sometimes violent manner.

>>

SPOKANE, Wash. - Spokane Police say they saw a dramatic increase in drug related calls on Tuesday. Police say at least one person has died and officers responded to almost 20 other calls of people acting erratically. Police are looking into whether there is a drug on the street that is "creating adverse health effects." Reported behavior is consistent with a stimulant, causing people to hallucinate and act in an unpredictable and sometimes violent manner.

>>

STEVENS COUNTY, Wash. - The Department of Natural Resources reports that a FireBoss airplane has crashed in northeast Washington. There aren't a lot of details released right now, but we do know that the pilot did survive the crash. The pilot was working on the Horns Mountain fire, burning about 838 acres near Northport, close to the US/Canada border.

>>

STEVENS COUNTY, Wash. - The Department of Natural Resources reports that a FireBoss airplane has crashed in northeast Washington. There aren't a lot of details released right now, but we do know that the pilot did survive the crash. The pilot was working on the Horns Mountain fire, burning about 838 acres near Northport, close to the US/Canada border.

>>

VANCOUVER, Wash. (AP) - Police say they've finished an investigation into an incident in which a 16-year-old girl was hurt when she was pushed off a bridge and fell 60 feet into water in Washington state. The Columbian reported Tuesday that the Clark County Sheriff's Office Major Crimes Unit was forwarding the case to the prosecutor's office for possible charges.

>>

VANCOUVER, Wash. (AP) - Police say they've finished an investigation into an incident in which a 16-year-old girl was hurt when she was pushed off a bridge and fell 60 feet into water in Washington state. The Columbian reported Tuesday that the Clark County Sheriff's Office Major Crimes Unit was forwarding the case to the prosecutor's office for possible charges.

>>

SPOKANE, Wash. - Educators of Spokane rallied together for an increase in pay and fully funded education. Ever since the State Supreme Court ruled that Washington was underfunding schools, educators and administrators have been trying to negotiate finances. Some districts have reached deals, but many in Eastern Washington haven't. KHQ went to the rally for Spokane public schools Tuesday.

>>

SPOKANE, Wash. - Educators of Spokane rallied together for an increase in pay and fully funded education. Ever since the State Supreme Court ruled that Washington was underfunding schools, educators and administrators have been trying to negotiate finances. Some districts have reached deals, but many in Eastern Washington haven't. KHQ went to the rally for Spokane public schools Tuesday.

>>

SPOKANE, Wash. - Air quality in the Spokane area remains at an unhealthy level as of Tuesday night. Officials with the Spokane Regional Clean Air Agency say they are using a series of filters and other tools to measure the air quality index. "What that means is we have a network of strategically placed monitors that are going to capture what the ambient levels are for our entire air shed," said Lisa Woodard.

>>

SPOKANE, Wash. - Air quality in the Spokane area remains at an unhealthy level as of Tuesday night. Officials with the Spokane Regional Clean Air Agency say they are using a series of filters and other tools to measure the air quality index. "What that means is we have a network of strategically placed monitors that are going to capture what the ambient levels are for our entire air shed," said Lisa Woodard.

>>