Missing mom and son's belongings wash up on beach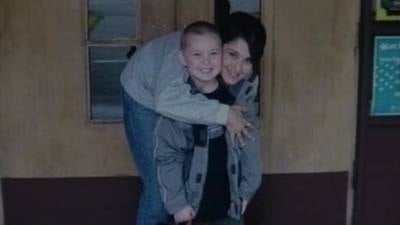 SEATTLE, Wash. - Authorities in Washington state say a shoe that washed up on a Puget Sound beach over the weekend probably belonged to the woman who appears to have abandoned a van on the beach and disappeared with her 8-year-old son.

Lt. Chris Mealy of the Thurston County Sheriff's office says other items that washed up on the beach also appear to be connected with 29-year-old Shantina "Kat" Smiley of Silverdale and her son Azriel Carver disappeared.

Mealy says the positive identification of the items does not change the direction of their investigation. Thurston County has a boat in the water scouring the shoreline for clues. Investigators also are examining Smiley's bank records and court and public records and talking to people.
Most Popular Stories

Most Popular Stories

More>>

KHQ.COM - Most mothers can only hope by the time their children grow up and move out of the house, they've learned all the necessary things to be a successful adult, including the basic knowledge that a turkey must be cooked in an oven, or perhaps in a smoker... NOT in a microwave. For this reason a new prank-challenge going around on Facebook is resulting in some hilarious text conversations between mothers and their grown children.

>>

KHQ.COM - Most mothers can only hope by the time their children grow up and move out of the house, they've learned all the necessary things to be a successful adult, including the basic knowledge that a turkey must be cooked in an oven, or perhaps in a smoker... NOT in a microwave. For this reason a new prank-challenge going around on Facebook is resulting in some hilarious text conversations between mothers and their grown children.

>>

Spokane firefighters are on the scene of a fire at a five-story garage that's under construction near Sacred Heart on the South Hill.

>>

Spokane firefighters are on the scene of a fire at a five-story garage that's under construction near Sacred Heart on the South Hill.

>>

LYNNWOOD, Wash. - A 20-year-old Washington state man has been sentenced to less than three years in prison for raping a high school student as she died from a drug overdose and texting semi-nude photos of her. The Daily Herald reports that Brian Varela pleaded guilty to second-degree manslaughter, third-degree rape, and unlawful disposal of remains as part of a plea deal in the February death of 18-year-old Alyssa Noceda.

>>

LYNNWOOD, Wash. - A 20-year-old Washington state man has been sentenced to less than three years in prison for raping a high school student as she died from a drug overdose and texting semi-nude photos of her. The Daily Herald reports that Brian Varela pleaded guilty to second-degree manslaughter, third-degree rape, and unlawful disposal of remains as part of a plea deal in the February death of 18-year-old Alyssa Noceda.

>>

COEUR D'ALENE, Idaho - The eagles that flock to Wolf Lodge Bay on Lake Coeur d'Alene in search of Kokanee are already breaking records. According to wildlife biologists with Bureau of Land Management, 55 bald eagles have been spotted in just the first week of the season.

>>

COEUR D'ALENE, Idaho - The eagles that flock to Wolf Lodge Bay on Lake Coeur d'Alene in search of Kokanee are already breaking records. According to wildlife biologists with Bureau of Land Management, 55 bald eagles have been spotted in just the first week of the season.

>>

SPOKANE, Wash. - A local gun shop owner and four Washington residents who will soon be too young to purchase semi-automatic rifles are among several people who are challenging the state's recently passed gun control initiative.

>>

SPOKANE, Wash. - A local gun shop owner and four Washington residents who will soon be too young to purchase semi-automatic rifles are among several people who are challenging the state's recently passed gun control initiative.

>>

SPOKANE, Wash. - Spokane Police are investigating the death of a man who reportedly shot himself in the head during sex. In a search warrant filed Nov. 8 in Spokane Superior Court, a detective wrote that around 2 a.m. on Nov. 4, police were called to a home in the 7800 block of North Morton Ave. after a woman said her partner shot himself in the head.

>>

SPOKANE, Wash. - Spokane Police are investigating the death of a man who reportedly shot himself in the head during sex. In a search warrant filed Nov. 8 in Spokane Superior Court, a detective wrote that around 2 a.m. on Nov. 4, police were called to a home in the 7800 block of North Morton Ave. after a woman said her partner shot himself in the head.

>>