Spokane Shock
Shock roster a revolving door - still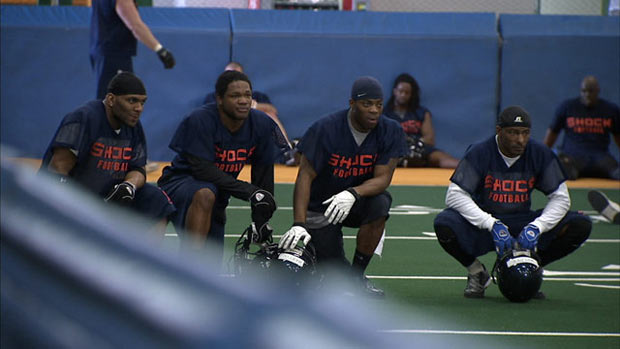 Shock players take a knee during training camp (Photo: SWX)
The Spokane Shock added DB Travis Williams, DB David Jones, WR Joey Hew-Len, DB Roderick Mosley, WR Greg Orton, DL Ryan Lucas and OL Mike Donato to the 2010 roster today. The Shock also released DB Rock Dillon, WR Justin Brown. WR Willie Quinnie was traded to Alabama for future considerations.
Last season Williams, 5-9 180, played for the af2's Arkansas Twisters collecting eight tackles and three pass break-ups in two games. In 2008, Williams signed a free agent contract with the Pittsburgh Steelers before being released during training camp. Prior to his professional career, Williams starred at East Carolina where he racked up 156 tackles with three forced fumbles and four interceptions. On special teams, he returned 39 punts for 517 yards with one touchdown. On kick returns, Williams recorded 11 returns for 249 yards with one touchdown.
Jones, 5-10 185, signed a free agent contract with the Baltimore Ravens in 2009. He caught the eye of the Ravens after an impressive four-year career at Kentucky. As a Wildcat, Jones collected 72.5 tackles with one interception and five pass break-ups. He also recorded two touchdowns; one off of a blocked field goal return and another on a kickoff return.
Hew-Len, 6-3 220, is a rookie who was discovered at the Shock's open tryout in Los Angeles earlier this year. Hew-Len played in 20 games at Southern Utah where he recorded 86 receptions for 1,079 yards with 12 touchdowns.
Mosley, 5-11 180, played for the af2's Corpus Christie Sharks in 2009. As a Shark, Mosley led the team with 45.5 tackles, adding eight pass break-ups, one interception and one fumble recovery. Mosley attended Texas A&M – Kingsville where he lead the team in interceptions (9) and tackles (71) as a junior and senior.
Orton, 6-3 207, signed as a free agent with the Cincinnati Bengals in 2009 after an outstanding career at Purdue. As a Boilermaker, Orton played in 50 games and registered 203 receptions (5th in school history) for 2,356 yards (6th in school history) with 13 touchdowns.
Lucas, 6-5 285, most recently spent time with the CFL's Montreal Alouettes as member of the practice squad in 2007. He was re-signed in 2008 and was later released. A Canadian citizen, Lucas attended Western Washington University and recorded 17 tackles including two sacks.
Donato, 6-3 300, is a rookie who was discovered at the Shock's open tryout in Pullman earlier this year. Donato played collegiately at UNLV where he appeared in 26 games.
The Shock will open up the 2010 season on April 2nd at 8 PM as they host the Milwaukee Iron on Spokane Tribe Field.