Tina Blanchette arraigned for drug charges and obscene messages to Sheriff's Det.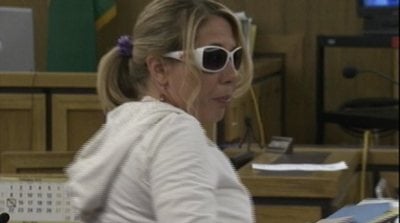 SPOKANE, Wash. - A 41-year-old former Department of Social and Health Services employee charged with intimidating a public servant appeared in Spokane County Superior Court for an arraignment Tuesday.
Tina Blanchette pleaded not guilty to a variety of charges including drug possession and allegations she sent a Spokane County Sheriff's detective hundreds of text messages, voicemails and photos that court documents state were lewd, profane and obscene. Blanchette has been in the Spokane County Jail since her arrest earlier this month.
After the arraignment Blanchette was released from court custody on several conditions. One of the conditions is that she is not allowed to visit her for former place of work, DSHS, unless she is picking up her union grievances or food stamps for her family.
Previous Coverage
In court on March 18th, a judge set Blanchette's bail on the drug charge at $5,000. The drug charge is, according to court documents, what sparked the series of indecent messages to the detective.
According to court documents, the detective was investigating Blanchette for drug offenses. Over the course of the investigation the detective served a search warrant at Blanchette's home and found her growing a number of marijuana plants, at least 75 according to arrest papers.
When the investigating officer spoke with Blanchette on the telephone, she explained that she was vacationing in Hawaii and requested his phone number so she could forward threatening messages she claimed to have been receiving since the bust occurred.
The deputy gave her his phone number and that's when the threats from Blanchette started to pour in, according to court documents. The deputy says he began receiving the messages in mid-February and they kept coming in though mid-March.
The messages, aside from lewd pictures, included threats directed at the deputy and his family.
"Look you ******* Putz I know you are listening to my messages I'm ******* strapped right now come to Hawaii you not a cop in Hawaii you mother ******," read one message, according to court documents.
The messages also referenced the deputy's child and the deputy believes Blanchette accessed his confidential file at DSHS to learn he had a child. By the time it was all over, Blanchette had sent more than 300 texts, voice mails, and pictures of herself. A DSHS supervisor says Blanchette made similar calls to that agency after resigning in February.
Most Popular Stories

Most Popular Stories

More>>

KHQ.COM - Most mothers can only hope by the time their children grow up and move out of the house, they've learned all the necessary things to be a successful adult, including the basic knowledge that a turkey must be cooked in an oven, or perhaps in a smoker... NOT in a microwave. For this reason a new prank-challenge going around on Facebook is resulting in some hilarious text conversations between mothers and their grown children.

>>

KHQ.COM - Most mothers can only hope by the time their children grow up and move out of the house, they've learned all the necessary things to be a successful adult, including the basic knowledge that a turkey must be cooked in an oven, or perhaps in a smoker... NOT in a microwave. For this reason a new prank-challenge going around on Facebook is resulting in some hilarious text conversations between mothers and their grown children.

>>

Spokane firefighters are on the scene of a fire at a five-story garage that's under construction near Sacred Heart on the South Hill.

>>

Spokane firefighters are on the scene of a fire at a five-story garage that's under construction near Sacred Heart on the South Hill.

>>

All eastbound I-90 lanes near Evergreen in Spokane Valley were closed this morning after a semi flipped onto its side. It started with an erratic driver in a black pickup truck slamming into a passenger car.

>>

All eastbound I-90 lanes near Evergreen in Spokane Valley were closed this morning after a semi flipped onto its side. It started with an erratic driver in a black pickup truck slamming into a passenger car.

>>

LYNNWOOD, Wash. - A 20-year-old Washington state man has been sentenced to less than three years in prison for raping a high school student as she died from a drug overdose and texting semi-nude photos of her. The Daily Herald reports that Brian Varela pleaded guilty to second-degree manslaughter, third-degree rape, and unlawful disposal of remains as part of a plea deal in the February death of 18-year-old Alyssa Noceda.

>>

LYNNWOOD, Wash. - A 20-year-old Washington state man has been sentenced to less than three years in prison for raping a high school student as she died from a drug overdose and texting semi-nude photos of her. The Daily Herald reports that Brian Varela pleaded guilty to second-degree manslaughter, third-degree rape, and unlawful disposal of remains as part of a plea deal in the February death of 18-year-old Alyssa Noceda.

>>

COEUR D'ALENE, Idaho - The eagles that flock to Wolf Lodge Bay on Lake Coeur d'Alene in search of Kokanee are already breaking records. According to wildlife biologists with Bureau of Land Management, 55 bald eagles have been spotted in just the first week of the season.

>>

COEUR D'ALENE, Idaho - The eagles that flock to Wolf Lodge Bay on Lake Coeur d'Alene in search of Kokanee are already breaking records. According to wildlife biologists with Bureau of Land Management, 55 bald eagles have been spotted in just the first week of the season.

>>

Police are investigating a homicide in Bonner County. Early on November 12, police apprehended 71-year-old James Michael Costello Sr., after a vehicle pursuit.

>>

Police are investigating a homicide in Bonner County. Early on November 12, police apprehended 71-year-old James Michael Costello Sr., after a vehicle pursuit.

>>