Off duty detective helps nab Cricket burglar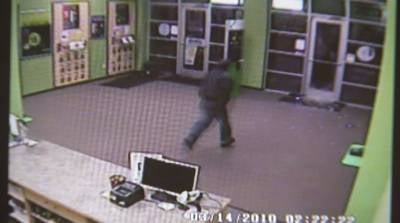 (The suspect, identified as 46-year-old Ronald Roberts, was caught
on camera running from the Cricket Store empty handed)

SPOKANE, Wash. - A 46-year-old Spokane man was arrested on burglary charges early Sunday morning after an off duty Spokane Police detective saw him running from a north Spokane business.

The detective was headed home when he saw the suspect, who has since been identified as Ronald Roberts, running alongside a strip mall on Northwest Boulevard.

He stopped to check out the scene and wrote down Roberts' license plate before he was able to get away.

The detective remained to check out the businesses and noticed the Cricket Store had it's front door knocked out.

The detective then called in Roberts' license plate number.

Meanwhile, the owner of the Cricket store, Steve McKee, gave police surveillance footage that showed a man throwing a rock into the store and running over to a locked display case where he tried to remove a laptop computer. The video shows the man eventually giving up and leaving empty handed.

Police compared the suspect on the surveillance video to the registered owner of the license plate number and hours later patrol officers located the car and Roberts.

Roberts was wearing the same clothes as the suspect caught on camera and had safety glass falling out of his cuffed jeans.

Police arrested him for second degree burglary and credit the detective's work for putting Roberts behind bars.

This is the second time McKee has had one of his Cricket stores broken into in the last year.

He says police work like the detective's makes him feel safe and secure.

"They're doing they're job even when they're not working," said McKee.
Most Popular Stories

Most Popular Stories

More>>

A man convicted for killing a dog in Kootenai County was arrested by the Okanogan County deputies on Friday. Austin Stephen Matott was released from jail on a $25,000 on Tuesday. He was pulled over for a routine traffic stop a few days beforehand. Matott was wanted in Idaho for skipping his sentencing hearing last month, August 7. He was found guilty of two charges of animal abuse and cruelty. A jury found Matott responsible for killing a corgi-heeler mix named Hank, who was...

>>

A man convicted for killing a dog in Kootenai County was arrested by the Okanogan County deputies on Friday. Austin Stephen Matott was released from jail on a $25,000 on Tuesday. He was pulled over for a routine traffic stop a few days beforehand. Matott was wanted in Idaho for skipping his sentencing hearing last month, August 7. He was found guilty of two charges of animal abuse and cruelty. A jury found Matott responsible for killing a corgi-heeler mix named Hank, who was...

>>

SPOKANE, Wash. - From the outside, the Repeat Boutique looks like a lot of other thrift shops in Spokane. Inside, some might describe the stuff for sale as old, used, discarded garbage -- but store manager CJ Curtis sees its potential. And just like the goods in her shop, CJ is on her way to a new life, one far from the one she once lived.

>>

SPOKANE, Wash. - From the outside, the Repeat Boutique looks like a lot of other thrift shops in Spokane. Inside, some might describe the stuff for sale as old, used, discarded garbage -- but store manager CJ Curtis sees its potential. And just like the goods in her shop, CJ is on her way to a new life, one far from the one she once lived.

>>

SPOKANE, Wash. - Wednesday night KHQ and the Spokesman Review will host a town hall candidate forum with Rep. Cathy McMorris Rodgers, the top ranking female GOP member in the house, and her democratic rival, former state Sen. Lisa Brown. Live coverage of the event will begin at 6 p.m. on KHQ, KHQ.com, and the KHQ app for your phone and TV.

>>

SPOKANE, Wash. - Wednesday night KHQ and the Spokesman Review will host a town hall candidate forum with Rep. Cathy McMorris Rodgers, the top ranking female GOP member in the house, and her democratic rival, former state Sen. Lisa Brown. Live coverage of the event will begin at 6 p.m. on KHQ, KHQ.com, and the KHQ app for your phone and TV.

>>

SPOKANE, Wash. - Following a sexual misconduct investigation centered on former WSU quarterback, Jason Gesser, there are questions about who knew what and when. According to documents obtained by KHQ, legendary Cougs quarterback, Jack Thompson, told a WSU employee to "stay in your lane" when concerns about Gesser were brought forward.

>>

SPOKANE, Wash. - Following a sexual misconduct investigation centered on former WSU quarterback, Jason Gesser, there are questions about who knew what and when. According to documents obtained by KHQ, legendary Cougs quarterback, Jack Thompson, told a WSU employee to "stay in your lane" when concerns about Gesser were brought forward.

>>

SPOKANE, Wash. - "He told me to pull over, and my jaw just dropped," a Spokane woman, who says a fake police officer tried to pull her over, doesn't want to be named. In fear, this could happen again. "It really scared me and kind of threw me off that night. I don't even want to drive by myself anymore," she said. She tells me that she was driving around North Spokane at night on her way home from work.

>>

SPOKANE, Wash. - "He told me to pull over, and my jaw just dropped," a Spokane woman, who says a fake police officer tried to pull her over, doesn't want to be named. In fear, this could happen again. "It really scared me and kind of threw me off that night. I don't even want to drive by myself anymore," she said. She tells me that she was driving around North Spokane at night on her way home from work.

>>

HAYDEN, Idaho - An act of patriotism is going viral online after a Hayden mom caught it on camera. Our viewer Amanda sent us the photo she took at Hayden Meadows Elementary School. She says while she was waiting to pick up her children from school, she saw the trio of kids taking down the flag.

>>

HAYDEN, Idaho - An act of patriotism is going viral online after a Hayden mom caught it on camera. Our viewer Amanda sent us the photo she took at Hayden Meadows Elementary School. She says while she was waiting to pick up her children from school, she saw the trio of kids taking down the flag.

>>