Fire crews knock down house fire in north Spokane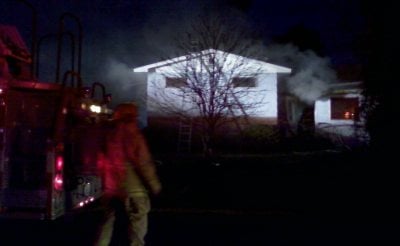 SPOKANE, Wash. - Fire crews responded to a fully involved house fire in the 5400 block of N. Washington in north Spokane Monday night.
The fire was reported at 7:22 p.m. and when fire crews got on scene smoke and flames were seen pouring out of nearly every window of the house.
Firefighters say there is extensive damage to the inside of the home, and there isn't much left that is salvageable.
The couple that owns the home was able to escape the fire unharmed. They said the fire started when their son, who is disabled, was smoking in his basement bedroom. He reportedly put his cigarette on his mattress catching it on fire. The flames quickly spread to the rest of the house and into the roof.
The son was also able to escape the fire unharmed.
It took fire fighters about a half an hour to get the fire under control and knocked down.
Most Popular Stories

Most Popular Stories

More>>

SPOKANE, Wash. - The Department of Defense identified the man who died in a helicopter crash in Iraq as 34-year-old Taylor Galvin from Spokane. The DOD says Chief Warrant Officer 3 Taylor J. Galvin died as a result of injuries sustained when his helicopter crash in Sinjar, Ninevah Province, Iraq on Monday. The crash is still under investigation.

>>

SPOKANE, Wash. - The Department of Defense identified the man who died in a helicopter crash in Iraq as 34-year-old Taylor Galvin from Spokane. The DOD says Chief Warrant Officer 3 Taylor J. Galvin died as a result of injuries sustained when his helicopter crash in Sinjar, Ninevah Province, Iraq on Monday. The crash is still under investigation.

>>

TETERBORO, N.J. - A private jet that blew two tires during takeoff at a small New Jersey airport has landed safely at an airport in New York.
The Gulfstream IV landed Tuesday at New York Stewart International Airport in Newburgh, about 70 miles (112 kilometers) north of New York City. Emergency responders were ready by the runway.

>>

TETERBORO, N.J. - A private jet that blew two tires during takeoff at a small New Jersey airport has landed safely at an airport in New York.
The Gulfstream IV landed Tuesday at New York Stewart International Airport in Newburgh, about 70 miles (112 kilometers) north of New York City. Emergency responders were ready by the runway.

>>

SPOKANE VALLEY, Wash.- Spokane Valley firefighters say a condo fire that happened Sunday night killed one person and destroyed at least nine units at the Central Park Condominiums off of 6th Avenue. Billowing smoke and flames was all anyone could see. "It's hard and it all happened so sudden. Within two minutes, everything gets taken away from you.

>>

SPOKANE VALLEY, Wash.- Spokane Valley firefighters say a condo fire that happened Sunday night killed one person and destroyed at least nine units at the Central Park Condominiums off of 6th Avenue. Billowing smoke and flames was all anyone could see. "It's hard and it all happened so sudden. Within two minutes, everything gets taken away from you.

>>

PULLMAN, Wash. - Six-year-old Denny Curran should be enjoying his last few days of summer before first grade. He should be teasing his brother, splashing in the pool, giving his parents a hard time about vegetables. Instead, Denny is dead, the victim of a horrific, freak bicycle accident that could happen to your child too. "Denny was an extraordinary child," his father Keith Curran told KHQ.

>>

PULLMAN, Wash. - Six-year-old Denny Curran should be enjoying his last few days of summer before first grade. He should be teasing his brother, splashing in the pool, giving his parents a hard time about vegetables. Instead, Denny is dead, the victim of a horrific, freak bicycle accident that could happen to your child too. "Denny was an extraordinary child," his father Keith Curran told KHQ.

>>

BAYVIEW, Idaho - A woman is dead and two others remain in serious condition after a man armed with a hammer attacked their family in their Bayview home Sunday afternoon.

>>

BAYVIEW, Idaho - A woman is dead and two others remain in serious condition after a man armed with a hammer attacked their family in their Bayview home Sunday afternoon.

>>

Police say a man in the country illegally has been charged with murder in the death of Iowa college student Mollie Tibbetts. A charge of 1st degree murder has been filed against 24-year-old Cristhian Bahena Rivera. If convicted, the charge carries a mandatory sentence of life in prison. Investigators say they used surveillance video in tracking down Rivera. The video showed Tibbetts jogging in a rural area near her hometown of Brooklyn as well as Rivera's car.

>>

Police say a man in the country illegally has been charged with murder in the death of Iowa college student Mollie Tibbetts. A charge of 1st degree murder has been filed against 24-year-old Cristhian Bahena Rivera. If convicted, the charge carries a mandatory sentence of life in prison. Investigators say they used surveillance video in tracking down Rivera. The video showed Tibbetts jogging in a rural area near her hometown of Brooklyn as well as Rivera's car.

>>