Stephanie's March Diabetes Newsletter
Posted:
Updated: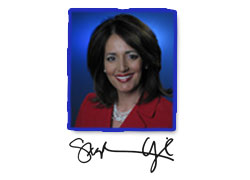 Hello, everyone!
I hope everyone had a chance to give a little extra love to your heart last month – February is National Heart Health month. Did you know that the same choices that can prevent & control Diabetes can help to lower your risk for heart disease and stroke, too? It's true, and it's simple – just think of it like this: A-B-C.
A is for A1C. The A1C reflects your average blood glucose level for 2 to 3 months – it's what your doctor uses to determine how well you manage your blood sugar.
B is for blood pressure. It's so vitally important to keep tabs on your blood pressure and keep that level at the ideal your healthcare provider tells you it should be.
C is for cholesterol (or lipids). Eating right and exercising will help you manage your cholesterol – something we could all use.
KNOW your ABCs and talk to your doctor about how you can keep your ABCs under control – you can help to prevent & control all kinds of health issues just by starting with these basics.
Diabetes Day is coming! It's the 10th anniversary of the Rockwood and Premera Blue Cross Diabetes Day – an educational program promoting diabetes self-management for patients, their families and the general public. Don't miss this great opportunity to learn all you can about the prevention and management of Diabetes. Space is limited, so register now – click here for more information: http://www.khq.com/Global/link.asp?L=427012
Plus, if you haven't yet, check out "My Food Advisor" from the American Diabetes Association. It's a calorie and carbohydrate counting tool that is a great addition to your aresenal against Diabetes! I especially like the recipes – so many search options! Check it out here: http://www.khq.com/Global/link.asp?L=430909
I hope this has found you all well – we'll see you again next month!
Yours truly,
Stephanie.