SUV suspended by wire after crash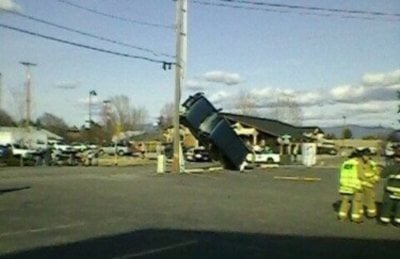 (Photo courtesy of Rachelle Wolfe)

HAYDEN, Idaho - The driver of an SUV was taken to the hospital after he crashed his vehicle and the SUV became partially suspended in the air by a utility pole guy-wire Tuesday afternoon.
The Kootenai County Sheriff's Department's Traffic Unit has completed an initial investigation of the crash which occurred at the intersection of Orchard Ave. and Government Way.
Sheriff's officials say preliminary evidence based on witness statements, revealed that a 1997 Chevy Suburban driven by 31-year-old Timothy J. Toboyko of Hayden Idaho, was traveling westbound on Orchard Ave. east of Government Way. Toboyko stopped at the stop sign and then proceeded across the intersection. Toboyko crossed into the eastbound lane, struck a stop sign on the southwest corner, and then struck two guy-wires attached to a power pole located on the south side of Orchard Ave. The vehicle undercarriage became entangled on one of the guy-wires which caused the vehicle to be partially suspended facing upward at approximately a 45 degree angle.
Kootenai County Deputies arrived on scene with Northern Lakes Fire and Medical. Kootenai County Deputies and Northern Lakes Fire were able to assist Toboyko from the vehicle and he was transported to Kootenai Medical Center with non-life threatening injuries.
Avista Utilities arrived on scene and turned off the power to the area so the vehicle could be removed safely. Power to the area was affected for approximately 1/2 hour.
Merwin's towing responded to the scene with two tow trucks and were able to free the vehicle from the guy-wires without further damage to the power pole.
Deputies say it is still unclear at this time as to the exact cause as to why Toboyko's vehicle crossed over the lanes of travel and struck the stop sign and guy-wires. Further investigation will continue. It appears that alcohol was not a factor in the collision.
Most Popular Stories

Most Popular Stories

More>>

SPOKANE, Wash. - Update: Detectives have identified the woman found in the Spokane River September 15 just hours after releasing a rending of what she may have looked like. Detectives continue to work to determine what occurred prior to her death.

>>

SPOKANE, Wash. - Update: Detectives have identified the woman found in the Spokane River September 15 just hours after releasing a rending of what she may have looked like. Detectives continue to work to determine what occurred prior to her death.

>>

LOS ANGELES (AP) - Former rap mogul Marion "Suge" Knight has pleaded no contest to voluntary manslaughter and after he ran over two men, killing one, nearly four years ago. The Death Row Records co-founder entered the plea Thursday in Los Angeles Superior Court and has agreed to serve 28 years in prison.

>>

LOS ANGELES (AP) - Former rap mogul Marion "Suge" Knight has pleaded no contest to voluntary manslaughter and after he ran over two men, killing one, nearly four years ago. The Death Row Records co-founder entered the plea Thursday in Los Angeles Superior Court and has agreed to serve 28 years in prison.

>>

SPOKANE, Wash. - Durham Bus Services has had a rough start to the school year. Less, than one week in, Durham had to answer for a bus driver who dropped off a kindergartner at the wrong bus stop. Then, they had to respond to parents' concerns about overcrowding on school buses. On Thursday, they were once again addressing a serious parent concern.

>>

SPOKANE, Wash. - Durham Bus Services has had a rough start to the school year. Less, than one week in, Durham had to answer for a bus driver who dropped off a kindergartner at the wrong bus stop. Then, they had to respond to parents' concerns about overcrowding on school buses. On Thursday, they were once again addressing a serious parent concern.

>>

A school bus was hit by a car on the intersection of Joseph Avenue and Standard Street on Thursday. Nobody was hurt. All students were picked up from the scene of the accident by parents or guardians. The bus was taking Libby Center students home from school on Joseph Avenue. That's when a car hit the side of the bus while traveling on Standard Street, destroying the doors and stairs leading up to the vehicle's floor, according to a representative from Durham School Services.

>>

A school bus was hit by a car on the intersection of Joseph Avenue and Standard Street on Thursday. Nobody was hurt. All students were picked up from the scene of the accident by parents or guardians. The bus was taking Libby Center students home from school on Joseph Avenue. That's when a car hit the side of the bus while traveling on Standard Street, destroying the doors and stairs leading up to the vehicle's floor, according to a representative from Durham School Services.

>>

KOOTENAI COUNTY, Idaho - The Kootenai County Sheriff's Office reports a 39-year-old man from Spokane was booked into the Kootenai County Jail for the 21st time on Wednesday. Deputies arrested Anthony K. Thompson for a felony escape from community custody warrant and possession of stolen property.

>>

KOOTENAI COUNTY, Idaho - The Kootenai County Sheriff's Office reports a 39-year-old man from Spokane was booked into the Kootenai County Jail for the 21st time on Wednesday. Deputies arrested Anthony K. Thompson for a felony escape from community custody warrant and possession of stolen property.

>>

SPOKANE, Wash. - Cheyenne doesn't have a lot of luxuries in life. But one thing she does have is her horse, Benjamin. "I've started riding him in January, and we've built on from there," Cheyenne Clark said. Cheyenne is part of Team Legacy. One of the many equestrian clubs organized by Hearts and Horses, a non-profit, with the mission of giving underprivileged kids the chance to ride.

>>

SPOKANE, Wash. - Cheyenne doesn't have a lot of luxuries in life. But one thing she does have is her horse, Benjamin. "I've started riding him in January, and we've built on from there," Cheyenne Clark said. Cheyenne is part of Team Legacy. One of the many equestrian clubs organized by Hearts and Horses, a non-profit, with the mission of giving underprivileged kids the chance to ride.

>>