Reward offered in second bald eagle killing case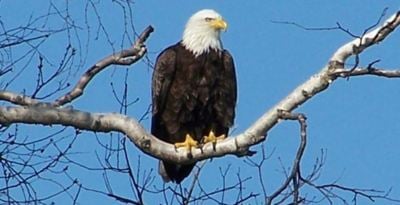 (File Photo)

NINE MILE FALLS, Wash. - The Humane Society of the United States and The Humane Society Wildlife Land Trust are offering a reward of up to $2,500 for information leading to the identification, arrest, and conviction of the person or persons responsible for illegally killing an immature bald eagle in Nine Mile Falls.
According to the United States Fish and Wildlife Service, a Washington State Park ranger found the shot eagle during the week of March 25. The bird was found on South Bank Road in Riverside Park.
"The Humane Society of the United States thanks the U.S. Fish and Wildlife Service for investigating this case," said Dan Paul, Washington state director for The HSUS. "Bald eagles are national symbols and protected by federal law. We hope this reward will bring tips forward to solve this crime."
The person or persons responsible face up to a year in prison and fines of up to $100,000. Bald eagles are federally protected under the Migratory Bird Treaty Act and the Bald and Golden Eagle Protection Act.
The HSUS and HSWLT are also offering a reward in another unsolved bald eagle shooting case that took place the weekend of March 6 in Ford, Wash.
Poaching:
Wildlife officials estimate that for every wild animal killed legally — tens of millions of animals per year — another is killed illegally.
Every year, thousands of poachers are arrested nationwide; however, it is estimated that only 1 percent to 5 percent of poachers are caught.
Poachers injure or kill wildlife anytime, anywhere and sometimes do so in particularly cruel ways.
The HSUS works with state wildlife agencies to offer rewards of $2,500 for information leading to arrest and conviction of suspected poachers.
Anyone with information about this case is asked to call the Spokane office of the U.S. Fish and Wildlife Service Office of Law Enforcement at 509-928-6050.
Most Popular Stories

Most Popular Stories

More>>

A man convicted for killing a dog in Kootenai County was arrested by the Okanogan County deputies on Friday. Austin Stephen Matott was released from jail on a $25,000 on Tuesday. He was pulled over for a routine traffic stop a few days beforehand. Matott was wanted in Idaho for skipping his sentencing hearing last month, August 7. He was found guilty of two charges of animal abuse and cruelty. A jury found Matott responsible for killing a corgi-heeler mix named Hank, who was...

>>

A man convicted for killing a dog in Kootenai County was arrested by the Okanogan County deputies on Friday. Austin Stephen Matott was released from jail on a $25,000 on Tuesday. He was pulled over for a routine traffic stop a few days beforehand. Matott was wanted in Idaho for skipping his sentencing hearing last month, August 7. He was found guilty of two charges of animal abuse and cruelty. A jury found Matott responsible for killing a corgi-heeler mix named Hank, who was...

>>

SPOKANE, Wash. - From the outside, the Repeat Boutique looks like a lot of other thrift shops in Spokane. Inside, some might describe the stuff for sale as old, used, discarded garbage -- but store manager CJ Curtis sees its potential. And just like the goods in her shop, CJ is on her way to a new life, one far from the one she once lived.

>>

SPOKANE, Wash. - From the outside, the Repeat Boutique looks like a lot of other thrift shops in Spokane. Inside, some might describe the stuff for sale as old, used, discarded garbage -- but store manager CJ Curtis sees its potential. And just like the goods in her shop, CJ is on her way to a new life, one far from the one she once lived.

>>

SPOKANE, Wash. - Wednesday night KHQ and the Spokesman Review will host a town hall candidate forum with Rep. Cathy McMorris Rodgers, the top ranking female GOP member in the house, and her democratic rival, former state Sen. Lisa Brown. Live coverage of the event will begin at 6 p.m. on KHQ, KHQ.com, and the KHQ app for your phone and TV.

>>

SPOKANE, Wash. - Wednesday night KHQ and the Spokesman Review will host a town hall candidate forum with Rep. Cathy McMorris Rodgers, the top ranking female GOP member in the house, and her democratic rival, former state Sen. Lisa Brown. Live coverage of the event will begin at 6 p.m. on KHQ, KHQ.com, and the KHQ app for your phone and TV.

>>

SPOKANE, Wash. - Following a sexual misconduct investigation centered on former WSU quarterback, Jason Gesser, there are questions about who knew what and when. According to documents obtained by KHQ, legendary Cougs quarterback, Jack Thompson, told a WSU employee to "stay in your lane" when concerns about Gesser were brought forward.

>>

SPOKANE, Wash. - Following a sexual misconduct investigation centered on former WSU quarterback, Jason Gesser, there are questions about who knew what and when. According to documents obtained by KHQ, legendary Cougs quarterback, Jack Thompson, told a WSU employee to "stay in your lane" when concerns about Gesser were brought forward.

>>

HAYDEN, Idaho - An act of patriotism is going viral online after a Hayden mom caught it on camera. Our viewer Amanda sent us the photo she took at Hayden Meadows Elementary School. She says while she was waiting to pick up her children from school, she saw the trio of kids taking down the flag.

>>

HAYDEN, Idaho - An act of patriotism is going viral online after a Hayden mom caught it on camera. Our viewer Amanda sent us the photo she took at Hayden Meadows Elementary School. She says while she was waiting to pick up her children from school, she saw the trio of kids taking down the flag.

>>

Authorities say multiple people have been shot in northeast Maryland in what the FBI is describing as an "active shooter situation." The Harford County Sheriff's Office tweeted that there was a shooting Thursday morning in the Perryman area that involves "multiple victims." They warn that the situation is still fluid and ask people to avoid the area.

>>

Authorities say multiple people have been shot in northeast Maryland in what the FBI is describing as an "active shooter situation." The Harford County Sheriff's Office tweeted that there was a shooting Thursday morning in the Perryman area that involves "multiple victims." They warn that the situation is still fluid and ask people to avoid the area.

>>