Judge won't drop murder charge in fetus death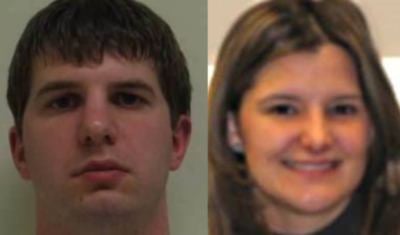 (Silas Parks is accused of killing his wife Sarah and their unborn child)

MOSCOW, Idaho. - A District Court judge has denied a defense motion to drop one of two murder charges filed against a 25-year-old Moscow man after his wife and unborn child died in June 2009.
Silas Parks is charged with two counts of murder and one count of arson for allegedly strangling or suffocating Sarah Parks and then setting fire to their residence.
Attorneys for Parks asked that the murder charge pertaining to his unborn child be dropped due to the early stage of the pregnancy. Sarah Parks was estimated to be 19 to 20 weeks pregnant.
Idaho law defines killing a fetus as murder. Attorneys for Parks argued that since Sarah Parks could have legally had an abortion, Silas Parks should not be charged with murder in the death of the fetus.
Second District Judge Jeff M. Brudie denied Parks' motion Monday, the Moscow-Pullman Daily News reported.
(Copyright 2010 by The Associated Press. All Rights Reserved.)
Most Popular Stories

Most Popular Stories

More>>

KHQ.COM - Most mothers can only hope by the time their children grow up and move out of the house, they've learned all the necessary things to be a successful adult, including the basic knowledge that a turkey must be cooked in an oven, or perhaps in a smoker... NOT in a microwave. For this reason a new prank-challenge going around on Facebook is resulting in some hilarious text conversations between mothers and their grown children.

>>

KHQ.COM - Most mothers can only hope by the time their children grow up and move out of the house, they've learned all the necessary things to be a successful adult, including the basic knowledge that a turkey must be cooked in an oven, or perhaps in a smoker... NOT in a microwave. For this reason a new prank-challenge going around on Facebook is resulting in some hilarious text conversations between mothers and their grown children.

>>

SPOKANE, Wash. - Spokane Police are investigating the death of a man who reportedly shot himself in the head during sex. In a search warrant filed Nov. 8 in Spokane Superior Court, a detective wrote that around 2 a.m. on Nov. 4, police were called to a home in the 7800 block of North Morton Ave. after a woman said her partner shot himself in the head.

>>

SPOKANE, Wash. - Spokane Police are investigating the death of a man who reportedly shot himself in the head during sex. In a search warrant filed Nov. 8 in Spokane Superior Court, a detective wrote that around 2 a.m. on Nov. 4, police were called to a home in the 7800 block of North Morton Ave. after a woman said her partner shot himself in the head.

>>

MOUNT HOLLY, N.J. - Authorities say a New Jersey couple and a homeless man made up a "feel good" story about the man helping them so they could raise money through an online fundraiser. Burlington County prosecutors outlined the allegations against Mark D'Amico, Katelyn McClure and Johnny Bobbitt on Thursday.

>>

MOUNT HOLLY, N.J. - Authorities say a New Jersey couple and a homeless man made up a "feel good" story about the man helping them so they could raise money through an online fundraiser. Burlington County prosecutors outlined the allegations against Mark D'Amico, Katelyn McClure and Johnny Bobbitt on Thursday.

>>

SANTA CLARA, Calif. - Police in California are looking for a missing Spokane man who went missing during the San Francisco 49ers game Monday night. 32-year-old Ian Powers was last seen at the game with his family Monday night. He went to the restroom alone late in the game and hasn't been seen since, police told local media.

>>

SANTA CLARA, Calif. - Police in California are looking for a missing Spokane man who went missing during the San Francisco 49ers game Monday night. 32-year-old Ian Powers was last seen at the game with his family Monday night. He went to the restroom alone late in the game and hasn't been seen since, police told local media.

>>

COEUR D'ALENE, Idaho - Coeur d'Alene Police have confirmed with KHQ that human remains were found near 8th and Mullan Tuesday night. The remains were found by a construction worker who alerted police Tuesday night. New apartments are being built on the site. Police did not have any additional details to release. This is a developing story.

>>

COEUR D'ALENE, Idaho - Coeur d'Alene Police have confirmed with KHQ that human remains were found near 8th and Mullan Tuesday night. The remains were found by a construction worker who alerted police Tuesday night. New apartments are being built on the site. Police did not have any additional details to release. This is a developing story.

>>

SPOKANE VALLEY, Wash. - The Spokane Valley Police Department says two people were assaulted during a residential robbery Thursday morning. Deputies say they were called to a home near 17th Ave. and S. David Street for a report of a robbery. The victims, an adult man and an adult woman, told responding deputies they heard a knock on their door just before 6:30 am.

>>

SPOKANE VALLEY, Wash. - The Spokane Valley Police Department says two people were assaulted during a residential robbery Thursday morning. Deputies say they were called to a home near 17th Ave. and S. David Street for a report of a robbery. The victims, an adult man and an adult woman, told responding deputies they heard a knock on their door just before 6:30 am.

>>