Buy Northwest Deals
Northwest Deals is THE place to find gift certificates to restaurants and fun centers in Spokane, Coeur d'Alene, Post Falls and communities all over the Northwest. Believe us when we tell you the savings are amazing!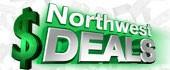 Click here or copy and paste this URL into your browser to take advantage of this great deal: http://www.khq.com/nwdeals
We typically place new offers on the site Friday mornings at 6 a.m. And in some cases you have to act fast because quantities are limited. Once they're gone, they're gone.