East Central apartment destroyed in early morning fire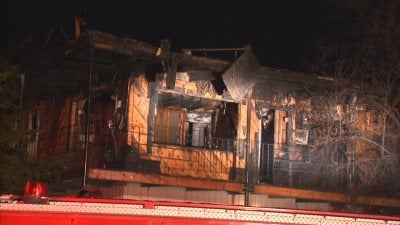 SPOKANE, Wash. - Volunteers from the Red Cross are assisting two adults and their three children, ages 3 months, 3-years-old, and 5-years-old, after their apartment on East Mission was destroyed by fire early Saturday morning.
At 3:38 a.m. Saturday the Spokane Fire Department responded to a report of a fire at the River Ridge apartment complex located at 1608 E. Mission.
Fire crews were able to arrive on scene within minutes and found heavy smoke and fire enveloping the second floor of a two story apartment building. Additional fire crews were called out the scene due to the large volume of fire and smoke coming from the structure.
Firefighters initiated a rapid attack using hose lines coupled with a rapid search for occupants using a ladder truck on the second level of the building. At the same time, a ventilation crew cut open the flat roof overhead while the fire crews inside worked on extinguishment and search efforts. The two adult occupants along with their three children were found to be safe outside of the burning structure.
Crews achieved a rapid knockdown of the flames after 20 minutes. The fire was confined to the apartment unit on the second floor and portions of the roof.
Fire crews were then busy with overhaul work which consisted of searching out all areas within the building for hot spots. Crews then conducted a secondary search of the entire complex to confirm that all occupants were out of the building.
The apartment unit was completely destroyed by fire and most of the contents which consisted of furnishings and clothing were also consumed. The apartment unit below sustained some water damage and the apartment unit next door received some forcible entry damage because of firefighters efforts to gain access, ventilate and search for occupants. The roof sustained moderate damage from the fire and vertical ventilation actions.
The Red Cross arrived to assist the occupants with food and clothing. The apartment manager had a vacant apartment available for the family to move in to. Two other apartments were affected, but the residents did not need assistance from the Red Cross.
The Special Investigation Unit of the Spokane Fire Department is working towards finding the cause of the fire. Fire officials say, given the advanced fire conditions found upon arrival, the time of night, and the large life hazard in this type of occupancy, the fire was kept relatively small and the majority of the apartment complex was saved. There were no injuries to civilians or firefighters.
Fire crews remained on the scene for hours afterward checking hotspots and making sure the fire was completely out.
Fire officials estimate the cost of the damage to be around $100,000.
Most Popular Stories

Most Popular Stories

More>>

PULLMAN, Wash. - Six-year-old Denny Curran should be enjoying his last few days of summer before first grade. He should be teasing his brother, splashing in the pool, giving his parents a hard time about vegetables. Instead, Denny is dead, the victim of a horrific, freak bicycle accident that could happen to your child too. "Denny was an extraordinary child," his father Keith Curran told KHQ.

>>

PULLMAN, Wash. - Six-year-old Denny Curran should be enjoying his last few days of summer before first grade. He should be teasing his brother, splashing in the pool, giving his parents a hard time about vegetables. Instead, Denny is dead, the victim of a horrific, freak bicycle accident that could happen to your child too. "Denny was an extraordinary child," his father Keith Curran told KHQ.

>>

SPOKANE, Wash. - Spokane Police say they saw a dramatic increase in drug related calls on Tuesday. Police say at least one person has died and officers responded to almost 20 other calls of people acting erratically. Police are looking into whether there is a drug on the street that is "creating adverse health effects." Reported behavior is consistent with a stimulant, causing people to hallucinate and act in an unpredictable and sometimes violent manner.

>>

SPOKANE, Wash. - Spokane Police say they saw a dramatic increase in drug related calls on Tuesday. Police say at least one person has died and officers responded to almost 20 other calls of people acting erratically. Police are looking into whether there is a drug on the street that is "creating adverse health effects." Reported behavior is consistent with a stimulant, causing people to hallucinate and act in an unpredictable and sometimes violent manner.

>>

STEVENS COUNTY, Wash. - The Department of Natural Resources reports that a FireBoss airplane has crashed in northeast Washington. There aren't a lot of details released right now, but we do know that the pilot did survive the crash. The pilot was working on the Horns Mountain fire, burning about 838 acres near Northport, close to the US/Canada border.

>>

STEVENS COUNTY, Wash. - The Department of Natural Resources reports that a FireBoss airplane has crashed in northeast Washington. There aren't a lot of details released right now, but we do know that the pilot did survive the crash. The pilot was working on the Horns Mountain fire, burning about 838 acres near Northport, close to the US/Canada border.

>>

VANCOUVER, Wash. (AP) - Police say they've finished an investigation into an incident in which a 16-year-old girl was hurt when she was pushed off a bridge and fell 60 feet into water in Washington state. The Columbian reported Tuesday that the Clark County Sheriff's Office Major Crimes Unit was forwarding the case to the prosecutor's office for possible charges.

>>

VANCOUVER, Wash. (AP) - Police say they've finished an investigation into an incident in which a 16-year-old girl was hurt when she was pushed off a bridge and fell 60 feet into water in Washington state. The Columbian reported Tuesday that the Clark County Sheriff's Office Major Crimes Unit was forwarding the case to the prosecutor's office for possible charges.

>>

SPOKANE, Wash. - Educators of Spokane rallied together for an increase in pay and fully funded education. Ever since the State Supreme Court ruled that Washington was underfunding schools, educators and administrators have been trying to negotiate finances. Some districts have reached deals, but many in Eastern Washington haven't. KHQ went to the rally for Spokane public schools Tuesday.

>>

SPOKANE, Wash. - Educators of Spokane rallied together for an increase in pay and fully funded education. Ever since the State Supreme Court ruled that Washington was underfunding schools, educators and administrators have been trying to negotiate finances. Some districts have reached deals, but many in Eastern Washington haven't. KHQ went to the rally for Spokane public schools Tuesday.

>>

SPOKANE, Wash. - Air quality in the Spokane area remains at an unhealthy level as of Tuesday night. Officials with the Spokane Regional Clean Air Agency say they are using a series of filters and other tools to measure the air quality index. "What that means is we have a network of strategically placed monitors that are going to capture what the ambient levels are for our entire air shed," said Lisa Woodard.

>>

SPOKANE, Wash. - Air quality in the Spokane area remains at an unhealthy level as of Tuesday night. Officials with the Spokane Regional Clean Air Agency say they are using a series of filters and other tools to measure the air quality index. "What that means is we have a network of strategically placed monitors that are going to capture what the ambient levels are for our entire air shed," said Lisa Woodard.

>>