Legal fight forces Cheney daycare to close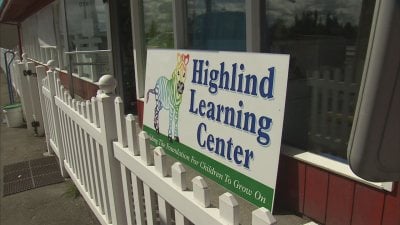 CHENEY, Wash. - A legal fight over who owns the Highlind Learning Center building in Cheney is forcing one of only four child care center's in the town to close down. Teachers and students have been told to vacate the building in 72 hours, meaning come Monday 46 kids and their parents are without child care, many with no place to go.
It's a very complex story, but what it boils down to is a legal struggle over who owns the child care building itself and who the business owners pay rent to.
It was a life-long dream for Jessica Jacobsen to open up her own childcare center. That day finally came in January of 2009 when she signed a lease with Keldon and Marianne Palvish under the assumption they owned the building. Jacobsen says it wasn't until September of that year she found out that might not be the full truth. When Eldon Sorenson, the man who claims he owns the building contacted Jacobsen and said the Palvish family was renting to own from him, but they had stopped paying, and now, he needed the Jacobsens' rent directly.
"All we wanted to know was who to pay rent to, that's all we wanted to know." Said owner of the Highlind Learning Center Jessica Jacobsen.
Jacobsen and her husband John sought the advice of 5 different attorneys who they say all told them the same thing. Until the Palvish family and Sorenson prove who owns the building in court the Jacobsens should pay rent into the court registry and write joint checks to both parties. But according to Jacobsen the Palvish family did not accept that arrangement and gave them a 10-day pay or vacate order. A judge ruled the order was in the right and now the Jacobsens are behind in paying their rent to the Palvishes even though they paid into court registry for months.
Jacobsen expressed her frustration with the situation to us saying, "Id have no problem walking out of this building today if in fact John and I didn't pay, gladly walk out and say we didn't pay rent, but we did."
The Jacobsens are now forced to pack up their dream this weekend, and notify those 46 families they have 72 hours to find new childcare. It's a situation that's hard to stomach for the Jacobsens, not just because they say it's not right, but because of all of their kids with no place to go.
"You take an entire center worth of kids, three others (in town are) full, where do these kids disperse? Where do 46 kids go in 48 hours?" asks Jacobson.
We called Eldon Sorenson but he could not be reached for comment. We did get a hold of Marianne Palvish, but she said she could not comment on the case at this time.
Kaitlyn Buldoc
KHQ Reporter
Most Popular Stories

Most Popular Stories

More>>

SPOKANE, Wash. - The State Department of Vocational Rehabilitation (DVR) is a life-changing resource for hundreds of disabled people in Spokane. Finding them jobs, counseling and places to live. A big part of the agency's mission is at a standstill after DVR cut ties with one of it's major contractors without warning. For twenty-seven years, Compass has been a one-stop shop for launching disabled and disadvantaged residents on a path to a better, independent life.

>>

SPOKANE, Wash. - The State Department of Vocational Rehabilitation (DVR) is a life-changing resource for hundreds of disabled people in Spokane. Finding them jobs, counseling and places to live. A big part of the agency's mission is at a standstill after DVR cut ties with one of it's major contractors without warning. For twenty-seven years, Compass has been a one-stop shop for launching disabled and disadvantaged residents on a path to a better, independent life.

>>

COEUR D'ALENE, Idaho - Surveillance video obtained by KHQ from the McDonald's in Spokane Valley shows an alleged thief who Krystalynn Tekancic says broke into her home while she was moving. "We're pretty sure that the person who broke in my house while I was home and they took my laptop and my phone and a few personal items," Tekancic said.

>>

COEUR D'ALENE, Idaho - Surveillance video obtained by KHQ from the McDonald's in Spokane Valley shows an alleged thief who Krystalynn Tekancic says broke into her home while she was moving. "We're pretty sure that the person who broke in my house while I was home and they took my laptop and my phone and a few personal items," Tekancic said.

>>

SACRAMENTO, Calif. (AP) - Sacramento police have arrested a married 58-year-old man in connection with at least 10 rapes across Northern California between 1991 and 2006. Sacramento police say they arrested Roy Charles Waller of Benicia on Thursday in the NorCal Rapist case. He was arrested at the University of California in Berkeley, where he worked as a safety specialist in the office of environment, health and safety.

>>

SACRAMENTO, Calif. (AP) - Sacramento police have arrested a married 58-year-old man in connection with at least 10 rapes across Northern California between 1991 and 2006. Sacramento police say they arrested Roy Charles Waller of Benicia on Thursday in the NorCal Rapist case. He was arrested at the University of California in Berkeley, where he worked as a safety specialist in the office of environment, health and safety.

>>

SPOKANE, Wash. (AP) - A new 100-bed psychiatric hospital is coming to Spokane. The Inland Northwest Behavioral Health hospital, which opens to patients in October, will have about 200 employees. The Spokesman-Review says the $33 million facility will be split into four units, each with 25 beds for inpatient services. One unit will be reserved for adolescent patients between the ages of 13 and 17.

>>

SPOKANE, Wash. (AP) - A new 100-bed psychiatric hospital is coming to Spokane. The Inland Northwest Behavioral Health hospital, which opens to patients in October, will have about 200 employees. The Spokesman-Review says the $33 million facility will be split into four units, each with 25 beds for inpatient services. One unit will be reserved for adolescent patients between the ages of 13 and 17.

>>

SPOKANE, Wash. - Update: Detectives have identified the woman found in the Spokane River September 15 just hours after releasing a rending of what she may have looked like. Detectives continue to work to determine what occurred prior to her death.

>>

SPOKANE, Wash. - Update: Detectives have identified the woman found in the Spokane River September 15 just hours after releasing a rending of what she may have looked like. Detectives continue to work to determine what occurred prior to her death.

>>