Woman dies after rollover on I-90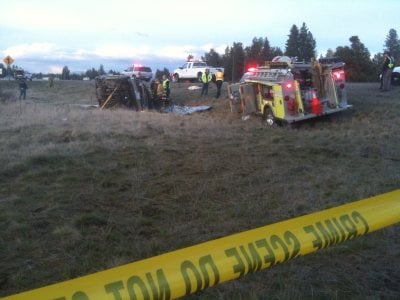 SPOKANE, Wash. - 63-year-old Donita Kay Sandberg of Grandview was killed Saturday evening after the Chevy Suburban she was traveling in blew its rear right tire, lost control, drove off I-90 and rolled at least two times.
The collision happened east of the Geiger on ramp on the eastbound side of the interstate just after 6:30 p.m Saturday.
Donita was pronounced dead at the scene, she was riding with her husband David Charles Sandberg, who was taken to Sacred Heart Hospital with undisclosed injuries. Both were wearing seatbelts. Alcohol and drugs were not a factor.
On Sunday a Sacred Heart nursing supervisor said David Sandberg had been treated for his injuries and released.
Most Popular Stories

Most Popular Stories

More>>

SAN FRANCISCO - The Santa Clara Police Department has confirmed the body of 32-year-old Ian Powers from Spokane was found in the water near Alviso Marina on Saturday. According to the department, the Coroner's Office has determined that the cause of death was salt water drowning. The manner of death has been ruled an accident.

>>

SAN FRANCISCO - The Santa Clara Police Department has confirmed the body of 32-year-old Ian Powers from Spokane was found in the water near Alviso Marina on Saturday. According to the department, the Coroner's Office has determined that the cause of death was salt water drowning. The manner of death has been ruled an accident.

>>

NEW YORK - U.S. health officials are telling people to avoid eating romaine lettuce because of an E. coli outbreak that has sickened 32 people in 11 states. The Food and Drug Administration says it's working with officials in Canada, where people are also being warned to stay away from romaine lettuce.

>>

NEW YORK - U.S. health officials are telling people to avoid eating romaine lettuce because of an E. coli outbreak that has sickened 32 people in 11 states. The Food and Drug Administration says it's working with officials in Canada, where people are also being warned to stay away from romaine lettuce.

>>

Several locals are trying to help the family of an eight-year-old boy, who was randomly stabbed at a gas station Saturday. Rayel Von Quade said she and three others (Salem Rose Sovereign, Quincey Brooks and Dani Loup) have been in touch with the Bush family. (KHQ has reached out to the family and have not heard back.) "They're, of course, very overwhelmed and stressed out right now and she's been dealing with a lot of messages from a lot of people coming through. But she says t...

>>

Several locals are trying to help the family of an eight-year-old boy, who was randomly stabbed at a gas station Saturday. Rayel Von Quade said she and three others (Salem Rose Sovereign, Quincey Brooks and Dani Loup) have been in touch with the Bush family. (KHQ has reached out to the family and have not heard back.) "They're, of course, very overwhelmed and stressed out right now and she's been dealing with a lot of messages from a lot of people coming through. But she says t...

>>

JBS USA has recalled nearly 100,000 pounds of ground beef due to concerns about possible e-coli contamination. The products have the establishment number Est.628 and were produced on October 24th. Products that were recalled were shipped to distributors in retail locations in California, Nevada, Oregon, Utah and Washington.

>>

JBS USA has recalled nearly 100,000 pounds of ground beef due to concerns about possible e-coli contamination. The products have the establishment number Est.628 and were produced on October 24th. Products that were recalled were shipped to distributors in retail locations in California, Nevada, Oregon, Utah and Washington.

>>

A man, claiming to be "the spawn of Lucifer," said he stabbed an eight-year-old boy because he "felt like he had to kill a child" and that it was "almost like a sacrifice." 30-year-old Bruce Derek Landahl was arrested Saturday for allegedly entering the HiCo store on Sprague, walking up to an eight-year-old boy playing on an iPad and stabbing him multiple times before the boy's father was able to stop him.

>>

A man, claiming to be "the spawn of Lucifer," said he stabbed an eight-year-old boy because he "felt like he had to kill a child" and that it was "almost like a sacrifice." 30-year-old Bruce Derek Landahl was arrested Saturday for allegedly entering the HiCo store on Sprague, walking up to an eight-year-old boy playing on an iPad and stabbing him multiple times before the boy's father was able to stop him.

>>

FLATHEAD COUNTY, Mont. - It's been roughly 18 months since a 26-year-old Spokane Valley man traveled to Montana for work, never to be seen again. The many loved ones of Corey Flannigan try to stay optimistic that one day, answers about what happened to him, will come. "I hate to call it a cold case after 18 months," said Flathead County Sheriff's Office Detective Rich Schuster.

>>

FLATHEAD COUNTY, Mont. - It's been roughly 18 months since a 26-year-old Spokane Valley man traveled to Montana for work, never to be seen again. The many loved ones of Corey Flannigan try to stay optimistic that one day, answers about what happened to him, will come. "I hate to call it a cold case after 18 months," said Flathead County Sheriff's Office Detective Rich Schuster.

>>