Investigators recommend vehicular homicide charges in fatal wreck case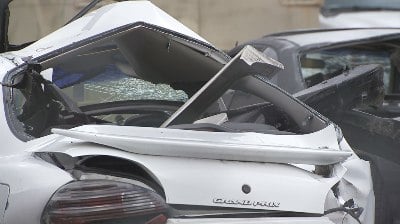 (Brooke Reese was driving this car the night of the deadly wreck.)

SPOKANE, Wash. - Nearly two months after a 19-year-old girl was killed in a wreck that the Spokane County Sheriff's Office said followed a night of drinking, Investigators are recommending to prosecutors that charges of vehicular homicide be filed against the two drivers involved.
Detective David Thornburg with the Spokane County Sheriff's Office said through his investigation he developed probable cause to recommend the prosecutor's office charge 18-year-old Brooke Reese of Spokane with one count of vehicular homicide, possession of a controlled substance (methamphetamine), and minor in possession/consumption of alcohol. Thornburg also requested 18-year-old Taylor Marean of Redmond be charged with one count of vehicular homicide and minor in possession/consumption of alcohol.
The collision happened around 2:30 a.m. Sunday February 14th near the intersection of 54th and Hatch Rd.

The Sheriff's Office says Brooke Reese, driving a 1999 Pontiac Grand Am, tried to turn left at a high rate of speed when she collided with a BMW, driven by Taylor Marean, trying to pass her.

Both cars slid off the road into a tree on Hatch Road on Spokane's South Hill.

Reese suffered minor injuries in the wreck, but the passenger with her, 19-year-old Jacoby Bryant, was killed. Neither Reese nor Bryant was wearing a seatbelt.

Neither Marean or his passenger, 19-year-old Ryan Perrizo, were injured in the wreck.
Investigators say both vehicles had to be driving at least 51 mph through the residential zone at the time of the crash.

While searching the cars, investigators discovered methamphetamine in the Grand Am, the car Jacoby Bryant was riding in. The sheriff's office said they believed it belonged to the car's driver, Brooke Reese.

Detectives asked for a drug screen as part of the toxicology reports to determine if Reese was under the influence of the drug . Investigators say when those results came back they showed Reese had no drugs in her system, only alcohol.

According to court documents, Reese told investigators that everyone had been drinking at a party earlier in the night, including the driver of the BMW, Taylor Marean.

During questioning, Reese admitted to a deputy that she was responsible for her friend's death saying she had drank around four shots of vodka before the wreck.

Reese told deputies it was Marean's idea to race. The following is a quote from Reese pulled from court documents as told to a deputy:
"I guess... we were racing...his car was fast, faster than I would have ever thought. I tried to turn left onto 54th, but I was going too fast and slid and hit the tree. The other car just hit us. I feel so stupid. I want to die."
Detectives say this crash is a real-life example that driving under the influence and racing lead to disastrous results.

"It was a bad choice by all parties. Racing is not for streets, it's for the racing track or something like that," said Detective David Thornburg.
Most Popular Stories

Most Popular Stories

More>>

KHQ.COM - Most mothers can only hope by the time their children grow up and move out of the house, they've learned all the necessary things to be a successful adult, including the basic knowledge that a turkey must be cooked in an oven, or perhaps in a smoker... NOT in a microwave. For this reason a new prank-challenge going around on Facebook is resulting in some hilarious text conversations between mothers and their grown children.

>>

KHQ.COM - Most mothers can only hope by the time their children grow up and move out of the house, they've learned all the necessary things to be a successful adult, including the basic knowledge that a turkey must be cooked in an oven, or perhaps in a smoker... NOT in a microwave. For this reason a new prank-challenge going around on Facebook is resulting in some hilarious text conversations between mothers and their grown children.

>>

Spokane firefighters are on the scene of a fire at a five-story garage that's under construction near Sacred Heart on the South Hill.

>>

Spokane firefighters are on the scene of a fire at a five-story garage that's under construction near Sacred Heart on the South Hill.

>>

LYNNWOOD, Wash. - A 20-year-old Washington state man has been sentenced to less than three years in prison for raping a high school student as she died from a drug overdose and texting semi-nude photos of her. The Daily Herald reports that Brian Varela pleaded guilty to second-degree manslaughter, third-degree rape, and unlawful disposal of remains as part of a plea deal in the February death of 18-year-old Alyssa Noceda.

>>

LYNNWOOD, Wash. - A 20-year-old Washington state man has been sentenced to less than three years in prison for raping a high school student as she died from a drug overdose and texting semi-nude photos of her. The Daily Herald reports that Brian Varela pleaded guilty to second-degree manslaughter, third-degree rape, and unlawful disposal of remains as part of a plea deal in the February death of 18-year-old Alyssa Noceda.

>>

COEUR D'ALENE, Idaho - The eagles that flock to Wolf Lodge Bay on Lake Coeur d'Alene in search of Kokanee are already breaking records. According to wildlife biologists with Bureau of Land Management, 55 bald eagles have been spotted in just the first week of the season.

>>

COEUR D'ALENE, Idaho - The eagles that flock to Wolf Lodge Bay on Lake Coeur d'Alene in search of Kokanee are already breaking records. According to wildlife biologists with Bureau of Land Management, 55 bald eagles have been spotted in just the first week of the season.

>>

SPOKANE, Wash. - A local gun shop owner and four Washington residents who will soon be too young to purchase semi-automatic rifles are among several people who are challenging the state's recently passed gun control initiative.

>>

SPOKANE, Wash. - A local gun shop owner and four Washington residents who will soon be too young to purchase semi-automatic rifles are among several people who are challenging the state's recently passed gun control initiative.

>>

SPOKANE, Wash. - Spokane Police are investigating the death of a man who reportedly shot himself in the head during sex. In a search warrant filed Nov. 8 in Spokane Superior Court, a detective wrote that around 2 a.m. on Nov. 4, police were called to a home in the 7800 block of North Morton Ave. after a woman said her partner shot himself in the head.

>>

SPOKANE, Wash. - Spokane Police are investigating the death of a man who reportedly shot himself in the head during sex. In a search warrant filed Nov. 8 in Spokane Superior Court, a detective wrote that around 2 a.m. on Nov. 4, police were called to a home in the 7800 block of North Morton Ave. after a woman said her partner shot himself in the head.

>>