Okanogan man killed in front of his two young children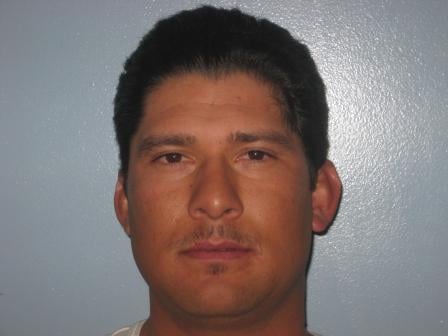 Okanogan, WA - Okanogan Dispatch received a call of a shooting Friday night at Johnny Appleseed Orchards off of B&O Road, west of Okanogan. Once on scene the investigation showed that the suspect Javier Ramirez-Cardenas, 30 of Okanogan, had gone out to the victims residence at Johnny Appleseed. Once at the residence Cardenas knocked on the door and was allowed into the residence at which time he confronted the victim who was sitting in a chair at the computer. Cardenas then pulled a pistol on the victim and shot him several times before fleeing from the residence.
The victim, Jose Antonio Padilla-Campos, 34 of Okanogan, was pronounced dead at the scene. At the time of the shooting, Campos' two children, a 7 year old daughter and 15 year old son, were in the room at the time and witnessed the murder. Neither of the children were injured.
At this time we have been unable to locate Cardenas who we believe left in a vehicle. Cardenas could possibly be in a dark blue 2005 Nissan Altima, Washington license 311YIM, which is registered to him.
Cardenas is described as a Hispanic male, approximately 5 feet 5 inches tall and weighs approximately 150 pounds with brown eyes and black hair. Cardenas is considered armed and dangerous and is possibly armed with a 9mm hand gun or shotgun.
If you have any information on Cardenas please do not approach him and call the Okanogan County Sheriff's Office at 509-422-7232 or your local law enforcement agency.