The story today: very cold, still windy, but getting better by the hour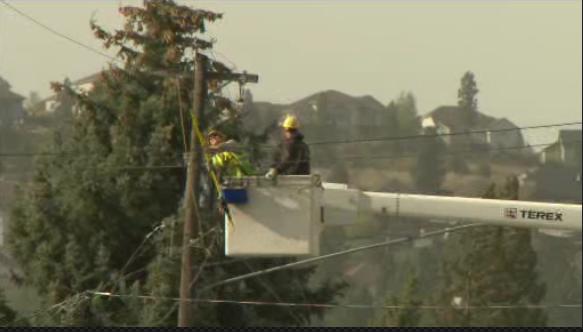 INLAND NORTHWEST- It was a tough Monday afternoon for much of the Inland Northwest. Wind gusts most everywhere were in the 50s, one hit 60 miles an hour in Coeur d'Alene.
Thousands of people across the Inland Northwest are still without power Tuesday morning. Today will be windy and in the afternoon a little damp, but in general the winds will be cut in half: 10 to 20 with gusts to 30 today in Spokane and down to 5 to 10 to 15 tomorrow. If you have downed power lines in your neighborhood call 911 right away. If you have a tree blocking traffic, call 625-7733.
To report outages
Avista Utilities: (800) 227-9187.
Inland Power: (877) 668-8243
Vera Water and Power: (509) 924-3800
Kootenai Electric Cooperative: (877) 744-1055

Yesterday Spokane got up to 55 degrees (normal is 63), today we might get to 50. But we go up a couple degrees every day and get back to something resembling normal by the weekend.
What we still have is an air mass more like March than May and the rough stuff is over in Western Montana where it is steady snow around Glacier. Today in the Clearwater you will have showers and winds to 35, 40 in the Lower Clark Fork, 30 in Orofino and Grangeville.
But that blowing sand and dust that wiped out visibility in the Columbia Basin is sitting down today. But remember Moms and Dads, it is cold out there so bundle up the kids.
At this hour its 32 degrees in Spokane but with a wind of 18 miles an hour it feels like it's 20 degrees. For a full weather forecast CLICK HERE