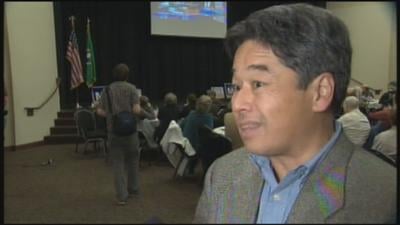 Washington state Sen. Chris Marr was down by 20 percentage points to Republican challenger Michael Baumgartner (Photo: KHQ)
SEATTLE - Early results of Tuesday's election show Republicans holding leads in key state Senate races, giving them a chance to take control of the chamber for the first time since 2004. Meanwhile, Democrats are holding off GOP challenges in the House.
In the Senate, Republican challengers were leading incumbent Democrat legislators in seven key races, including in the 6th district where first-term Sen. Chris Marr, D-Spokane, vice chairman of the Senate Transportation Committee, was down by 20 points.
Other Senate races were much closer - three with margins of less than 1 percentage point.
Early House results show Democrats fending off Republican challenges in more than a dozen key races.
Democrats have held commanding majorities in the state Legislature for the past six years. To take control of the House, Republicans need a 13 seat surge. In the Senate, they need seven seats.
(Copyright 2010 by The Associated Press. All Rights Reserved.)