Idaho Women Run Away With Win: Beat Boise State 68-48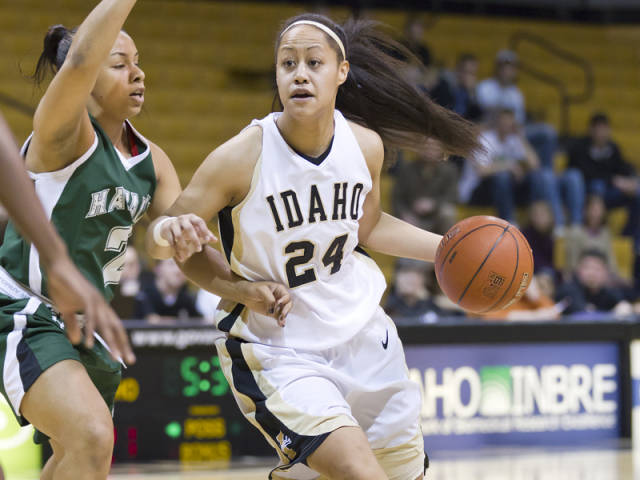 Courtesy of Idaho Athletics
MOSCOW, Idaho -- Three Vandals scored in double figures, led by 15 points from senior Rachele Kloke, and the Idaho women's basketball team ran away with a 68-48 win over Boise State in Moscow on Saturday night, in a game that Idaho never trailed.
The Vandals (10-7, 3-2 Western Athletic Conference) hit 13-of-25 (52.0 percent) shots in the second half, including 6-of-13 (46.2 percent) from beyond the arc, while holding BSU (11-8, 2-3 WAC) to just 36.7 percent (18-of-49) for the game including 2-for-11 from long range.
Idaho also owned the glass, with a 36-27 advantage in rebounding, and gave up just three offensive boards, and only two second chance points to the Broncos.
Kloke hit 6-of-8 shots in the game, including her only 3-point attempt. She also converted both of her free throws, and had three rebounds in the game.
"Senior year against Boise State, they didn't have a chance pretty much the entire game, I was just having a blast the entire time," Kloke said. "We came in on our court, and we defended it, and going down there it's going to be the same thing, they're going to want to defend their court."
Senior Derisa Taleni added 14 points for the Vandals on 6-of-12 shooting, and also collected six rebounds and dished out three assists. Senior Yinka Olorunnife had 13 points, all in the first half, and added six rebounds, three assists and three steals. Other than Kloke's 33 minutes, no Vandal played more than 28 minutes in the game, which Idaho led by 20 with 13:43 to play.
"I liked our offensive execution, we moved the ball well, and we shared the basketball," Idaho coach Jon Newlee said. "I thought we made good decisions. Hitting the open player and the open player knocking down shots, I thought that was great. Finally I think we communicated better in the second half, defensively, and that was great to see."
While Olorunnife did all of her scoring in the first half, junior Keri Arendse did all of hers in the second. Arendse hit 3-of-5 3-pointers in the second half, and finished with nine points and three assists.
"We take what they give us, and they were worried about our posts and it leaves us guards open," Arendse said. "The assistant coaches were telling me to keep my confidence and they (the shots) will go, and they did. My teammates set me up for some good shots, and luckily I hit them."
The Vandals got to the free throw line just six times in the game, but knocked down all six attempts.
Despite never trailing it appeared Idaho was in for a down-to-the-wire game base on a majority of the first half. The Vandals led by just four points with 34 seconds left in the first half, but Jessica Graham hit a 3-pointer, and a BSU turnover led to a layup by Olorunnife just before time expired in the opening stanza, giving the Vandals a nine point, 30-21 lead at the break.
A 3-pointer by Arendse to open the second half gave the Vandals a 12-point lead, and Idaho led by double-digits for the remainder of the game.
"I thought Yinka did a great job tonight of putting the ball on the ground and getting to the rim, as well as Kloke when she is playing the four," Newlee said. "We're undersized at the post, but my posts do a great job of recognizing the mismatch and either taking them outside and looking for the 3, or attacking off the bounce."
1,059 people turned out for the game, which was the first half of a men's-women's doubleheader.
"It felt like a real home game tonight with the crowd out there," Newlee said. "I hope that everybody that came had a great time and wants to come back for the rest of the year. We think we've got a pretty good team and it's a fun team to watch, and we need everybody to rally around us. You can feel the energy in the building and it's great. It was night and day from what it's been. I want to say thank you to everybody who came and I know my team is just as appreciative."
The Vandals return to action when they host Louisiana Tech on Jan. 27 at 6 p.m. Idaho also faces New Mexico State (Jan. 29) and San Jose State (Feb. 2) at home before hitting the road again.