Gonzaga Baseball
Three Zags Selected In Day Two Of MLB First-Year PlayerDraft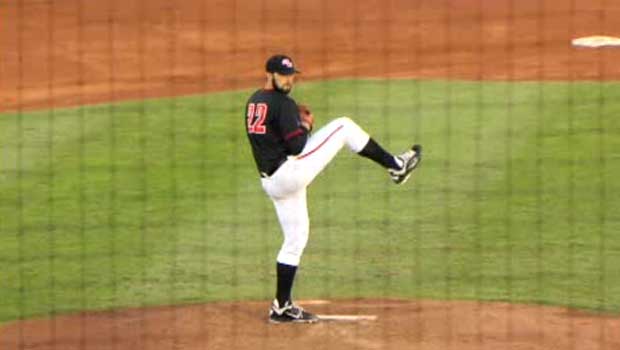 Ryan Carpenter, the WCC Pitcher of the Year, was taken by the Tampa Bay Rays (Photo: SWX)
SPOKANE, Wash. – Gonzaga University pitchers Cody Martin and Ryan Carpenter were selected in the seventh round and catcher Cameron Edman was selected in the 29th round in the second day of the Major League Baseball First-Year Player Draft Tuesday. Martin was taken by the Atlanta Braves, the Tampa Bay Rays selected Carpenter and the Baltimore Orioles picked Edman.
The three reigning All-West Coast Conference selections became the 31st, 32nd and 33rd Bulldog to be drafted during head coach Mark Machtolf's 20 years at Gonzaga.
Martin was the 236th overall selection. In last year's draft, the Minnesota Twins selected Martin in the 20th round but he elected to stay with the Bulldogs for his senior campaign where he posted impressive numbers. In 25 appearances, he owned the best earned-run average (0.86) in the country at the end of the regular season. Along with recording a single-season record 27 saves, he also struck out 63 and surrendered seven runs in 52 1/3 innings.
Carpenter was four picks after Martin. The reigning WCC Pitcher of the Year emerged as one of the top pitchers in the country. He posted an 8-2 overall record but his biggest achievement this season was strikeouts. The two-time WCC/Rawlings Pitcher of the Week and the Pitcher of the Month for April led the league with 107 strikeouts overall, making it also the 21st-best in the country at the end of the regular season. Carpenter flirted with no-hitters at then-eighth-ranked Texas A&M University and at Santa Clara University.
Edman was the 875th overall selection. As the Bulldogs leader catcher he never missed a start this past season. He led the Bulldogs with a .346 overall batting average and led the club in doubles (23) and the WCC in home runs (9). His bat emerged late in the season. One notable highlight included hitting three home runs in a game at incoming conference foe Brigham Young University May 9. He became the third Bulldog in three consecutive seasons to hit three home runs in a game. A two-time WCC/Rawlings Player of the Month and Player of the Month for April, Edman batted .373 with 11 doubles, four home runs and 20 RBIs in league play.
The draft concludes Wednesday with rounds 31-50 set to take place starting at 9 a.m., on MLB.com.