Spokane Shocks Sabercats 63-61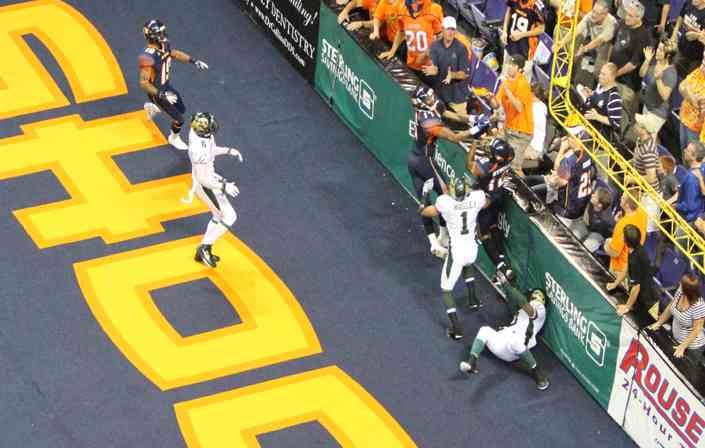 July 16, 2011 – Spokane, Wash: The Spokane Shock defeated the San Jose SaberCats Saturday night 63-61 and have a clinched a berth in the playoffs.
Since the inception of the franchise, Spokane has had a flair for the dramatic, but Saturday night's victory might be one of the most memorable in team history.
After Spokane's special teams recorded a safety the Shock held a two point advantage (its first lead of the game) over the SaberCats with just under a minute left in the game. San Jose's attempted an on-side kick that they recovered on their own nine-yard line and QB Mark Grieb marched the SaberCats' offense down the field and scored on a seven–play 42-yard drive. After San Jose's two point conversion attempt failed, the SaberCats held a 61-57 lead with only four seconds on the fourth quarter clock.
On the ensuing kickoff, Alex Teems recovered the ball on the 16-yard line with just 2.4 seconds left. QB Kyle Rowley, who relieved Erik Meyer in the 1st quarter (due to injury), took to the field for one final play. Rowley stepped up in the pocket, and launched a hail mary pass into the back of the endzone that fell into the hands of WR Randy Hymes for the game-winning, 34-yard touchdown.
Hymes, who was making his Spokane Shock debut, finished with 12 receptions for 100 yards and four touchdowns. Receivers Adron Tennell and Brandon Thompkins recorded two touchdowns each. Thompkins' first touchdown of the game came on a 22-yard strike from Rowley that he caught over his should with a San Jose defender draped all over him.
After Meyer went down early in the first quarter while scrambling, Rowley stepped in and put in a performance that saw him complete 24 of 31 pass attempts for 281 yards and eight touchdowns.
The Shock scored a season-high 29 fourth quarter points. Next week, Spokane travels to Jacksonville to take on the Sharks for the final game of the regular season.