Jackson's Doctor Found Guilty Of Manslaughter
Posted:
Updated: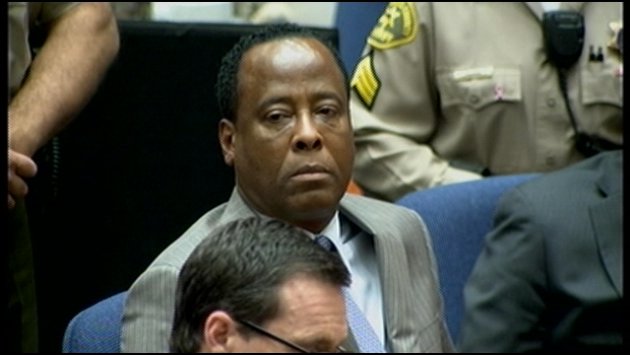 NBCNEWS: Michael Jackson's doctor was convicted Monday of involuntary manslaughter after a trial that painted him as a reckless caregiver who administered a lethal dose of a powerful anesthetic that killed the pop star.
The verdict against Dr. Conrad Murray marked the latest chapter in one of pop culture's most shocking tragedies — the death of the King of Pop on the eve of the singer's heavily promoted comeback concerts.
Members of Jackson's family wept quietly after the verdict was read, and his mother, Katherine Jackson, later told The Associated Press, "I feel better now."
Sister La Toya Jackson told the AP she was overjoyed.
"Michael was looking over us," she said on her way out of the courthouse.
Jackson's parents, Katherine and Joe Jackson, also released a statement to TMZ.com, saying, "Even though nothing can bring back our son, justice has finally been served. We can't wait to go home and share this day with Michael's children."
Murray sat stone-faced during the verdict and was handcuffed and taken into custody without bail until sentencing on Nov. 29. He appeared calm as officials led him out of the courtroom.
A shriek broke the eerie silence in the packed courtroom when the verdict was read, and the crowd erupted outside the courthouse. Jubilant Jackson fans cheered and sang "Beat It" as they held signs that read "guilty" and "killer." Passing motorists honked their horns.
The jury deliberated less than nine hours. Murray, 58, faces a sentence of up to four years in prison. He could also lose his medical license.
"Dr. Murray's reckless conduct in this case poses a demonstrable risk to the safety of the public" if he remains free on bond, Judge Michael E. Pastor said.
District Attorney Steve Cooley said it will be difficult to achieve an appropriate sentence for Murray because of a new state law that allows early prison release for people convicted of nonviolent felonies.
Deputy District Attorney David Walgren said prosecutors' sympathies went out to the Jackson family who have "lost not a pop icon but a son and a father."
Jurors were escorted from the building and not available for comment after the verdict was read.
It was unclear whether the jury determined that Murray had administered the fatal dose of propofol while deciding he was responsible for the death of Jackson.
Prosecutors had said Murray violated at least 17 separate standards of care, a number of which could have resulted in death.
Murray's attorneys left the courtroom without commenting.
In Las Vegas, a former Murray patient and current friend, Donna DiGiacomo, sobbed and said she thought the jury was under "overwhelming pressure to convict."
Jackson died on June 25, 2009. The complete story of his death finally emerged during the six-week trial. It was the tale of a tormented genius on the brink of what might have been his greatest triumph with one impediment standing in his way — extreme insomnia.
Testimony came from medical experts, household employees and Murray's former girlfriends, among others.
The most shocking moments, however, came when prosecutors displayed a large picture of Jackson's gaunt, lifeless body on a hospital gurney and played the sound of his drugged, slurred voice, as recorded by Murray just weeks before the singer's death.
Jackson talked about plans for a children's hospital and his hope of cementing a legacy larger than that of Elvis Presley or The Beatles.
"We have to be phenomenal," he said about his "This Is It" concerts in London. "When people leave this show, when people leave my show, I want them to say, 'I've never seen nothing like this in my life. Go. Go. I've never seen nothing like this. Go. It's amazing. He's the greatest entertainer in the world."