'Put Your Hands Up!' Neighbor Describes Scary Standoff In Northwest Spokane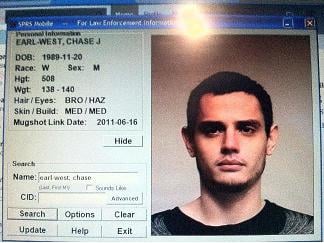 SPOKANE, Wash., - A standoff that started late Monday night posed many problems for nearby neighbors. First year Spokane Falls Community College student Ben Atkinson was simply leaving the house when the lights started to flash.
"I decided to go to Wal-Mart with my girlfriend and her friend and a big spotlight shown on us," Atkinson said. "We just heard some cops yell come forward with your hands up!"
The police told him that a man was inside with a gun and that he needed to leave immediately. The situation escalated when the gunmen reportedly pointed a handgun at an officer and attempted to fire but the gun malfunctioned. Atkinson said he came back a couple hours later and the Spokane Police told him that he could not back until Tuesday morning.

When he returned in the morning, he said he learned from friends that "S.W.A.T was everywhere," and that law enforcement kicked in his door. Atkinson said normally his apartment complex is nice and quiet.
"We have a nice older couple that lives below us and a nice family that moved in right next to us so it's a pretty decent neighborhood, nothing like this really happens." '
At 7 a.m. Tuesday morning a woman placed a call from the 2200 block of North Government Way claiming she caught a man who met the suspects description sleeping in her garage. The caller said he looked, "worn out." But he then left on foot.
Following that Spokane Police focused their efforts on the River Run Housing Development because officers believed the alleged suspect, Chase Earl-West, may seek refuge there. As of this writing, 2:30 p.m., Earl-West remains at large.