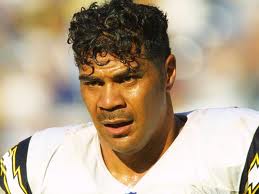 SAN DIEGO, CA - NFL legend Junior Seau's death has been ruled a suicide by the San Diego Medical Examiner's office.
An autopsy conducted Thursday confirmed he died of a gunshot wound to the chest.
Seau was found dead in his home in Oceanside, CA, on Wednesday. A law enforcement source at the scene tells TMZ.com that Seau died of an apparent self-inflicted gunshot wound to the chest.
A rep for the Oceanside Police Department just spoke outside Seau's San Diego house, claiming Seau's body was initially discovered by Seau's girlfriend. Authorities responded, and found Seau's unconscious body inside a bedroom, with a gunshot wound to the chest.

Paramedics attempted to revive Seau, but life-saving efforts were unsuccessful. He was pronounced dead at the scene. His body is still inside the house.

The rep says investigators recovered a handgun on the scene. The case is being investigated as a suicide.

Seau, a 12-time Pro Bowler and probable Football Hall of Famer, was 43-years-old and leaves behind 4 children and an ex-wife.

TMZ reports Seau sent text messages to his ex-wife and 3 kids yesterday saying, "Love you." They all responded and didn't suspect anything was wrong. We're told he last saw his children three weeks ago.

Sources close to Seau tell us family members didn't notice any signs of depression in recent weeks.
The San Diego Chargers have released a statement, saying, "Everyone at the Chargers is in complete shock and disbelief right now. We ask everyone to stop what they're doing and send their prayers to Junior and his family."