Team KHQ Prepares For Competition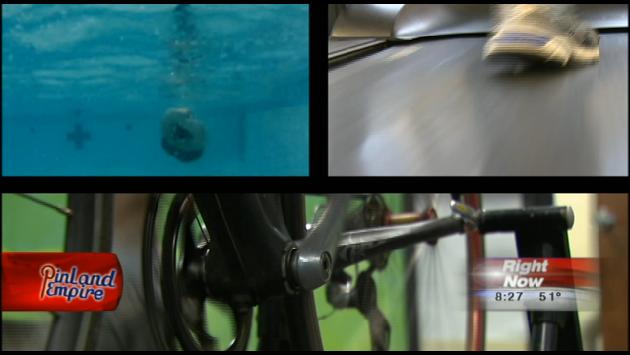 SPOKANE, Wa. - The Ironman is only a couple weeks away…which got our reporter Katie Steiner thinking what is all the hype about triathlons? So, we decided to try it out and see how a Team KHQ could fair.
Katie enlisted the help of her co-workers…former sponsored cyclist and KHQ photographer Dave Somers and marathon-finisher KHQ reporter Alex Rozier. All three will be are going to be doing the Troika Team Triathlon as a team. Katie will swim, Dave will bike and Alex will run.
While they train, they will be raising money for the Special Olympics. And they brought in 9-time Ironman finisher Heath Wilste to help them train, and they thought they would share the process with you.
They started in the pool with Steiner, where Wilste said the most important part about training is fine-tuning you form. "If your form is bad you might now enjoy the process as much as you would if you learned how to swim properly, Wilste said.
Steiner hasn't done a swim race since the 6th grade, so she needed some work. For her, swimming 1.3 miles is a daunting task. Somers however, is the most seasoned athlete on the team. He finished his first Ironman a couple years back. He is excited about the race. "I have heard about the race and it's a great course and it should be a good time for everyone," Somers said.
But even Somers' form can use an adjustment or two. "When we get down here towards the bottom, we need to focus on the hamstring driving us up...we want to make it a circle type of a thing," Wilste instructed.
The anchor on the team is the one and only Alex Rozier. "I lost my glasses here on this treadmill...hopefully my credibility stays in tact," Rozier said.
Rozier is used to running though, even without his glasses. "People say you run competitively and I say yah if that means finishing in the top 20,000 in Chicago...not much past that...we will see what happens," Rozier said.
But Wilste had something for Rozier too. "What we would like to change is that you are spending too much time on the ground. The more time you spend on the ground, the more the ground pushes you up," said Wilste.
If you would like to train along with us, we will be blogging about it every time we work out right here on KHQ.com.