Dust Devils Lose Opener 2-1 to AquaSox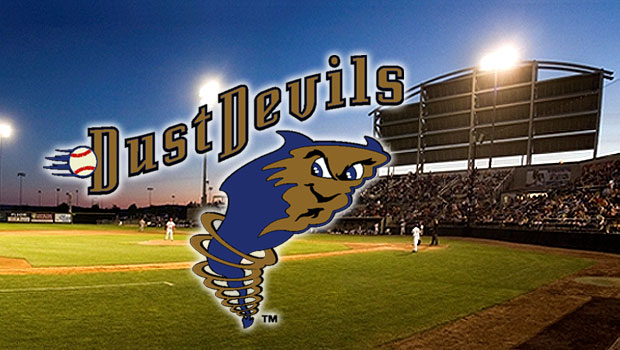 By Heath Harshman, Tri-City Dust Devils
PASCO, Wash. -- Despite allowing just two hits on the night, the Tri-City Dust Devils fell short in the 2012 season opener against the Everett AquaSox, 2-1. A costly error in the sixth inning allowed the deciding AquaSox run to score as the Dust Devils played an overall solid game to start the year.
Dust Devils (0-1) starting pitcher Roberto Padilla (0-1) was fantastic in his first career professional start, allowing two runs, one earned, in 5 2/3 innings on the mound. Although he took the loss, Padilla allowed just one hit on the night, a leadoff double by Jamodrick McGruder to start the game. Afterward, Padilla settled down and struck out six while walking two. An error with two outs in the sixth inning by shortstop Zach Osborne allowed one of the walked runners home, eventually becoming the game-deciding run. The quality pitching didn't stop with Padilla, as relievers Josh Hungerman and Will Rankin combined for 3 1/3 innings of shutout baseball to end the game for the Dust Devils, allowing one hit and striking out three.
AquaSox (1-0) starter Victor Sanchez (1-0), 17-years-old, earned the win in his first career start as a professional, matching Padilla's efforts throughout the game. Sanchez worked six innings, allowing one run on two hits while striking out four and walking two. The young Venezuelan pitched well when it mattered most, as well as the rest of the AquaSox pitching staff, holding the Dust Devils to 1-for-8 with runners in scoring position. Everett reliever Oliver Garcia earned his first save of the season, working a scoreless final 1 1/3 innings for the AquaSox.
Dust Devils shortstop Joey Wong drove home the lone run for Tri-City and finished his night 1-for-2 with a double. Outfielder Dillon Thomas and infielders Jordan Ribera, Yafistel Roja, and Osborne tallied the rest of the hits for the Dust Devils, who did well but couldn't string the hits together in front of 3,273 in attendance at Gesa Stadium.